2018 HONOREES
Alumni Entrepreneur Hall of Fame
Richelieu Dennis '91
Founder, CEO and Executive Chairman – Sundial Brands; Founder and Chairman – Essence Ventures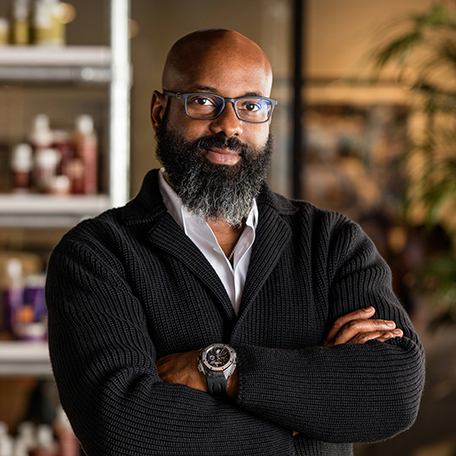 Entrepreneur, investor and social impact innovator Richelieu Dennis '91 has a passion for entrepreneurship that traces back to his family's roots in Africa and is sustained by a mission to fill unmet consumer needs globally. As founder, CEO and Executive Chairman of Sundial Brands, he has a vision that has resulted in the 27-year-old family founded-and-operated manufacturing company's success as the maker of top hair, natural bar soap, and bath and body brands via SheaMoisture and Nubian Heritage, as well as prestige beauty brands—Madam C.J. Walker Beauty Culture and Nyakio.
In November 2017, Richelieu architected a first-of-its-kind deal in the beauty and personal care industry with the landmark acquisition of Sundial Brands by Unilever—marking the largest natural personal care deal ever in the U.S. and the largest consumer products deal by a majority black-owned company. As part of this purpose-driven agreement, he and Unilever created a groundbreaking US$100 million New Voices Fund to invest in and empower women of color entrepreneurs.
Through Richelieu's leadership, Sundial operates under a purpose-driven business model called Community Commerce, has been certified as a B Corp and holds a Fair for Life social and fair trade certification.
Richelieu is also founder and Chair of Essence Ventures, an independent African-American owned company focused on merging content, community and commerce to meet the evolving cultural and lifestyle needs of women of color. In January 2018, the company announced its acquisition of Essence Communications Inc. from Time Inc.—reestablishing ESSENCE as a 100% black-owned company.
Richelieu has been named by OWN: Oprah Winfrey Network to its "SuperSoul 100" list celebrating a dynamic group of 100 trailblazers using their power to move the world forward; by Fast Company as one of the "Most Creative People in Business"; and by Babson as a Lewis Institute Changemaker for challenging the status quo and creating positive social change.
In December 2017, the President of Liberia, Ellen Johnson Sirleaf, conferred upon Richelieu one of the nation's highest honors—distinction of Knight Commander, admitting him into the Most Venerable Order of the Knighthood of the Pioneers.
Rising Star Honorees
Dhairya Gupta MBA'08
Dhairya Gupta MBA'08 grew up in a small town in India, moved to Delhi for high school and completed his electrical engineering degree from Delhi College of Engineering. Gupta got his start in the electrical industry by working as a project manager with Siemens and as a field engineer with Schneider Electric. However, during this time he dreamed of being an entrepreneur. His love for entrepreneurship took him to Babson College, where he was exposed to many new ideas and experienced internships in Canada and Germany. He also was involved with the Babson Energy Club.
After returning to India, he worked in a family business and doubled its sales in a period of four months. He then spent five years consulting with IBM. Finally, he was able to follow his entrepreneurial dreams, and, along with his classmate, Chinmoy Mishra MBA'08 and other co-founders, started AllizHealth, building it from the ground up. His understanding of technology and industry helped him in identifying the right application of the technology, and targeting customers with the right marketing message—leading to rapid growth in sales and user acquisition.
Outside of work, he enjoys adventure sports, riding motorcycles, and writing about automobiles. He likes to relax by traveling to a remote place and being with nature and himself.
Chinmoy Mishra MBA'08
Chinmoy Mishra MBA'08 is one of the founders of AllizHealth, a healthcare technology venture in the area of preventative health. He has more than 17 years of healthcare experience and is responsible for starting and growing AllizHealth from a two-member team to 30. AllizHealth is among the finest startups in India, managing the health of more than 800,000 consumers, backed by leading investors and eminent physicians. Its clientele includes some of the biggest payer and provider organizations across India, Bangladesh, and Malaysia.
At Babson, Mishra was the president of the Entrepreneurship Club, recipient of a Babson fellowship and also was honored with the Babson Global Student Leader Award. He is an avid reader, loves to travel and if he had not been an entrepreneur, he would surely have tried his hand at being a chef. Last but not the least, he also found his soulmate at Babson, a fellow graduate from the MBA class of '08.
Dandan Zhu '09
Dandan Zhu '09 entered the exciting world of recruitment and headhunting, serving professionals at every level—from analysts to C level executives—before setting up Dandan Global Group in 2016. As a top-billing headhunter, Dandan made more than $215k at just 25 years old, which she then parlayed into a series of successful real estate investments and retiring from corporate life by 28.
Now, she is sharing the best ways to grow your career to achieve financial, professional, and personal success using the DANDAN Method to job search through her coaching business, Dandan Global.
In addition, Dandan founded the recruitment firm DG Recruit, with a mission to help young people and professionals understand and access the immense opportunities available within a career in recruitment and sales.