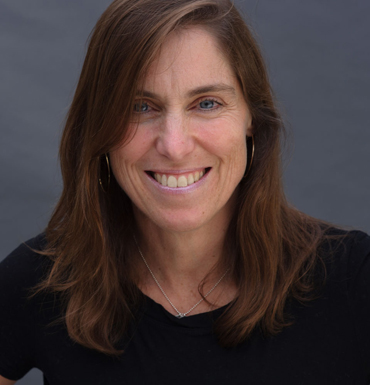 Mary Mazzio, an award-winning documentary film director, Olympic athlete, and former law firm partner, is Founder and CEO of 50 Eggs, Inc., an independent film production company dedicated to making socially impactful films.
Mazzio wrote, directed, and produced highly-acclaimed and award-winning films, including I AM JANE DOE (which catalyzed bipartisan federal legislation and was featured on The TODAY Show); Underwater Dreams (which raised $100 million dollars with the White House for underserved students and was featured on The Colbert Report); TEN9EIGHT (called "one of the most inspirational films you will ever see" by Tom Friedman in The New York Times); A Hero for Daisy (called "a landmark film" by The New York Times, the film inspired a lawsuit that was decided years later by the U.S. Supreme Court); Apple Pie (called "priceless" by The New York Times and "fantastic" by NPR), and I AM LITTLE RED (an animated short written with Academy-Award nominee, Alec Sokolow (Toy Story). Her newest documentary film, A Most Beautiful Thing, narrated by Academy Award-winning artist, Common, and produced with NBA stars Grant Hill and Dwyane Wade, won a 2021 Gracie Award and was nominated for a Critics' Choice Award, an NAACP Image Award, and for Best Documentary by the International Press Academy. Named one of the best films of 2021 by Esquire, the film was featured on The TODAY Show, and called "amazing" by Richard Roeper of the Chicago Sun-Times; "evocative" by The Los Angeles Times; "poignant" by The New York Times, "an absolute must watch" by Deadspin, and "one of the most important documentaries of this decade," by ChicagoNow. Other press includes The Saturday Evening Post ("The best documentaries lull you into thinking they're taking you for a nice float on a lazy stream—then abruptly suck you into a chasm of Class 5 rapids that have you holding on for dear life. That's the kind of ride we get in director Mary Mazzio's new film …").
An Olympic athlete (1992 Olympic Games – Rowing), Mazzio is a graduate of Mount Holyoke College and Georgetown Law School. She is the recipient of several awards including an honorary degree from Mount Holyoke College; the Ricky Martin Foundation Humanitarian Award; the Hope Award (from the National Center for Missing and Exploited Children); the Women's Sports Foundation Journalism Award; two Gracie Awards; a Critics' Choice Award nomination, an NAACP Image Award nomination, a Myra Sadker Gender Equity Curriculum Award; a Henry Luce Foundation Fellowship (to Korea); a Rotary Foundation Graduate Fellowship (to France); and an American Heritage Award (from the American Immigration Council). Mazzio, formerly a partner with the law firm of Brown Rudnick in Boston, has served on several Boards of Directors including Shackleton Schools, Sojourner House (a homeless shelter); The Boston Youth Symphony Orchestras; The Head of the Charles Regatta; The National Rowing Foundation; and World T.E.A.M Sports (supporting disabled athletes). She will be inducted into Mount Holyoke College Athletics Hall of Fame and The Schlesinger Library at Harvard University has requested all of Mazzio's papers for its collection.
Mazzio and her work have been featured on The TODAY Show, The Colbert Report, NBC Nightly News, and in The New Yorker, Esquire, Vogue, Cosmo, People Magazine, Elle, Good Housekeeping, The New York Times, The Financial Times, Fortune, Time Magazine, The Wall Street Journal, USA Today, Business Week, Entertainment Weekly, TV Guide, Sports Illustrated, The Economist, WIRED, The Hollywood Reporter, Variety, Town & Country, CBS Early Morning, ABC News Now, CNN Sunday Morning, NPR, The Los Angeles Times, Business Week, The Washington Post, The Saturday Evening Post, The Daily Beast, MSNBC's Morning Joe, The Dr. Oz Show, Tucker Carlson Tonight, The Atlantic.com, MTV.com, The Boston Globe, Chicago Tribune, The Christian Science Monitor, The Seattle Times, St. Paul Pioneer Press, The Village Voice, The Philadelphia Inquirer, Marie Claire, The Chicago Sun-Times; Deadspin; Forbes.com, Buzzfeed, MSNMoney.com, Al-Jazeera, Bloomberg, CNN's This Hour, MSNBC, CNBC, Fox Business News, Fox News Latino, PBS Nightly News Report, CNN Headline News, BBC World News, NPR (On Point, The Connection, It's Only A Game, Here and How), Telemundo, mun2, Oxygen, ESPN's Sports Center, Baseball Tonight, and Cold Pizza, GOOD Magazine, Yahoo News, Washington Times, Huffington Post, Women's Wear Daily, among others. Mazzio's story has been chronicled in the books One Person, Multiple Careers (by former NY Times columnist Marci Alboher) and 168 Hours (by USA Today writer Laura Vanderkam).
Mazzio has given keynote addresses for the United Nations Commission on the Status of Women; the YPO Global Convention (South Africa); Aspen Ideas Festival; Clinton Global; convenings at the White House (under two different presidents); the OECD (in Paris); The McCain Institute Human Trafficking Symposium; the Massachusetts Children's Alliance Annual Conference; the State of Nebraska Convention on Economic Development; the NCAA Title IX Convention; the Women's Sports Foundation Convention; the National Coalition of Girls' Schools Convention; the National Association of Collegiate Women's Athletic Administrator's Convention, the Ad Club Women's Leadership Forum, among hundreds of other events.
Mazzio's work has been supported by The Laurie M. Tisch Illumination Fund, The Bezos Family Foundation, The Bill and Melinda Gates Foundation, The Angel Foundation, CoStar, The Lovelight Foundation, New Balance, Pepsi, Target, Fila, BlackRock, The John Templeton Foundation, Vanguard, Welch's, 3M, Campbell's Soup, McDonald's, Liberty Mutual, The Virginia Piper Charitable Trust, Babson College, Wellesley College, The Massachusetts Department of Education, the Kauffman Foundation, the Sahsen Foundation, the Arthur M. Blank Foundation, Nike, Clif Bar, Staples, among others. She is currently Filmmaker in Residence at Babson College.
A Most Beautiful Thing, narrated by the Academy Award/Grammy Award-winning artist, Common; executive produced by NBA Stars/Olympians Grant Hill and Dwyane Wade; and directed/produced by Mary Mazzio, chronicles the first African American high school rowing team in this country (made up of young men, many of whom were in rival gangs from the West Side of Chicago). An amazing story. The film was featured on The TODAY Show, and NBC Nightly News, garnering a 100% Rotten Tomato rating from critics and is now streaming on Peacock (NBC's new streaming platform) and Amazon Prime. A scripted series based on the film is now in development with Amazon Studios. In addition, FILA created a limited edition "A Most Beautiful Thing" shoe with proceeds to fund "A Most Beautiful Thing" Inclusion Fund and Pepsi hosted, with the Miami Dolphins, "A Most Beautiful Thing Weekend" which included a 1000 meal give-away to families facing food insecurity as well as an extraordinary event with the Obama Foundation in Chicago for thousands of young people.
I AM JANE DOE, narrated by Academy Award nominee Jessica Chastain, directed by Mary Mazzio, and produced by Mazzio along with Academy Award-nominee Alec Sokolow, chronicled the battle that several mothers across the country waged against Backpage.com, the largest online portal for commercial sex. Called "a gripping legal thriller" (Esquire); "a powerful call to action" (The Los Angeles Times); "the rare social-issue documentary that has an effect on a social issue" (The Washington Post); "especially impressive … a powerful piece of work" (Elle); "striking … powerful" (The Film Journal), I AM JANE DOE has captured not only the attention of film critics, but an avalanche of popular press as well (e.g. The New Yorker, Esquire, Cosmo, Vogue, The TODAY Show; NBC Nightly News, a three-part story in People), providing a remarkable opportunity for culture shift, impact, and awareness, particularly with respect to the under-reported crime of child sex-trafficking. More importantly, the film has catalyzed extraordinary activity, including new legislation (on a bipartisan basis) signed by the President in the spring of 2018; investigative reporting into the links between Google and Backpage; and a federal criminal probe of 3 Backpage executives, resulting in a 93-count indictment. The OECD, which invited Mazzio to speak about the issue of online harm, moved to amend its charter documentation, so that human rights violations and harm to children happening online are addressed as the organization moves forward to establish global policy for online platforms. The film opened theatrically and streamed on Netflix.
I AM LITTLE RED is a 10-minute animated short aimed at children most at-risk for sex trafficking, with the goal of prevention and awareness. The film, animated by Academy Award winners Gabriel Osorio and Pato Escala from Punkrobot, and written by 10 survivors of sex trafficking (aged 14–21) along with Alec Sokolow (Academy Award nominated writer of Toy Story) and Mary Mazzio (director/Producer of I AM JANE DOE), is a contemporary re-imagining of the classic fairy tale, Little Red Riding Hood. In partnership with The U.S. Department of Health and Human Services, LITTLE RED is expanding to a wide variety of federal and state agencies working with disenfranchised children. Over 1,000 New York State agencies working with at-risk children are now using LITTLE RED, and hundreds of shelters housing unaccompanied minors near border cities are doing prevention training with LITTLE RED. In addition, First Book is distributing LITTLE RED to 1000 Title I (low income) schools and programs across the country and Ricky Martin and his foundation are working with the Spanish version in Puerto Rico and Latin America.
Underwater Dreams, narrated by Michael Peña and funded by the Laurie M. Tisch Illumination Fund and the Bezos Family Foundation, raised over $100 million dollars in corporate and private commitments in connection with a White House initiative built around the film. The film, which chronicles the epic story of how the sons of undocumented Mexican immigrants learned how to build an underwater robot from Home Depot parts – and defeat engineering powerhouse MIT in the process, was hailed by Jonathan Alter as "the most politically significant documentary film since Waiting for Superman (The Daily Beast); featured on The Colbert Report and Morning Joe; called "astonishing... already a contender for the best documentary of 2014′′ (David Noh, Film Journal); "moving and insightful" (Gary Goldstein, Los Angeles Times) and named one of the Best Family Movies of 2014 by Common Sense Media, Underwater Dreams was released theatrically in Los Angeles, New York, and Phoenix with AMC Theatres and then screened at the White House, with introductory remarks by President Obama. A special version of the film was broadcast on MSNBC and Telemundo (simultaneously in English and Spanish) with promotion and events throughout the NBC Universal family. The film screened at the White House, at Clinton Global, Aspen Ideas Festival and many other forums around the globe.
A Hero for Daisy, chronicles two-time Olympian Chris Ernst who galvanized her rowing team to storm the Yale athletic director's office in 1976 to protest the lack of locker room facilities for the women. The film was hailed by The New York Times as a "landmark film"; "fantastic" by Sports Illustrated; and "remarkable" by NPR. The film aired nationwide on ESPN Classics, Oxygen, WGBH, and WTSN-Canada; was invited to screen at the Smithsonian; and is in thousands of classrooms across the country. The film help to inspire a group of parents in Michigan to file a lawsuit, contesting unequal treatment of high school girls throughout the state, which prevailed, years later, at the U.S. Supreme Court.
Apple Pie, featuring Shaquille O'Neal, Drew Bledsoe, Mia Hamm and Grant Hill, is a tribute to the often-invisible strength, courage and power of mothers. The film was broadcast nationally on ESPN to critical acclaim and was called "illuminating—told with deftness and emotion … priceless" by The New York Times; "heartwarming" by Los Angeles Times; "fantastic" by NPR; and "excellent" by CNN. The film was also a recommended pick in both Entertainment Weekly and TVGuide.
TEN9EIGHT, which tells the inspirational stories of several inner-city teens as they compete in an annual business plan competition, was theatrically released in a first-of-its-kind partnership with AMC Theatres, and broadcast on BET/Viacom, coinciding with the release of a companion book to the film from Scholastic and a screening at the White House Summit hosted by the U.S. Department of Education and the Library of Congress. New York Times columnist, Tom Friedman, said this about the film in The New York Times: "Obama should arrange for this movie to be shown in every classroom in America. It is the most inspirational, heartwarming film you will ever see." Named as one of the 10 best documentary films on education by Take Part and selected as a finalist for VH1's DOSOMETHING Awards, the film was also called "inspiring … should be compulsory viewing in high schools around the country" (Lael Lowenstein, Variety); "very well made" (Mike Hale, The New York Times); and "important," (Marshall Fine, Huffington Post). The film received extraordinary press in The New York Times, The Financial Times, Fortune Small Business, Inc. Magazine, BusinessWeek.com, TheAtlanticWire.com, ABC News, MSNBC, Fox News, CNBC, NPR, IMUS, and others.
The Apple Pushers, narrated by Academy Award nominee Edward Norton, follows immigrant street vendors who are rolling fresh fruits and vegetables into the inner cities of New York. The film was picked up for distribution by Oscilloscope (of which, Tracie McMillan of The Atlantic wrote: "emotionally, the film packs a wallop") was exhibited theatrically on Earth Day in several cities by Whole Foods, followed by a nationwide broadcast on public television's WORLD channel. The film has had a wide-ranging series of special screenings, including Aspen Ideas Festival with Robin Schepper (head of Mrs. Obama's "Let's Move" campaign); the U.S. Department of Agriculture with Kathleen Merrigan (Deputy Secretary of the USDA) for heads of federal agencies; as well as pop-up screenings organized by foundations, food policy activists, and policy leaders—all with the goal of sparking creative thinking about how to solve the obesity problem in low income neighborhoods. The film received extensive coverage in The New York Times, The Atlantic, Fox Business, The Washington Post, Variety, Fast Company, Financial Times, Forbes.com, Bloomberg, MTV.com, EcoSalon, among many others.
Lemonade Stories, featuring Richard Branson, Arthur Blank and Russell Simmons, focuses on how mothers have contributed to the entrepreneurial spirit of their sons and daughters. The film aired nationwide on CNNfn (and globally in Latin America, the UK, Israel, the Middle East, New Zealand, and Hong Kong), was the subject of cover stories by USA Today (complete with a trailer and photos on USA Today's splash page), Forbes.com, The Christian Science Monitor, ABC News.com, as well as featured on NPR, Bloomberg Radio, and in Fast Company. Time Magazine also published an Op-Ed about the project in 2012.
Contrarian, narrated by Fred Thompson, chronicles the life of legendary stock investor John Templeton. The Christian Science Monitor recommended the film as one of its "Top Picks" and Movieguide, in a four-star review, described the film as a "fascinating documentary produced with a delicate sense of grace." Reviewed favorably by The New York Times, Contrarian aired primetime nationwide on Bloomberg Television, and internationally throughout Asia.
Other projects include work for BlackRock (celebrating the firm's 25th anniversary); an anchor film for Wellesley College's "This is the Place" campaign; an ad spot for The Head of the Charles; and several shorts for Babson College's "Entrepreneurs of All Kinds" campaign.