Master in Business Analytics
The influence of big data on business decision making is greater than ever. So is the demand for skilled translators who can convert analytics into practical insights that lead to viable business solutions. As a result, today's entrepreneurial thinkers are defined by their ability to transform information into innovation. Discover how Babson's Master's in Business Analytics can help you become essential in any organization.
Upcoming Application Deadlines
Rolling Admissions
GMAT/GRE Waiver Available?
Yes
Average Work Experience
7–8 years
A Business Analytics Degree Built for the Future of Work
Babson's Master of Science in Business Analytics (MSBA) is the training ground for the data analysts of tomorrow. This program's integrated approach will help you build a sturdy foundation in analytics techniques while also enriching your knowledge of marketing analytics, economic analytics, and other business disciplines. As you study the latest data analytics tools and methods, you will learn to collaborate and communicate effectively so that your analysis can play an integral role in key business decisions.
Fast Facts
Designed for Working Professionals: Complete the majority of your classes and group work online while coming together on campus for face-to-face sessions throughout the semester.
Skills Employers Want: We built the MSBA curriculum with input from employers, ensuring you'll learn the right skills to stand out in the job market.
Fast Track: Earn 30 credits in as little as 16 months.
Customizable: Nearly half of the program consists of electives, allowing you to tailor your studies to your specific career interests.
6% International Students
31% Women
38% U.S. Diversity
3.08 Average GPA
7–8 years Average Work Experience
Learning Goals
By the time you complete your business analytics degree, you will have gained critical knowledge and tools in the following areas:
Enterprise Strategy
Understand how advanced analytical techniques can support organizational goals and strategies.
Tools and Methods
Integrate appropriate analytics techniques to maximize the value of data. Employ optimal approaches to each organizational challenge.
Entrepreneurial Thinking & Acting
Navigate the complexities of business and social problems, and design innovative solutions based on data analytics.
Communications Skills
Effectively convey the results of advanced analytical techniques to a variety of audiences; make logical, persuasive cases about the use of analytics.
Teamwork and Collaboration
Contribute to analytics projects as part of a team while valuing diverse perspectives and skills.
Master's in Business Analytics Curriculum
Learn how to creatively solve big-picture business and social problems with data-driven solutions. The MSBA curriculum consists of 18 required core credits and 12 elective credits, including Babson's signature action-based learning. With coaching from a faculty member, you and your team will consult for an organization and present your work to company executives at the end of the semester.
Data Exploration and Analytics
Economic Analytics
Information Technology
Introduction to Analytics and the Principles of Entrepreneurial Thinking & Acting
Marketing Analytics
Clouds, Platforms, and Networks
Cognitive Technologies and IBM's Watson
Decisions
Digital Marketing
Economic and Financial Forecasting
Enterprises 2.0: Building Social Networks
Financial and Macroeconomics Data Analysis
Health Economics
Marketing Research and Analysis
Private Data Security
Strategy & Tactics of Pricing
Supply Chain Management
Working as part of a business consulting team, you will execute analytical tasks and present your findings to the organization's senior management.
What Makes Babson's MSBA Different?
Relevant Tools and Technology
Build the skills employers want, including fluency in R, SQL/no SQL, data visualization, and marketing analytics certifications.
Integrated Curriculum
Expect to learn data modeling and statistics as well as how data analytics can power marketing, economics, and more.
Put It into Practice Today
Apply what you learn immediately—not just in your capstone business consulting project, but in your day job.
Get to Know Your Professors
Professor Dessislava Pachamanova was born in Bulgaria, studied in Italy, volunteered in Slovenia, and earned degrees from Princeton and MIT before joining the Babson College faculty. She helped design the MSBA curriculum and teaches courses in business analytics, computational finance, and data modeling.
Your Future Classmates
MSBA students come from diverse undergraduate backgrounds and are driven by a broad range of career objectives. They share a common goal to become the analytics leaders of tomorrow. See how Aryan Jain MS'17 led a team of Babson students in DataFest, a national campus challenge to extract insights from large data sets.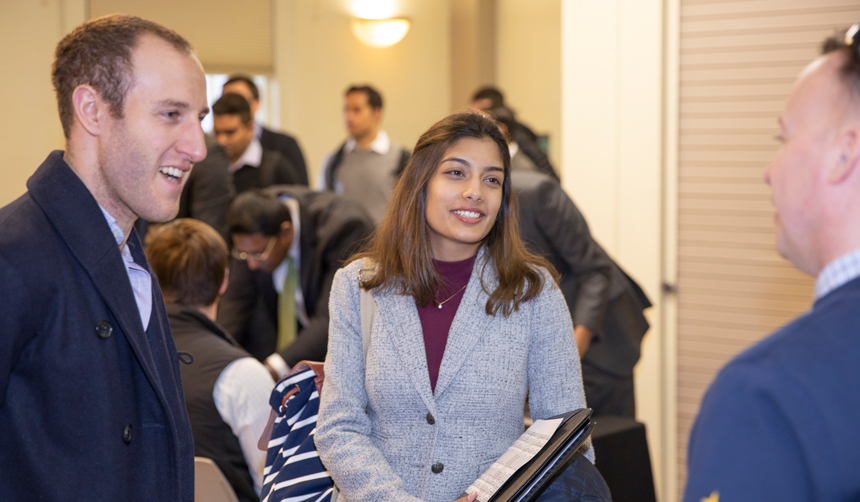 Alumni Outcomes
Babson graduate alumni have been hired for analytics roles at organizations including: Booz Allen Hamilton / EMD Serono / LeanBox / LogMeIn / Santander Bank / Staples / TripAdvisor, and more.
Take the Next Step
Position yourself as an invaluable resource for connecting an organization's big data and big decisions. Our team can help you get started. From planning a campus visit to getting your admissions questions answered, we are with you every step of the way.
Get in Touch
Want to know more about Babson's Master of Science in Business Analytics? Let's talk.
By submitting the form, you agree to receive communications from Babson College and our representatives about our degree programs and certificates via phone, email and/or text message. You can unsubscribe at any time.