Your Guide to Finding the Best Undergraduate Business School for You
March 31, 2021 | Estimated Read Time: 7 Minutes
By: Karl Klaussen
To find the best undergraduate business school, there are a number of factors to consider, and there's more to the picture than just rankings. The ultimate decision should come down to one word: fit.
To make it easier for you, we've compiled a go-to guide that uncovers what's behind the rankings and touches on other factors you might want to consider.
Wendy Murphy, Associate Dean of the Undergraduate School and a Professor of Management at Babson College, sums it up this way: "Students should consider college as a place to develop into the best version of themselves. Look for a community that provides opportunities to explore, to try new experiences, to experiment, and to grow."
Whatever path you take, it's important to remember that this decision will determine your personal and professional development, earning potential, and career trajectory.
What to Look for in the Best Undergraduate Business School
When thinking about where to get your top undergraduate business school degree, it's hard to know what program features are most important, what qualities you should look for, and which aren't as valuable.
And, top business schools recognize that an organization's success is judged by its outcome. Three basic criteria to look for are:
High graduation rates
High hire rates
High average starting salaries
Consider Outcomes and Support
The best undergraduate business schools will provide their students with positive, impactful student experiences. If they promote interaction with faculty and one-on-one mentorship in their programs, this indicates their concern for student growth. The best business schools have a strong focus on internships, networking, and career preparation at all stages of students' undergrad careers. Also, a strong alumni network is important.
Courtney Minden, Vice President of Enrollment Management and Dean of Admissions and Financial Aid at Babson College, notes these intangibles that people should look for when searching for the best undergraduate business school. "When looking at a four-year undergraduate business school, you should look at what makes a place special. Get to know the community, the faculty, and the staff," said Minden. "Get an idea for where a school can take you. Make sure they have a supportive environment for every aspect of life, both personal and academic. Get a sense of what you're looking for. Explore the campus in person or virtually, join a class, sit in the dining hall, attend campus events, and see if you can picture yourself on campus."
High Graduation Rates Explained
According to ValueColleges.com, graduation rates are slightly flawed, but still helpful. Graduation rates typically refer to a student entering a four-year college in the fall and finishing college four years later. In the U.S., the four-year graduation rate for students attending private colleges and universities is 52.8%, and 65.4% earn a degree in six years.
But, graduation rates are just one indicator when thinking about the best undergraduate business school for you.
Return On Investment (ROI) + High Hire Rates
ROI is made up from a number of factors. And, one of the most important factors in determining a school's ROI is to understand how all the factors are interconnected. Examples include:
Major – What are salaries out of school for your major? What industries are doing well or growing?
School – Are they known for your major? Are they prestigious? Do they have name recognition?
Networking – Do they have a strong alumni network? Do they have a good track record of placing students in jobs?
Knowing how these factors, and more, related to each other is an important step in understanding a college's ROI. For example, there may be a strong career pipeline due to successful alumni in powerful positions. Or, a college might specialize in a specific area of interest that is desirable to employers. And, certain majors lend themselves to higher salaries and better job placement. All these factor into the full picture.
According to the Georgetown University Center on Education and the Workforce (CEW) study, "A First Try at ROI: Ranking 4,500 colleges," the top 10 colleges for ROI 40 years after you've enrolled have 40-year net present values (NPV) ranging from $1.9M to $2.7M.
College Rankings
A good place to start for finding the top business school is U.S. News & World Report's best business programs overall rankings and specialty rankings. They are a trusted source that people often go to when beginning the search process.
Your acceptance into an undergraduate business school is based on academics, personal achievements, extracurricular activities, and other factors that paint the picture of who you are as a whole person. However, once you've met the acceptance criteria, finding the best undergraduate business school for you also is a matter of goals, geography, personal fit, cost and location, scholarships, entry requirements, areas of focus, and, of course, salary potential.
Murphy recognizes that rankings are one of many inputs a student should consider because rankings highlight certain dynamics that a publication thinks are important. But, it should not begin and end with rankings alone.
"There are so many more dynamic factors that go into creating a college community, creating a university environment that cannot be captured and ranked. And, so it is those intangibles that students have to explore on a school-by-school basis," said Murphy.
You also should look at statistics, composite SAT/ACT scores, ranking for specific programs of interest, what a school spends on business research, an array of courses, and business majors offered at the school, among many other factors.
In short, there's no one way to slice it, but there are accepted standards for comparison as you search for the best fit.
A top business school undergraduate degree also isn't cheap, so make sure you consider salary potential and return on investment among other factors.
Considering the Top Undergraduate Business School for You? Babson Might Be the Right Fit.
A school such as Babson College in Wellesley, Massachusetts, has the ability to attain, retain, and graduate its students due to its small size and niche as a leading entrepreneurial business school. According to Forbes, Babson has a 96% retention rate, an 89% four-year graduation rate, and a 92% six-year graduation rate. And, getting into the workforce sooner allows you to start earning a salary more quickly.
Some of Babson's Rankings as a Top Undergraduate Business School
According to PayScale, Babson College fares well in terms of ROI:
Babson is the #1 private business college for ROI
Babson alumni enjoy a 20-year net ROI of $795,000
Ninety-nine percent of the Class of 2020 was employed or attended graduate school within six months of graduation
That same class had an average starting salary of $62,399
Also according to PayScale, Babson College is the top-ranked business school by salary potential:
$73,000 for early-career salary
$146,200 for mid-career pay
$62,399 average starting salary for graduates of the class of 2020*
*Based on a knowledge rate of 78%
Location Is Just a Part of the Overall Picture. But, It Still Helps.
According to Murphy, location is a factor in Babson's overall value, but also not a limitation.
"Because we are in the suburbs of a major city, a major hub in the United States, we have access to resources, people, and organizations, and the innovation that happens in the greater Boston area. That doesn't happen on this scale in other parts of the country. We are second to Silicon Valley in the number of startups so that geography is advantageous. But, we're also not limited by that geography because we've cultivated the global network from day one. Diversity has been one of our core values from our founding as an entrepreneurship Institute over 100 years ago," Murphy said.
And What about Alumni, Diversity, and Lifelong Learning?
The best business schools will have strong alumni networks that help ensure students reach high levels of prestige. Successful business people love lending a hand to recent grads of their alma mater. Having the CEO in your alumni network gives you a leg up on the competition. Babson boasts an alumni network that is 43,000 strong, who are here to help graduates succeed both personally and professionally. And, part of that is global diversity.
According to Minden, a diverse alumni community is important in today's globally connected world. "Understand what type of leaders a school produces. Babson is a community of problem-solvers who develop scalable solutions to complex global problems, lead with empathy, and create economic and social value for the world. It is global and diverse. And, these are all factors that should go into your decision in today's interconnected, global business world. This is not just a four-year decision, you will be a part of a school's community for the rest of your life," said Minden.
2020 Snapshot of Babson Undergraduate Outcomes:
99% of students were employed or are continuing their education*
6% of students started their own venture*
91% of students had at least one internship while at Babson
*Within six months of graduation and based on a knowledge rate of 78%
Not everyone can go to the top business schools in the world, so it's essential to be well-informed so that you can choose the right school for you. This could be one of the most important decisions you ever make. Take your time, ask questions, and then, go for it!

Interested in learning more about Babson College's undergraduate degree program?
Take the next step today.
You May Also Be Interested In: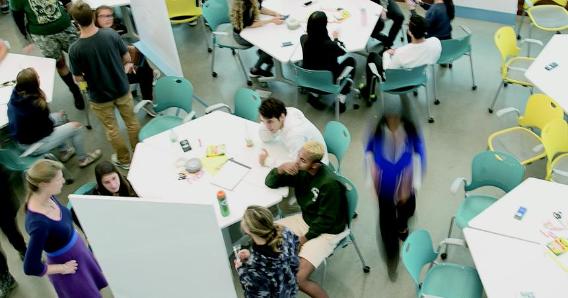 Looking for more guidance? We've compiled our best advice on college admission, career planning, and more to help you get your questions answered and start your journey.
About the Author
Karl Klaussen is a copywriter and marketing content specialist. An alumna of the University of Colorado, Boulder, he has worked at and with ad agencies, startups, non-profits, and global brands. He currently works for Babson College and writes extensively about the higher ed landscape.
Like this article? Have a suggestion? To contact our team with comments or article ideas, send us a note at news@babson.edu.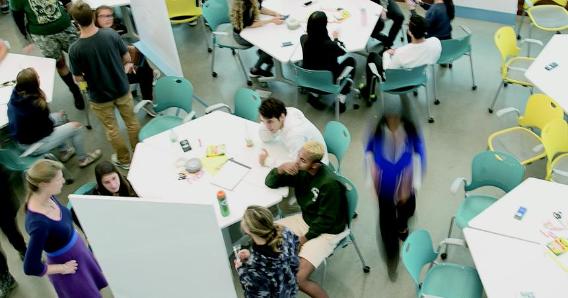 Looking for more guidance? We've compiled our best advice on college admission, career planning, and more to help you get your questions answered and start your journey.
Get in Touch
Fill out the Request Information form below to connect with us. This will ensure that you learn about the academic experience, hear stories from our current students, and receive important announcements during the admission process...just to name a few.