Senior Class Giving
Senior Class Giving is a longstanding tradition at Babson. For over 25 years, members of the ​Senior Class have made a gift to have a positive impact on the College before graduation.
What is Senior Class Giving?
Each year members of the senior class make a gift of any amount to support an area at Babson important to them. A gift of any amount counts -- seniors who make a gift of $100 or more will receive a personalized brick with your name in the Class Walkway.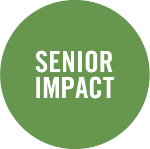 THE LAST THREE SENIOR
CLASSES HAVE GIVEN A
COMBINED $111,000.
Did you know, tuition and fees only cover two-thirds of the Babson experience? Each year, generous donors make gifts large and small to provide the best possible education in and outside of the classroom.
By making a gift, you are joining the over 10,000 alumni and friends who support Babson each and every year. Your participation helps to increase the value of your degree as alumni participation factors into College rankings, such as U.S. News & World Report.
Get Started