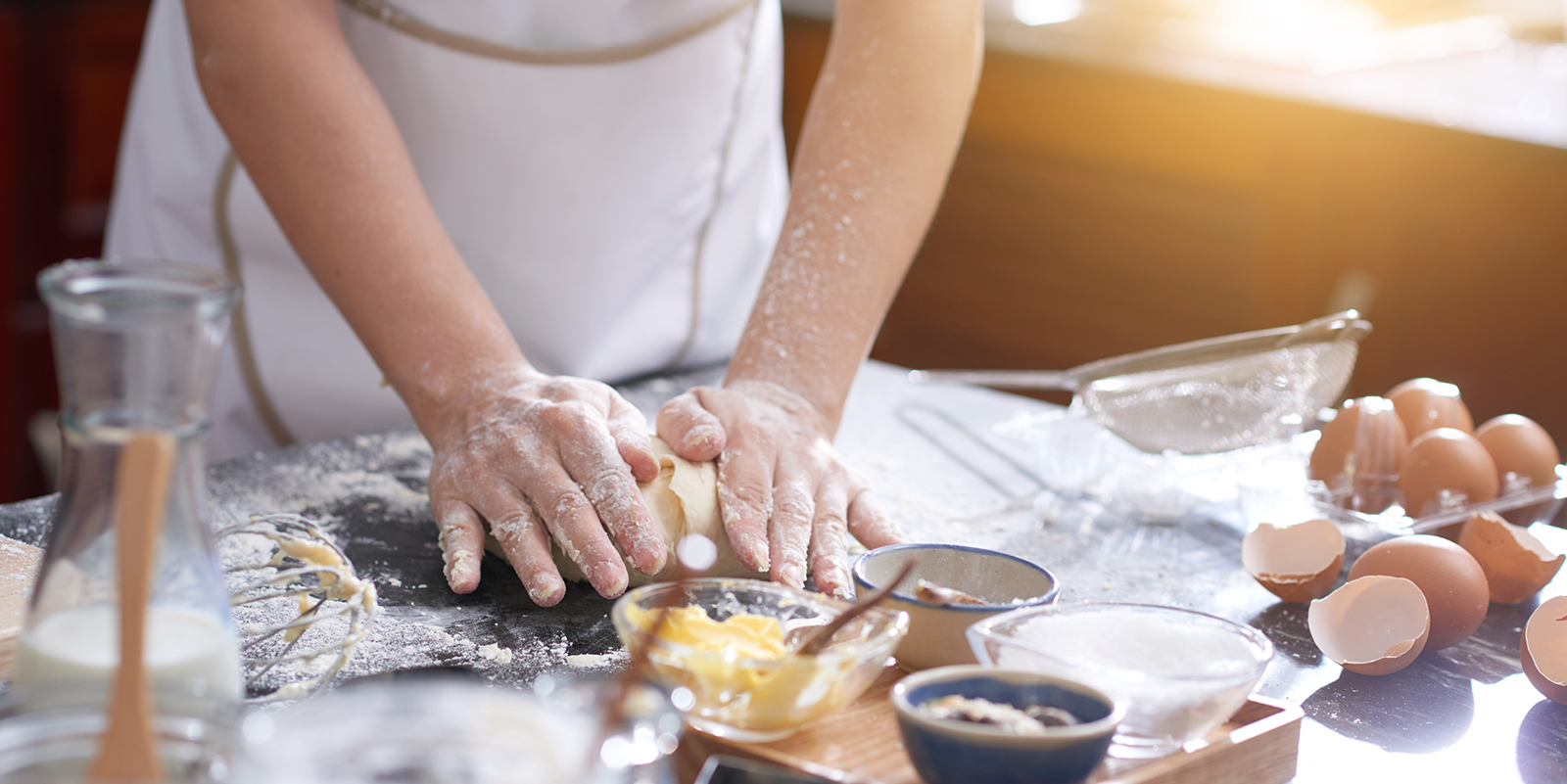 Alumni | DAM Good Recipes
DAM Good Recipes showcase our Babson community's favorite recipes, everything from appetizers to desserts to cocktails, and the joy that cooking can bring to us all.
Submitted by: Jay Rivera '99
Yields 8-12 Twists
Ingredients
2 rolls of puff pastry
8 - 12 slices of bacon
½ cup sharp cheddar cheese
1 egg for an egg wash
eggs to soft boil (as many as you'd like)
Preparation
Line a baking sheet with parchment paper and lightly grease
Roll out the puff pastry to a size where you can get 8 - 12 strips
At the bottom half of the dough, lay out your bacon slices (cut in half). Sprinkle the cheese on top. Then fold the dough over to cover the bacon and cheese. Slice into strips. Press the edges, and twist. Whisk 1 egg and a little bit of water. Coat the top of the twists. Bake at 400°F for 12-15 minutes.
While the twists are baking, prepare the soft boiled eggs by bringing a pot of water to a rolling boil. Boil the eggs for around 6 minutes (depending on how soft you want them). Drain and run under cool water for at least 1 minute to set the egg but keep the middle runny.
Pair together, and enjoy!
Submitted by: Allison Duckloe '13
Yields 25-30 crepes
Ingredients
1 cup cold water
1 cup cold milk
4 eggs
½ tsp salt
1½ cups flour
4 tbsp melted butter
Fillings/Toppings of your choice
Preparation
In a blender, put the liquids, eggs, and salt. Add the flour and then the butter. Cover and blend at top speed for 1 minute. Cover and refrigerate for at least 2 hours.
The batter should be light and creamy. Use a crepe pan or skillet. On medium heat, coat your pan with butter (you want it well greased). Take a quarter cup of batter, pour in the middle of the pan, and using your wrist tilt the pan to evenly spread the batter. When the batter begins to get a little crispy, and edges come loose by shaking the pan, flip the crepe. Cook for another 30 seconds. Repeat, fill with ingredients of choice, and enjoy.
Submitted by: Chloe Stewart '13
Ingredients
2 eggs
½ cup (111 grams) vegetable oil
½ cup (111 grams) sugar
1 cup (250 grams) fruit compote
Spoonful of plain yogurt
1 cup (250 grams) flour
1 tsp baking powder
½ tsp baking soda
Pinch of salt
Preparation
Preheat oven to 350 oF (170o C).
Mix together eggs, vegetable oil, and sugar in a mixing bowl.
Add fruit compote and mix. (If making the fruit compote at home, chop desired fruit and add to a saucepan. Add a little bit of salt and sugar and if needed a splash of water. Bring to a fast boil then cover and let it simmer.)
Mix together dry ingredients and fold into wet ingredients gently. Add a spoonful of yogurt. Add any mix-ins if desired (chopped nuts, chocolate chips, etc.).
Lightly grease a baking pan (8x12 in / 10x20 cm) with oil and sprinkle with a little flour until the surface is covered with a light layer of flour. Add the batter to the tray and spread evenly.
Bake for about 30 minutes and check with a toothpick. Finished when it comes out clean. Enjoy!
Submitted by: Janina Kotulich '17
Ingredients
1 1/2 cups flour
1/4 cup granulated sugar
2 tsp baking powder
1/4 tsp baking soda
1/2 tsp salt
1 cup milk
3/4 cup ricotta
1 tsp vanilla
1 tbsp oil (canola, veggie, or olive)
2 lemons OR 3-4 drops lemon oil
Preparation
Whisk together all dry ingredients.
Add wet ingredients and whisk until smooth.
Cook in batches on medium heat. Cook both sides to golden.
Enjoy them warm with maple syrup, honey, and/or melted butter.
Bake for about 30 minutes and check with a toothpick. Finished when it comes out clean. Enjoy!
Submitted by: Michelle Raso Carli '82, P'15
Ingredients
2 tbsp vegetable or olive oil
1 tbsp butter
1 medium onion; chopped fine
4 - 5 ounces diced pancetta
1 can kitchen ready tomatoes or canned Italian tomatoes
Crushed red pepper flakes to taste
Salt
3 tbsp freshly grated Parmigiano-Reggiano cheese
2 tbsp freshly grated Romano cheese
1 pound bucatini pasta (penne/rigatoni fine too)
Preparation
Place oil and butter in pan on medium heat
Add onion and sauté until onion becomes translucent and pale golden, then add the pancetta. Cook for about 2 minutes, stirring several times while they cook.
Add the tomatoes and crushed red pepper flakes (a pinch is fine. If you prefer spicier, adjust) and bring to a simmer. Adjust the heat to maintain the steady simmer and cook uncovered for about 25 minutes.
Cook the pasta in a large pot of generously salted boiling water. Subtract one minute from the cooking time instructed on the package. If necessary, reserve one cup of the pasta cooking water before draining to make sauce less thick.
Drain the pasta and add it to the tomato sauce. Toss them together and then add the cheeses. Turn off heat and toss again.
Serve immediately with extra cheese and crushed red pepper.
Submitted by: Bonnie Leung '13
Ingredients
1 Cup All Purpose Flour
1 ¼ Cups Graham Cracker Crumbs
1 tsp Baking Soda
1 tsp Baking Powder
1 Stick of Unsalted Butter, Softened
¾ Cup Granulated White Sugar
¾ Cup Light Brown Sugar
2 Large Eggs
2 tsp Vanilla Extract
1 ½ Cups Chocolate Chips
½ Cup Chopped Chocolate Chunks
16 Large Marshmallows
4 Chocolate Bars
Preparation
Preheat Oven to 350° F. Line a baking sheet with parchment paper; set aside.
In a separate bowl mix flour, baking soda, & baking powder; set aside.
In a large bowl, using hand-held mixer or stand mixer with paddle attachment, beat the butter for 1 minutes on medium speed until completely smooth and creamy. Add in granulated sugar and brown sugar and mix on medium speed for another 1 minute. Beat in egg and vanilla until fluffy. Mix in dry ingredients slowing until combined.
Add chocolate chips and mix with spatula to evenly distribute the chocolate chips for about 10 seconds (try not to overmix).
Roll 2-3 tablespoons of dough at a time into balls and place them on your prepared cookie sheets about 1-2 inches apart (highly recommend use a medium #40 cookie scooper to form your cookies).
Bake approximately 8-10 minutes. Take them out when they are just starting to turn brown. Let them sit on the baking pan for 2 minutes before removing to cooling rack.
To assemble the S'mores Galore Cookie Sandwiches, turn one cookie bottom side up. Place one chocolate piece on the bottom and top with torched marshmallow (be sure to get all the sides) and immediately top with another cookie (alternatively place in microwave until marshmallow begin to puff, 15-30 seconds). Repeat and enjoy.