Blank Leadership Scholars Profiles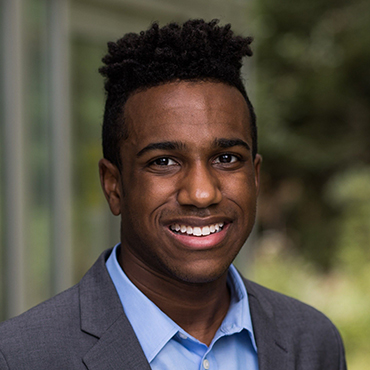 Michael Agard '24
Raised in an entrepreneurial environment, Michael Agard '24 knows leadership.
Propelled by a wide range of experiences and accomplishments, he gains inspiration from his family.
"My parents are small business owners and I saw them go through the process of creating a business and sustaining one, and to see them do that, and take care of me and my brother, that's pretty amazing to me," he said.
Born in Chicago (ask him about his Chicago sports loyalty), Agard currently lives just outside of Atlanta. His high school experience was defined by leadership and experiences that set him on the path to the No. 1 school for entrepreneurship.
---
What drew you to Babson?
I did an internship at Mercedes Benz Stadium, which is owned by Arthur Blank. I got to see the kind of business that he ran, and how people admired him, and I wanted to learn more. Once I realized he's a Babson graduate, I started thinking that this might be the school for me.
And, when I took part in Access Babson—an overnight experience on campus with other students—I was able to see firsthand what the experience was like, and from there, I could definitely see myself going to this school.
What does being a Blank School Scholar mean to you?
As a metro Atlanta resident and former Atlanta United intern, I am honored to be one of the first Blank School Scholars. Mr. Blank is an icon in the worlds of business and sports, and he is larger than life in Atlanta. It means a great deal to me to have this connection with a hometown hero. As an intern at Atlanta United Soccer, I experienced the organization's passion for excellence that is a reflection of Mr. Blank's leadership principles and are the foundation of this scholarship. I am excited to collaborate with the other Blank Scholars on initiatives for the school that will benefit the entire Babson community.
Why does the world need entrepreneurial leadership?
Every great idea stems from some sort of entrepreneurial leadership. The ability to solve a problem in a way that includes a team. And, not only the ability to solve something, but the ability to lead a team to accomplish that idea—I think that's what drives the world forward.
Of Blank's six leadership qualities, which one do you most identify with?
Include everyone. I've been in sports my entire life, so working with a team is definitely something that I love doing. I think that it's better to create solutions together than to try to do something alone.
What are your hopes for your Babson career?
Be as successful as I can be here, and make the most of it. There's some great people and great professors here, so I hope to do my best to reach out to people, to understand the world more, and get as much knowledge as I can to better myself. I'm really interested in experiencing how to actually create a business and sustain one and lead a team.
Who inspires you?
My parents. They are small business owners, and I saw them go through the process of creating a business and sustaining one. It was really inspirational to me that they could do something like that. And, to see them run a business and take care of me and my brother, that's pretty amazing to me.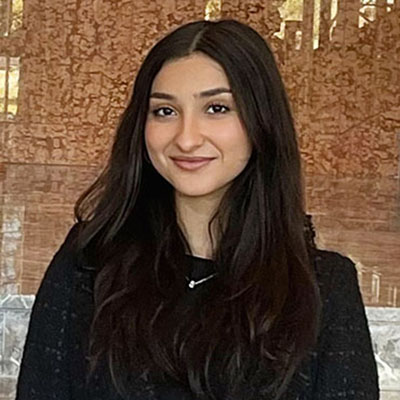 Layla Al-rashed '26
The child of immigrants, Layla Al-rashed '26 started her activism early.
Layla Al-rashed, the daughter of Moroccan and Jordanian immigrants, is a young activist in Las Vegas. "I love to help those in need and speak up for those who may not feel like they have a voice in this world," Al-rashed said.
She cofounded and led the Nevada chapter of Youth Against Sexual Violence (YASV), putting on school events, charity drives for women's shelters, and workshops that teach healthy relationships and help survivors escape unhealthy situations. On top of that, she offers free tutoring, hosts clean-ups as part of her school's environment club, and volunteers with National Honor Society.
With her rigorous academic and extracurricular schedule, two main things keep her grounded: her creative pursuits in music (she plays piano and percussion) and her parents. "I truly think the ability to stay creative throughout my schoolwork and activities centered me more than anything and allowed me to express myself wholly."
Al-rashed will find numerous creative outlets on campus, and while she will be across the country from home while at Babson, the lessons her parents have taught her are along for the ride, too. "My parents have shown me that nothing is really impossible if you are determined to succeed no matter how many times you may fail or how many times your plans may change."
Plus, Al-rashed will be following in her father's entrepreneurial footsteps and her mother's background in technology as she begins her business journey at Babson.
---
What drew you to Babson?
After being introduced by a business-savvy friend of mine, I was immediately drawn to Babson by the unique curriculum more than anything else. After looking into the courses offered at Babson in comparison to those at other colleges, I was impressed by the real-world knowledge and experience that each course offered. It seemed like Babson prepared you to strive in any field of business rather than be confined to a certain path. Also, during my interview I was really pleased to hear about the amazing community on campus and how students aren't just bound to studies and are able to pursue their interests freely.
What are your career goals? How have your past experiences affected those goals?
I studied computer science for four years in high school in hopes of working in IT like my mom. I earned multiple certifications and spent a lot of time trying to find passion in code, but I eventually realized that it just wasn't the path for me. I never felt content just sitting behind a computer for hours; I always like to be hands-on and leading and collaborating with others on larger projects. However, what that time did provide me was a solid background in technology— something that I hope to utilize in my career and future projects to bring innovation and efficiency wherever I go.
What do you hope to accomplish at Babson?
I hope to go through the entrepreneurial experience at Babson and come out of it knowing what it takes to run a successful business, having made plenty of mistakes along the way so I can learn from them later on. I also hope to network plenty and make a lot of lasting connections with fellow students and staff.
How do you view challenges?
Though it may sound a bit cliche, I see many challenges as a puzzle that can usually be figured out with time, effort, and consideration. Instead of taking on everything all at once, I typically break down the issue into smaller, more manageable tasks and take things step-by-step, protecting both my sanity and blood pressure from the onslaught of negativity that derives from our natural fear of failure. This method allows me to understand my challenges in greater depth and approach the situation from a perspective I may not have had before. Even if I fail the challenge, I can feel confident that I approached the task with a level head and put forth sincere effort—something I believe is essential to both personal development and professional development.
If you could tackle one global problem, what would it be?
Lately, I've taken quite an interest in greater widespread financial literacy regarding effective saving for retirement, seeing as how diminishing Social Security Income will eat into the future benefits many will rely on in later life. I see a clear need for some sort of a solution so those who rely on those benefits will not go without.
What does being a Blank Scholar mean to you?
Being a Blank Scholar means validation, support, and community. Being welcomed into this group alongside the other incredibly talented scholars is a very special opportunity to create lasting connections and support one another as we each begin our careers.
What does entrepreneurial leadership mean to you?
Entrepreneurial leadership means connecting a group or organization together under secure, considerate, and progressive leadership. It means listening and accommodating others while incorporating innovative approaches to challenges, continuously learning throughout the process. Entrepreneurial leaders engage others to approach life's challenges effectively and with great rationality, uniting those in their path to work collectively towards a certain goal.
Of Blank's six leadership qualities, which one do you most identify with and why?
Of Arthur Blank's core values, I identify most strongly with Innovate Continuously. The world is constantly developing, and businesses can only keep up if they innovate at the same rate the world changes. My technical background, paired with a business education and experience at Babson will hopefully allow me to help bring that innovation and efficiency to future industries.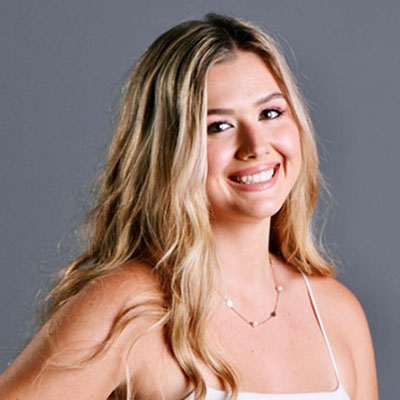 Lillian Bedard '26
For lacrosse superstar Lilly Bedard '26, the sport plays a defining role in her life.
Not a lot of people would say they're grateful for knee surgery. Especially not a star high-school athlete. But for Lilly Bedard, who has played lacrosse since she was eight, a surgery that sidelined her sophomore-year season turned into an opportunity.
This setback allowed her a chance to reflect on the role she wanted the sport to play in her life going forward and where her priorities lie. And it ultimately led her to Babson.
"I took it as an opportunity to figure out what I really want out of my life and where it's taking me," Bedard said. "I'm actually really grateful for the experience, turning that challenge into gratitude because it brought me to Babson. There are things that are more important to me than lacrosse. My education is more important, my extracurriculars, my future goals."
Bedard's ability to see a different, brighter future for herself also foretells her future goals, where she hopes to expand educational access across the world and share one of her other passions, music, with younger generations.
---
What drew you to Babson?
I am coming in as a lacrosse athlete, so that's initially what drew me to Babson. I was looking for a high-academic Division III program, so I was in conversation with coaches. I also really liked the area [and Wellesley]. What finalized my decision was I wanted a fit school before lacrosse program [fit], and I've always been interested in business. I couldn't think of a better place for me to be. It's just so perfect: the size and the support for entrepreneurship.
What activities are you involved in?
Lacrosse is a huge part of my life. I coached my own team in high school, too. I was a referee for the youth league, and I also did private lessons. Another big focus of my high school career has been music—I started my own music lesson business. I gave piano, guitar, and vocal lessons from kids ranging from five to 12. I also create my own music. I have an album and a couple singles out on Spotify and Apple Music. I've played at coffee shops and local places. I was also president of Key Club so lots of community service and leadership.
What is the proudest moment of your life so far?
We didn't have a lacrosse coach my junior year, so I had to step up into the role of captain and coach. I was running practices and making lineups in a pseudo-player-coach role that was really difficult for me to adjust to, especially having 'authority' over my peers. I think of my last year in my senior season, and I didn't realize how much of an impact I had had on people until I saw people crying. They told me how much of an impact I had had on them and how grateful they were to be introduced to the sport of lacrosse. I know lacrosse had such a huge impact on my life, so the fact that I was able to give that to someone else and mentor them and make them feel happy and included, was probably the proudest moment of my life.
What does being a Blank Scholar mean to you?
It's validating, especially with the years we've had with COVID in high school. It's easy to compare yourself to other people and what everyone else is doing. You ask 'did I not do enough in high school?' It's validating for someone to say what you do matters and you have the potential to do something even greater. It encourages me to keep going and doing what I love because people will notice that and gives me the strength in the future to cut back on my fear of failure and try my best. I know I have people and a support system at school that believes in me and knows I can do this.
What does entrepreneurial leadership mean to you?
Entrepreneurial leadership to me means having the courage to do something that hasn't been done before and to take others with you on the way. An entrepreneurial leader inspires others to innovate and succeed in their own ways, not being afraid to deviate from the norm on their way to achieving whatever goal they have set. Entrepreneurial leadership extends far beyond just the professional world and, in my opinion, is a value that can be translated into my personal life and relationships.
Of Blank's six leadership qualities, which one do you most identify with and why?
I identify with the leadership quality Put People First because I think that is the most important quality to leading not only a successful business but a successful life. I also believe this quality can be the easiest to forget on your mission to build your life and business. It can be so easy to forget your mission and start being selfish as you build your life, but it is much more rewarding to put the people around you first and to have them in mind as you decide how to spend your time.
In lacrosse, when I'm having a bad game, my strategy is always to think, 'instead of focusing on my game right now, what can I do in this moment to put my teammates first and make them look better?' When I focus on other people in the game, it becomes easier to work hard for them and to create opportunities for them, which as a result makes me a better player too.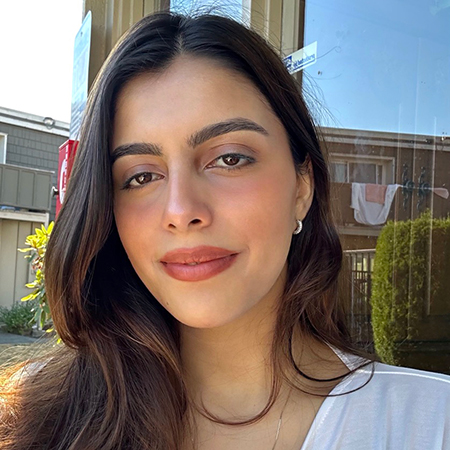 Tia Bhalla '27
The daughter of an entrepreneur, Tia Bhalla '27 knows the climate crisis needs solutions from multiple angles.
Developing answers to climate change is a taunting task for the world's most accomplished scientists and thinkers. Tia Bhalla, despite being just a new college student, is ready to jump right in. She calls climate change the "single most important threat facing the world today," and has already started creating her own potential solutions to the impending global crisis.
"When faced with challenges, I always believe that it's important to adopt a positive mindset," Bhalla says. "Instead of viewing them as obstacles, see them as chances to learn, innovate, and overcome."
As a teenager, Tia co-founded Project Dhara in May 2019, a social initiative that seeks to mitigate the water crisis in Delhi through rainwater harvesting programs and providing educational community resources. She also has worked on a research project that studies the feasibility of developing air purifiers that use chemical adsorption to absorb CO2.
"(I want to) develop environmental policy as well as sustainable products that take into consideration the needs of conventionally excluded populations as well as speak to efficiency, optimization, and fairness," Bhalla says.
Bhalla knows there's not one answer to the impending global crisis and being able to pivot and reassess is just as important as having the right solution. She is excited to keep going.
---
What drew you to Babson?
Babson stands for the kind of progressive community of change-makers that's committed to inclusion and representation at every level of academic scholarship and praxis. This is the kind of Babson ethic I saw during my campus visit and stay in 2022. Of course, the academic aspect took prominence, but I also looked at opportunities to engage in service learning and a student community that can encourage me to grow and expand my horizons. This multifaceted aspect really drew me to the school. I am passionate about diving into the Babson ethos—one of ethical thought and action, innovation, and growth.
What activities were you involved with in high school?
I had the opportunity to work as a research intern at the World Bank, assisting in the development of India's Forest and Natural Capital Engagement Strategy. My other interests included playing sports (basketball, swimming, and field athletics), carrying out environmental leadership initiatives at school, visual art, guitar, and establishing and leading the first entrepreneurship society at school.
What do you hope to accomplish at Babson?
Aside from my academic experience, I look forward to joining in social-oriented volunteering organizations and a business fraternity. Further, I hope to engage with my peers from across the world and develop revolutionary, interdisciplinary solutions to problems in our communities. In other words, becoming a part of a vibrant and diverse community at Babson.
How do you view challenges?
I like to think of challenges as opportunities for growth and development. They are the steppingstones to success and self-improvement. Embracing challenges allows individuals to push their boundaries, learn new skills, and discover their strengths and weaknesses. When faced with challenges, I always believe that it's important to adopt a positive mindset. Instead of viewing them as obstacles, see them as chances to learn, innovate, and overcome.
What is the proudest moment of your life so far?
In 2022, I submitted my research paper to a global competition where it was recognized at an international level. This was an extremely heartfelt and proud moment for me as this honor was a testament that academic curiosity about a small idea could lead to a research paper considered of significant relevance on the global landscape.
How will you bring part of home with you to Babson?
As an incoming student from India, bringing a part of home with me to Babson is incredibly important to me. While I'll be embarking on a new and exciting journey, I believe staying connected to my cultural roots will be instrumental in shaping my experience and contributing to the vibrant diversity of the Babson community.
I see academia as a platform to bring part of home to Babson. I will seek opportunities to study topics related to India, its history, economy, or entrepreneurship. By contributing my unique perspective and insights in class discussions and projects, I can help foster cross-cultural understanding and appreciation. Outside the classroom, I hope to share my personal enthusiasm for Indian sports like Shatranj, Indian fusion dishes, and Bollywood music.
What does being a Blank Scholar mean to you?
It's an incredible opportunity for me to learn more about entrepreneurship and leadership-based values, as well as to work toward my goals and incorporate what I've learned into my future practices. I am honored to have been chosen as a Blank Scholar, but I am also aware that new obstacles await me. I will endeavor to exceed expectations and will always go above and beyond to accurately express what I stand for.
Of Blank's six leadership qualities, which one do you most identify with and why?
I identify the most with 'Listen and Respond.' It's not just a communication skill; it's a fundamental aspect of successful entrepreneurship. I believe it empowers one to understand the market, meet customer needs, transform products, and adapt to a constantly changing business landscape. Embracing this mindset, I feel I can contribute significantly to the growth and sustainability of a venture.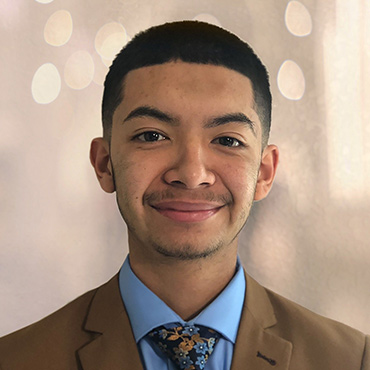 Oliver Bustos '24
The first in his family to attend college, Oliver Bustos '24 is always looking for an opportunity.
Through the years, Bustos has started all sorts of businesses. He has repaired cell phones, rented bouncy houses, and sold a slew of products, from sunglasses and charging stations, to phone cases, kiddie pools, and even cars. "I am always looking for an opportunity," says the resident of Fort Worth, Texas.
Bustos is the first member of his family to not only attend college, but also to graduate from high school. He feels a great responsibility. "At times, it feels a bit stressful," he says, "but I know I can do it, and I can serve as a role model. I teach my siblings the importance of school. I like to set that example."
---
What drew you to Babson?
My friend, Stephano, recommended Babson to me. I would talk to him about my dreams and passions. He showed me Babson on the web. He was like, look at this, one of the best business schools in the country. I ended up applying.
The thing that really sold me was just being around that community, and seeing how diverse it was. I want to learn from others. Different cultures have different perspectives.
One of the biggest things I saw in Babson is the connections. People from Babson are from all over. That's important to me. I want to travel all over the world. I heard a Babson student saying he had a couch all over the world to sleep on, and I thought, I want to be that guy.
Your latest venture, before starting at Babson, was selling cars. How did that start?
My whole quarantine I spent fixing and selling cars. It started because my sister was looking for a car. She said, "Can you help me find a car?" After that, I thought, I can do this myself. I can buy a car, fix it up, and sell it.
When I buy a car, I go for things I know I can fix. I look for parts at the junkyard or order them online. I get the cars in by Wednesday and try to have them out by Friday or Saturday. I put them on Facebook Marketplace. I have grown a little clientele.
During the summer, I also started selling kiddie pools. I ended up buying 150 pools. They came from Shanghai. I had to find a way to get them here cheap. I used UPS ocean freight to California. From California, they were driven to a UPS facility nearby.
My porch was packed that day they arrived. No one believed I would be able to sell that many. Now, I only have two left.
Why does the world need entrepreneurial leadership?
There was one conversation that changed everything for me. I had wanted to start a loan company in the future, and I was talking with my friend, Stephano. He said, "Why are you going to have a loan company? You'll benefit from the need of others."
Ever since then, I've seen the ethical side of business. There is no reason for me to choose a business that harms others. As an entrepreneur, you have to take that into consideration. It shouldn't just be about yourself and making money. It's about adding value to others.
Of Blank's six leadership qualities, which one do you most identify with?
Innovate Continuously. As an entrepreneur, I have had to constantly find new ways of innovating to make not only my products more appealing, but also to stay in business. Whether that means cutting down repair times for cell phone screens, or making regular bouncy houses into water bouncy houses, as an entrepreneur, innovation has been key to my success in my business ventures.
Who inspires you?
My mom. She was a single parent, and she came to America when she was 15. She really shaped me to be the person I am today. I grew up not on the best side of town, and her constant involvement stuck out for me.
Also my grandmom. She has a little shop where she sells nails, screws, anything you need for construction. She always has that business mindset. I picked up a few things from her. She is so personal with her clients. No matter what kind of person she comes across, she always knows what to say. I wanted to learn how to talk like that.
What concerns you about the world today?
Education is key. My biggest concern is making sure everyone has an equal opportunity to a quality education.
My mom tells me how the girls in Mexico wouldn't finish high school when she was growing up. Boys would keep going to school, but girls would stay home and learn how to cook and clean up the house. I want to change that. If everyone was given a better opportunity, the world would be a better place.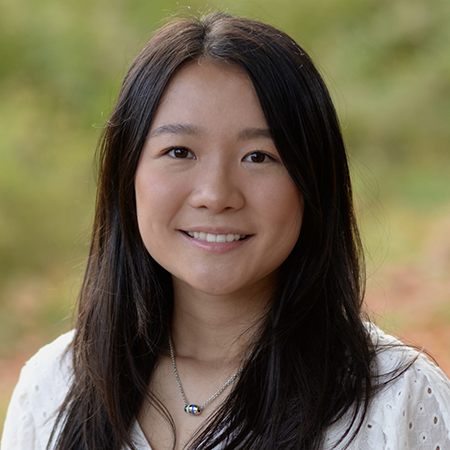 Annie Chan '27
A family business showed Annie Chan '27 that entrepreneurship takes many forms.
Annie Chan is a self-starter. She's also an artist. That combination has led to a nexus of creativity and entrepreneurial thought that guided her throughout high school and will continue at Babson. Her drive comes from seeing how much hard work and ingenuity goes into running a business from her grandparents, who ran their own electronic businesses.
"From late-night business meetings to constant research on new products, I saw how dedicated and driven they were to growing their company," Chan says. "I knew I wanted to grow up doing something that was fast-paced and interactive. I saw I could take my passion and strengths and turn them into something that could be shared."
In 2018, she combined her passions for art and fashion design and founded an apparel company called A.C. Designs, even taking online courses to learn from digital marketing to promote her business. During the summer of her junior and senior years of high school, she started an art camp at her house, inducing young students to various art forms such as watercolors, pen and ink, colored pencils, markers, and crayons.
"I wanted to provide a place where young children could learn and share their passion with each other, especially after the pandemic," she says. "This art camp provided me with the opportunity to help children who may not have had the advantage of regular art classes. I learned how my artistic skills could provide so much meaning and benefit to someone else's life."
Finding new ways to bring people together through creativity will guide Annie throughout her Babson career.
---
What drew you to Babson?
When I was looking at colleges, I knew I wanted to be close to Boston. Also, my high school was fairly small, which I was looking for in a college since it creates a tight-knit community.
Throughout my junior to senior year of high school, I attended several of Babson's on-campus events, such as the EMPOWER program, the B.E.T.A. Challenge, and Launch Babson. Through these events, I had the special opportunity to attend classes that were hands-on and interactive. At the B.E.T.A. Challenge, I watched undergraduate and graduate students pitch their ventures. Their pitches really showed how much effort Babson's professors put forth into helping students succeed and how passionate and committed students are to building their businesses. I knew Babson checked all of my boxes since it's a small community where everyone can support each other while pursuing a similar career path.
What activities were you involved with in high school?
I focused a lot on organizing the debate club and Asian student union, participating in the student council, playing on the field hockey team, and volunteering in the knitting club. Through these various activities, I developed my leadership skills and saw the value of giving back to others. As a leader, I've learned how to share my skills with others and even how to strengthen my weaknesses by learning from others. When working with groups of people, teamwork and communication are essential.
What are your career goals? How have your past experiences affected your future goals?
I hope to grow my entrepreneurial knowledge and use the marketing and financial skills I've learned to innovate sustainable products and run a successful and impactful business one day.
I wanted to get hands-on experience that involved interaction with others. I reached out to a local business, Studio by Zep, a health and fitness company, and got an intern position. I worked to help the founder market her company by designing and distributing fliers on social media and online.
What do you hope to accomplish at Babson?
I hope to continue building my skills and knowledge as a fledgling entrepreneur. I'm excited to immerse myself in Babson's strategic vision. The experiential nature of Babson's education particularly appeals to me and aligns with much of what I've learned about entrepreneurship thus far. I can't wait to learn more about the fundamentals of demand, supply chain, technology, and sustainability.
I envision my next four years at Babson as being grounded in not only academics but also within the greater Babson community.
How do you view challenges?
I see challenges like untangling a knot. To tackle this obstacle, it takes patience, time, and perseverance. Before taking on a challenge, I need to have trust and confidence in myself. Also, I need to be prepared to face any potential setbacks. Taking thoughtful risks can open many opportunities, and if I don't even give it a try, I won't even get a chance to see the outcome.
Whether the outcome is a failure or success, at least I know I gave my best effort. Although it might feel uncomfortable and frustrating at times when I fail, I remind myself the learning process is more important. I gain more knowledge and resilience every time I fail and retry.
Who inspires you?
My grandparents are my inspiration. This hard work was driven by their passion for communicating with customers and setting the goal of improving their products. When my grandparents came to visit me in the summer, they would teach me the different parts of running a business. I learned how to invest in stocks and market products through business analysis.
All of these skills later inspired me to run my own art and apparel design company, A.C. Designs. I learned how to fulfill customers' needs through messages and emails, create websites and flyers, and manage my expenses and revenues. I also sought Udemy online courses on social media and web analysis to track consumer behavior.
How will you bring part of home with you to Babson?*
As a trilingual and bicultural student with experiences in various cultural and business settings, I'll continue to be a change agent at Babson in promoting diversity, equity, and inclusion. I hope to become a member of the Babson Women in Business and the Babson Asian Pacific Student Association, as well as an integral part of Babson's mission to create and maintain an inclusive community of people from all religions, races, and ethnicities.
This diverse community will challenge me to communicate and establish relationships with people from all kinds of backgrounds. Learning from different people will keep me open-minded and enhance my ability to be bold and try something new. As a Babson student, I aim to continue helping people find their voice and become more authentically themselves.
What does being a Blank Scholar mean to you?
It means I'm joining a group of supportive leaders and entrepreneurs with whom I can share new ideas and exchange feedback. Joining such a driven and encouraging group gives me the confidence and motivation to keep working toward my dream of making a positive impact on the world.
Of Blank's six leadership qualities, which one do you most identify with and why?
I would most identify with 'Giving Back to Others.' I think a good entrepreneur is looking to positively contribute to society. I believe keeping general questions like "How can we make our world a better place? What can be improved?" top of mind naturally makes us look for ways to help those who are in need. If I have the ability to help and change someone's life for the better, I should try my best to do it.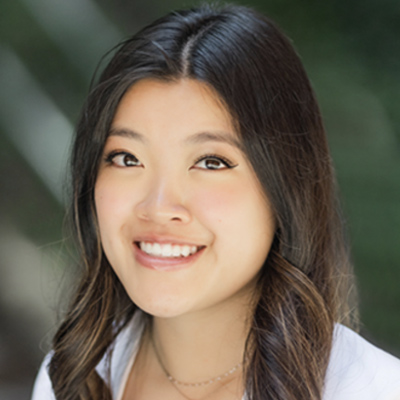 Lexie Cheng '25
For Lexie Cheng '25, entrepreneurship is in everything she does.
"I love the startup grind—brainstorming ideas, coming together, finding solutions, and being part of that problem-solving process," says the Rockville, Maryland, resident.
In high school, the budding entrepreneurial leader started her own Model UN chapter, an organization that allows students to cultivate their leadership and diplomacy. In her sophomore year, Cheng started a chapter of DECA, an organization that prepares emerging business leaders and entrepreneurs to be college and career ready.
As she entered her final summer in high school, COVID-19 swept the country. Yearning for normalcy, Cheng co-founded Klimate Kombucha, a specialty beverage distribution company, along with a friend. By creating and distributing a product from scratch, Cheng found solace during a difficult time. The company also donated 20% of their proceeds to organizations that fight climate change.
Cheng plans to concentrate in environmental sustainability at Babson, where she can combine her passion for problem solving with her experience in entrepreneurship to solve the world's biggest challenges. "Whatever my entrepreneurial endeavor is in the future," she says, "it will be focused on climate change.
---
Tell us about your background and how that has influenced your goals.
I grew up in a family of entrepreneurs. My dad owns two businesses in the technology sector. He has that unique entrepreneurial mindset, and I've always shared that bond with him.
Growing up, I was shaped by doing student government, where I could lend a voice to people who otherwise might not have a platform. In high school, I also did a lot of advocacy work with the Montgomery County Board of Education.
All these influences are factors in my desire to make the world a better place.
What drew you to Babson?
During my college search, I was looking for a gym while businesses were starting to open back up. I found Zumba Fitness. The founder, Alberto Perlman, is a Babson alum (Class of 1998), and a person of color, which I could relate to as a budding entrepreneur. I realized that my ultimate life goal is to be a Babson alumni who breaks that mold of the corporate executive stereotype, with a mission to leave a positive footprint on the world. Babson was the perfect fit for my aspirations.
What does entrepreneurial leadership mean to you?
As the climate clock rapidly nears the end of its countdown, we're still drawn to professions that further perpetuate the problems that we want to see changed. However, entrepreneurship provides a tinge of optimism by giving us that ability to be proactive instead of reactive and to create long-term solutions before long-term damage becomes irreparable. Entrepreneurial leadership has the power to enable people to pursue positive solutions and to achieve those goals through a different lens.
Of Blank's six leadership qualities, which one do you most identify with?
Giving back to others. Part of that is to always be kind, to have empathy, and respond to conflict gracefully. These are also essential traits to being a good entrepreneur. I also think the value "listen and respond" is quite relevant to what I've been doing with my student government and advocacy work.
Besides starting ventures, what are some of your interests outside the classroom?
I'm a theater kid, and I love musical theater. I have performed both onstage and in the pit orchestra for the past four summers with Wildwood Summer Theater, an all-youth performing arts group in Maryland. The group is made up of people ages 18 to 24 who create the whole production—from the actors, to the crew, to the set designers. Performing arts is a logical fit for the entrepreneurial mindset, as it relies on thinking on your feet, and being able to pivot on a dime. When I get to Babson this fall, I plan to join improv group, and Babson Players.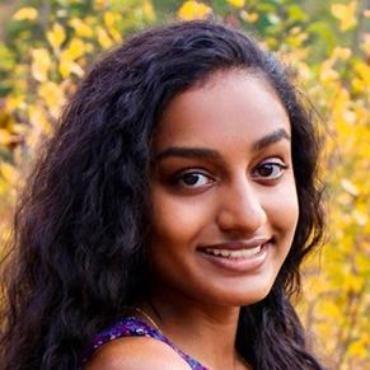 Jyothisha Chilukuri '25
First-generation American Jyothisha Chilukuri '25 has always been an entrepreneur.
During third grade, Chilukuri rallied her recess classmates to set up a working mall—complete with goods, services, retailers, and consumers. "I don't know why I was so intrigued with retail and business at age 9," says Chilukuri, "but it stuck with me through the years."
Continuing the trend, in fifth grade Chilukuri launched Tween Magazine with two friends. Popular with classmates, the monthly publication featured fashion trends, class news, and pop culture insights.
Just a few days into ninth grade, Chilukuri started a club to raise money for kids with cleft palate. After completing the paperwork, drawing up the constitution, and setting up and running regular meetings, Chilukuri morphed the club into her school's first chapter of Operation Smile, an organization that delivers safe cleft palate surgery to those who need it most.
A former high school vice president of student government and avid tennis player, Chilukuri still has an edition of Tween Magazine tucked away at home in Massachusetts, where she lives with her parents.
---
During your last summer of high school, you started a podcast. What was the focus?
I started That Coconut Life with two friends. The name refers to the juxtaposition of having a physically brown skin tone while also being told to adopt the cultural norms of a predominantly white society. The podcast delves into topics and social-justice issues pertinent to the Indian-American community. The research and logistics were extensive, but the experience was super rewarding. We were able to help others gain a voice in a meaningful conversation, covering important topics facing their lives.
What drew you to Babson?
I took part in an entrepreneurial incubator, run by Babson professors, during a virtual event where we talked in groups, came up with an idea, and then pitched our idea to a panel of students and professors. During the event, I met people from Peru, India, and other places. It was appealing to see so clearly that Babson was focused on entrepreneurial thinking, group work, and diversity.
What does being a Blank Scholar mean to you?
This is going to be a defining experience in my overall Babson journey. We are only the second cohort, so we have a lot of space to direct the program. And, being able to work with last year's scholars is really amazing because we get to pivot and take the program wherever we want it to go.
What does leadership mean to you?
Everyone is listened to—even the people who might not want to speak up for themselves or who may not have a platform. For instance, I've been approached through student government by students who needed to spread the word about an idea they had. Together, we were able to find the right approach to solving their problem. I was able to help amplify their voice and evolve their ideas just by collaborating.
Of Blank's six leadership qualities, which one do you most identify with?
Put people first. In business, social entrepreneurship, or at a nonprofit, you need to be able to put people first. That's what gets your business going in the first place, and it is what helps it grow, become successful, and continue. Putting people first is even what makes a product sell, by putting the focus on your consumers and their needs.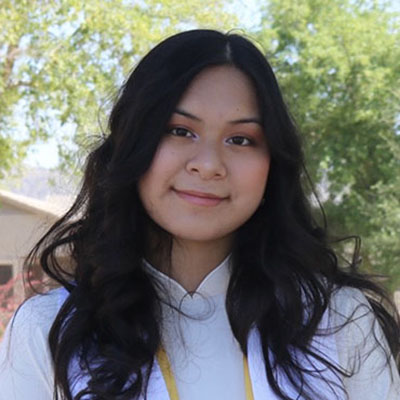 Kathy Do '26
Kathy Do '26 isn't afraid to try new things.
Business has always been a family affair for Kathy Do. Her mom has been a small-business owner since before Do was born, running her own nail salon in their local area. "My mom is the first figure I looked up to in terms of going into the business realm. The fact that she did this and I've seen her grow with her business, it's motivating to me," Do says.
That motivation grew as Do did. Throughout high school, she has helped her cousin with her business selling resin keychains and other goods via social media. "Without my cousin, I would have to learn everything at Babson," says Do. "But [because of this experience], I know a little of it."
What she plans on learning at Babson is a lot. Her interests are vast—in high school, you could find her participating in academic decathlon, Germanic club, and knitting club, and she even started her own SAT prep club. She plans on taking that general curiosity into the business world, hopefully finding ways to address environmental challenges along the way.
---
What drew you to Babson?
I always knew I wanted to do something in business. When I learned about Babson from my teacher and my research, I saw Babson's emphasis on leadership and teamwork. If you asked me prior to high school, I did not like teamwork. When I went to high school and I met people with the same mindset as me, I realized that group work was really effective because not only was I learning from them but I was able to get perspectives I wouldn't have gotten if I just did it myself.
Babson takes pride in the Foundations of Management and Entrepreneurship class. I was reading about it and thinking 'wow not only do we get to start our own venture, but we get to start one with other people who have the same goals in mind.' I am looking forward to being around other people who are excited and who want to learn about the business world.
I am excited about the diversity at Babson. I am excited because I had a lot of struggles with a lot of my own cultural background, and it wasn't until these last few years that I realized, while being at home with my family and immersed in the culture around me, that it's something I'm not only interested in but also want to spread my knowledge of. When I get to Babson, I'm excited to meet all the different types of people there and be more confident and proud of my own culture. I'm so excited to meet everyone and join all the culture clubs. I had my first step with German culture. I don't think I ever would've learned about German culture as much as I did if I didn't take that step.
What is the proudest moment in your life so far?
Besides the little things, one thing that comes to mind, in the academic decathlon my senior year, I ranked number five in my district. While that wasn't crazy big, for me, it was a proud moment. In my freshman year—actually every year—I had so many struggles with the program. It was such a different pace, and I didn't know how to learn like that. As I was improving my senior year, I did the best I could. I am really proud that I made it that far because freshman-year me wouldn't believe I could make the top 20 or 30. I was insecure in my abilities in that program. The fact that I felt proud of what I did at the end of my four years was amazing for me.
If you could tackle one global problem, what would it be?
Last year, the topic for the academic decathlon was water. That was the first time I was exposed to the water shortage and the water scarcity we are facing. Since I don't know as much as I wish I did, I would really like to learn how we can overcome this challenge so we aren't dying in the future because we have no water.
Who inspires you?
This is a common answer but common for a reason—it's my mom. My mom is a small business owner [she owns a nail salon] and the first figure I looked up to her in terms of going into the business realm. The fact that she did this and I've seen her grow with her business, it's motivating to me. Also, my mom's work ethic is the most admirable. She's taught me you should do everything with full dedication because what's the point of just giving half your effort? Whatever I wanted to do, whether it be at Babson or even further, I wanted to put as much effort into it as I could so I would be proud of what came of it. Even if it's a failure or doesn't reach as high as I wish it did, I can be proud of that achievement. My mom has inspired me to do the best I can. That's one of the biggest lessons I've learned in life.
While I don't want to step into the same space, seeing her start that endeavor and run with it since I was born is inspiring.
What does being a Blank Scholar mean to you?
As a scholar, it means I am being supported by the program. It's one of the first times I've been given the support to take part in my own endeavors and learn from past scholars and mentors in the program. I think it will be an enriching experience that I've never had before. This is different because I'll be in an environment I've never experienced before and just knowing I have this group of people to support me, by my side, means a lot. I can strive for the best because these people want me to do that. Not only do I want to make them proud and I am proud to be a Blank Scholar, but I also want to show them I am someone they are proud to have supported.
What does entrepreneurial leadership mean to you?
Entrepreneurial leadership means having the mindset to persist no matter how long and bumpy a journey may be. Our lives are full of unexpected roadblocks and striving to overcome and learn from such journeys will allow us to make a difference. Additionally, it should mean that even without obstacles, we still find opportunities to improve upon and continuously search for paths to modify for the better.
Of Blank's six leadership qualities, which one do you most identify with and why?
Lead by Example. I noticed that I always learned more from a lesson when the mentor demonstrated they stood by their words. The people who have inspired me don't take their words for granted and validate their advice by applying it themselves. After making this realization, I always make an effort to support my advice through my actions. As I learned from the examples of my mentors, I find it essential to be an example others would want to follow as well.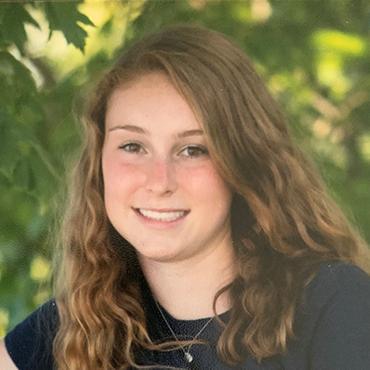 Kendall Garvey '25
Kendall Garvey '25—thinker, tinkerer, and entrepreneur—turns ideas into action.
"I keep a running list of my ideas that l plan to eventually sell as products or offer as services," says the AP Scholar.
During the summer going into her senior year, Garvey started a venture called Kendall's Sweet Serenity that combined her passions for games and baking. Her idea was to sell innovative baking games—picture a choose-your-own-adventure meets delicious baking recipes—and treats on the side.
She promoted her venture on Etsy and Instagram, and the orders started flowing in.
Garvey experienced that moment when every entrepreneur faces a crossroads. "We were having more success selling custom-baked goods," she says, "than actual baking games." Looking at the numbers, Garvey pivoted to ensure the business' success and growth.
The venture was so successful, she elicited help from her mom to keep up with demand. "Now it's a partnership for sure."
Garvey donates a portion of the profits to Feeding America, a nationwide network of more than 200 food banks. She aims to nurture her natural ability to turn ideas into action during her four years at Babson.
---
What will you be studying at Babson?
Entrepreneurship. My grandpa and dad started their own business and invest in other businesses, and they have influenced me a lot. I've also taken an entrepreneurship course at my school, and developed an interest in starting my own business.
What drew you to Babson?
I was really drawn to Babson for its entrepreneurship. I'm looking forward to the (FME) course, the entrepreneurial curriculum, and the many resources for entrepreneurs on campus.
I'm also excited about the small school feel, and the global community. I feel like I can learn a lot from all the people from different backgrounds.
What does being a Blank Scholar mean to you?
It's a huge opportunity for me to learn more about entrepreneurship and values-based leadership, and to work toward my dreams and apply what I've learned into my future business practices.
If you could change one thing in the world through entrepreneurship, what would it be?
I'd change how people are so obsessed with technology and screens and social media, especially in my age group. The obsession with Instagram and Snapchat in society has made things a lot more complicated socially, and it's caused a lot of mental illness. Social media definitely has benefits to it, but I would try to address some of the negative aspects.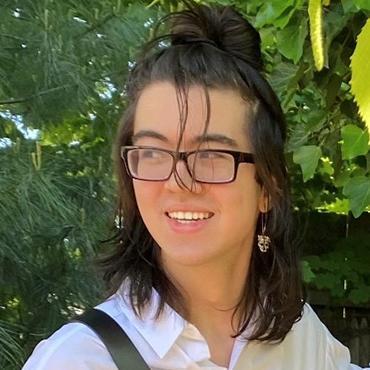 Aran Glynn '25
With Korean and Irish influences, Aran Glynn '25 has always followed the path of creativity—and pragmatism.
"My mom is an immigrant from Korea, and my dad's parents were immigrants from Ireland," he says. "While neither of them have any connection to business, they both gave me a sense of creativity, and the desire to explore business through entrepreneurship, by taking calculated risks."
For the last four years, Glynn has done just that. Born and raised in the Bronx, New York, Glynn attended Regis High School, an all-boys Jesuit Catholic school. There, he pushed the envelope in everything he did, and notched up leadership accolades along the way.
"What I've enjoyed the most in terms of leadership is carving out this artistic space for future students," he says. "I created the fashion club. I created our school's first mixed-media, visual arts publication. I was also able to find students who have an artistic inclination, and collaborate with them. I lead Glee. I lead the Asian Cultural Society. I'm also leading the yearbook."
These are the elements that form the backdrop for Glynn's calling to combine art with entrepreneurship, with a focus on fashion and business.
---
You started your own fashion brand, what was the inspiration for that?
My interest in fashion started by going to The Met and seeing The Costume Institute Exhibition. I had never really looked at fashion as a form of art. After exploring the programs at The Met, I realized I wanted to start my own venture, and I started a small brand that I began by making couture pieces that are specifically made for the runway. As I started to gain an interest in entrepreneurship, I pivoted, and adapted my vision for fashion as a form of commerce.
What drew you to Babson?
I was interested in business, specifically entrepreneurship, because entrepreneurship is the most creative form of business, as it relies almost entirely on innovation.
As I started to look more into it, I realized that Babson differs a lot from other business schools in how personalized and individualized it is. The professors obviously put so much care toward their students, and really develop their business ambitions and their personal goals. Having a liberal arts environment in a business school, I thought was also incredibly unique. It perfectly encompassed how I viewed my education.
What does leadership mean to you?
Leadership is embracing and understanding the different skills and the diversity of your team. And, then taking these different viewpoints and synthesizing them to arrive at a successful endpoint. Thinking creatively, and critically, and trying to see the connections that even maybe your own team members aren't able to—that is what really results in work that is not only truly inclusive, but also is truly collaborative, and the most compelling.
What does being a Blank Scholar mean to you?
Being a Blank Scholar shows the school's belief that I can have a platform, and I can use that platform wisely to lead in business and the arts. That recognition is such a crucial part of how I plan to create value in the world.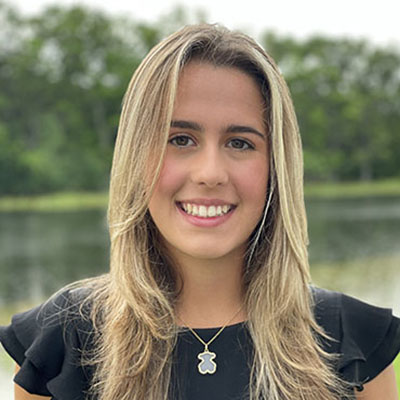 Cristina Gonzalez '26
Cristina Gonzalez '26 hopes to redesign education globally.
For Cristina Gonzalez, everything she does comes back to the community. Whether that's her school, her family and friends, or her culture, she thrives off camaraderie with those around her. "To me, 'home' is not a place but rather a feeling of comfort that I find when I am near the people and things I love."
The instinct to reach out to the people around her for both support and to offer help guides Gonzalez as she builds a new community at Babson. She sees education—her own as well as that of others—as a crucial part of that community, too. Along with being an active member of the National Honor Society and Spanish club, Gonzalez was a math tutor in high school. She believes expanding access to education will open a portal to more positive societal change.
"If I had the resources to tackle one global problem, I would most certainly attempt to find a way to redesign education," says Gonzalez. "I believe if we can redesign education and ensure everyone has access to it, it will have a domino effect and other global conflicts, like poverty and hunger, will consequently be tackled."
Her community-based mindset will serve her well at Babson, as she begins to become a campus leader and entrepreneurial thinker.
---
What drew you to Babson?
Aside from its strong entrepreneurial education, one of the main factors that drew me to Babson is the strong sense of community that is found within the institution. The small, yet diverse and driven, community that is found at Babson will empower me to focus on my passions and explore areas of endeavor while forming a family with people that have similar interests to me.
What do you hope to accomplish at Babson?
At Babson, I hope to find a home and create a family that inspires me to always be the best version of myself. I want to surround myself with people that share similar interests to me and help me further develop leadership and management skills while discovering my passions. Most importantly, I hope to find my role and purpose at Babson which will allow me to accomplish many goals while serving those around me.
How do you view challenges?
Most of the time, a challenge is perceived as a negative occurrence. However, I think a challenge should be perceived from a different perspective. To me, a challenge is an obstacle that should always be welcomed to achieve a purpose. Challenges allow me to stay away from mediocrity, to further develop my skills, and to ignite positive changes.
What is the proudest moment of your life so far?
I consider the results of all my high school accomplishments and experiences, in several aspects, to be a clear recollection and representation of my proudest moment. After years of hard work and sleepless nights, the results of my experiences allowed me to see that all my hard work paid off in the best manner. It is even more special considering the people I love the most have been by my side through all the peaks and valleys that I overcame in the past four years.
If you could tackle one global problem, what would it be?
If I had the resources to tackle one global problem, I would most certainly attempt to find a way to redesign education. I believe if we can redesign education and ensure everyone has access to it, it will have a domino effect, and other global conflicts, like poverty and hunger, will consequently be tackled. To do this, I think we need to search for a way to understand the role we all play in society and teach this to children, teens, and young adults so they can become positive assets to society. I understand this would be a huge effort that can take decades and multiple generations, but I consider redesigning education a key global conflict that needs to be tackled to solve other issues.
How will you bring part of home with you to Babson?
To me, 'home' is not a place but rather a feeling of comfort that I find when I am near the people and things I love. For this reason, I will bring part of home with me to Babson through some of the qualities found in my Hispanic culture and heritage, hoping Babson can convert it into a home for me. I will strive to spread the loving and heartwarming sense that I find at home to the people around me which will hopefully allow me to create a community in which I find comfort, allowing me to call it 'home.'
What does being a Blank Scholar mean to you?
I feel extremely honored to have been selected as a Blank Scholar, yet I simultaneously understand that new challenges are coming my way. This opportunity demonstrated that all the hard work and determination that have been a part of my educational career definitely paid off. Additionally, being a Blank Scholar introduces new challenges and goals for my future. I will strive to live up to the highest expectations and always go the extra mile to accurately represent my values.
What does entrepreneurial leadership mean to you?
Entrepreneurial leadership is a concept that is seen amongst eager leaders who can identify challenges and are willing to work on overcoming them along with a team that adds to the vision. This is very important in today's world, considering we are continuously facing obstacles that need to be solved through flexibility, persistence, and implementation—characteristics I consider to be a part of entrepreneurial leadership.
Of Blank's six leadership qualities, which one do you most identify with and why?
Lead by Example. I consider that by holding myself to high standards, I will demonstrate to others what lies ahead and allow them to set similar goals for themselves. It is also important to lead by example so that, as a leader, the people around me feel I'm working with them, along their side, instead of being looked down upon.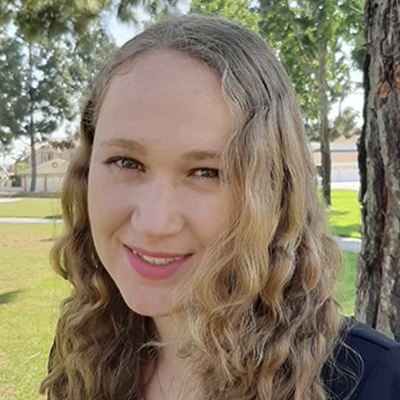 Madison Grogan '24
Call Madison Grogan '24 a connector.
As a high school student in Orange County, California, Grogan compiled a list of accomplishments and activities marked by leadership.
"I always try to help people and uplift them and inspire them every day," she said.
She aims to put that people-first approach to good use during her four years at Babson.
---
Is there a moment or accomplishment in your life that you're particularly proud of?
I designed a float for the 2020 Rose Parade and got to ride on it. That was such a proud moment for me. Entering an art design competition was something that I never could have seen myself doing. But, then, it actually happened. It just wasn't something that I would do; it was something I did do.
What drew you to Babson?
I like Babson's community—unique and diverse. I also like that Babson is a small school with a business mindset. I knew I would get the hands on instruction I need while also being able to connect with professors and other students. I knew at Babson I would be more than just a number.
What does being a Blank School Scholar mean to you?
It's great seeing your work recognized by other people. And, I think that Arthur Blank is a very good role model. He represents somebody who persevered and got it done.
Why does the world need entrepreneurial leadership?
Being an entrepreneurial leader means being someone who sees the world not as it is, but how it could be, and, then, trying to transform the world for the better.
If you don't have entrepreneurial leaders looking ahead, looking at how they can benefit the world, the world could stay stagnant. You need progress, and you need to be able to come at it in a way that is beneficial to solving problems.
Of Blank's six leadership qualities, which one do you most identify with?
Put People First. I care a lot about other people and I try to make connections wherever I am. I've served in a lot of leadership positions. They've given me opportunities to meet people that I would not have met, which is why I always try to be so involved—because it's important to try to connect with other people in any way you can.
What's something that concerns you about the world today? What can be done about it?
Education. It is the key to developing a country and progressing a society. If we work to expand education of youth throughout the world, the world could be a lot better place.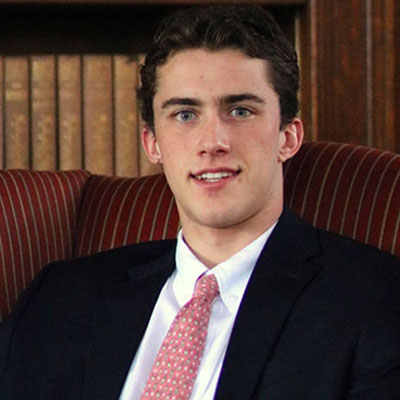 William Holland '26
William Holland '26 finds opportunities in challenges.
One of the biggest challenges of William Holland's life came recently during his gap year between high school and Babson. After his high-school hockey career ended, he hoped to continue it on a junior team. He was unfortunately cut from the first team he tried for, leaving him only weeks from the season without a placement. He had to make some calls.
After ringing about half a dozen teams, a coach from Edmonton reached out. Will had a tryout—and made the team in the first two days of practice. "I didn't even have my own gear because it got lost in the airport," Holland said. "A few days later when the season started, they wanted to sign me. I was pretty excited, having gone through [getting cut] weeks earlier."
Holland didn't wallow in the stress of being cut but channeled it into something productive. It's how he approaches most challenges, including more global ones. During the last few years of high school, during the height of the COVID-19 pandemic, he helped start an initiative called Healthy Deerfield, which aimed to give younger students at the school a sense of normalcy during remote learning and isolation.
Holland begins this new journey, which includes, of course, playing for the Babson hockey team as well as being a productive problem solver inside the classroom.
"I am excited to go back to school after taking a year off," said Holland. "I'm also excited about the Foundations of Management and Entrepreneurship (FME) class. Starting a company, running it, and understanding what goes into that will be a new experience for me. I am excited for that and what that offers."
---
What drew you to Babson?
Opportunity and the campus. Not necessarily the physical aspects—though it's beautiful in its own right—but the tight-knit community feel and the support system that is there allows students to reach their full potential and get them where they want to go. That's the biggest thing that drew me to Babson: the idea of being in that support system. It's there and there's proof of it.
What activities are you involved in?
I was the varsity hockey captain and played varsity lacrosse as well. Outside of athletics, I was a peer counselor on campus for over two years and was also part of a few clubs, including the Special Olympics program and Healthy Deerfield, which I helped start. It was during COVID and was to help younger students have a sense of normalcy during the lockdown. At the moment, it was a thing we needed to be doing.
How do you view challenges?
The first thing I usually do when facing a challenge is to take a step back and not run straight into it, instead try to analyze what I can do and not be afraid to attack it once I understand what I'm up against. I think it's important for me to be confident in what I'm doing. That's a huge key to getting where I want to be.
What are your career goals? How do you plan on pursuing them at Babson?
I'm interested in finance and environmental sustainability. I'm good with numbers and I enjoy the math side of finance, but I also took a few classes on sustainability and had influential teachers in high school who opened me up to the world of climate change and how businesses can affect the way we are going. I want to help and do it in a way that I know I will be successful in having an impact. I think there are a lot of problems that come from that one problem, so that's where I want to help and where I want to start.
What does being a Blank Scholar mean to you?
It does carry weight. It's an honor to be a Blank Scholar. It also brings a lot of opportunities to develop and grow as a leader on campus and in the world as well as develop my entrepreneurial and business skills. For me, the opportunity to be a Blank Scholar means more opportunity in general.
What does entrepreneurial leadership mean to you?
Entrepreneurial leadership means understanding difficult world problems and identifying how to approach them to create attainable solutions that are socially and economically advantageous. Taking action towards eliminating these issues requires diligent learning, planning, and cooperation, making it necessary to employ a broad focus with the ability to solve individual tasks.
Of Blank's six leadership qualities, which one do you most identify with and why?
Of Blank's six leadership qualities, I identify most with Listen and Respond because it encompasses other qualities while recognizing the most pressing issues. In listening and responding, I believe you listen to people and their problems, thus putting people first while working to include everyone. Producing solutions requires continuous innovation that will allow for progress and further undiscovered potential. Through listening and responding, we can connect with others and take interest in new horizons.
Shruti Jain '24
Shruti Jain '24 knows a thing or two about building community.
Inspired by her upbringing, Jain creates communities everywhere she goes. They all stem from the idea of shared, lived experiences and supporting others.
Take, for example, her high school experience. Recognizing that many fellow students received financial aid, Jain created a space for the group to connect and share resources. "I found a voice in myself to become a leader and to support others," she said. "That's what being an entrepreneurial leader is—finding solutions, being unique and creative, and being someone who is supportive, inclusive, and understanding."
---
Tell us about where you grew up.
My parents emigrated from India to the United States in the '90s. I grew up in California and lived in a low-income community of color. I went to high school at a predominantly white private school, and I commuted about an hour to get there.
I think a lot about the bus ride I took to get to school. I started in my town, where I'd see people walking to work, people with their children. When I got to my school, the community was quiet—it didn't feel as connected. I learned a lot from the experience, including that I'm from a supportive community who understands each other's journeys.
What communities were you a part of, or did you create?
In middle school, I was a Next Generation Scholar. They are a nonprofit dedicated to leveling the playing field for underserved students, taught me about navigating the world as a low-income student. My Next Generation Scholar friends and I understood one another.
I received financial aid to attend high school. At first, I felt like I didn't earn my place because of that financial aid, but I started to notice that a lot of my friends received some sort of financial aid. I created FASES, a group that speaks to the experience of being a low-income student at an elite school and provides a safe space for students.
What drew you to Babson?
I learned about Babson my junior year. I've always had an interest in entrepreneurial thought and business. I learned that Babson reflects this idea of helping one another and finding new solutions that better the world. Being an entrepreneurial leader and finding solutions connects to bettering the community, which reflects the values and experiences I've had.
Of Blank's six leadership qualities, which one do you most identify with?
Giving Back to Others and Including Everyone. The Blank Family Foundation really emphasizes the idea of finding solutions to better a community. Inclusion and support is so important.
The communities I have been part of have given so much to me, like my parents and the Next Generation Scholars. It's my responsibility to give back to them, and to students who weren't given the opportunities I was given.
What does being a Blank School Scholar mean to you?
When COVID-19 hit, my mother lost her job. I was stressed about affording school. I was about to take my AP calculus test when I got the call that I'd been given the scholarship. I freaked out. I was enthusiastic, excited. I could go to a school I was passionate about, and afford it. A weight had been lifted off my shoulders. The test went well, too.
I'm excited to work with the other Blank Leadership Scholars. It's unknown what we will accomplish, but I know we will accomplish great things.
What's something that concerns you about the world today?
I live in California, where there are a lot of wildfires. I woke up this morning thinking it was 5:30 a.m., but it was 9:30 a.m. It was completely dark. The sky was orange. So climate change is on my mind. It's something that needs to be given more focus and thought.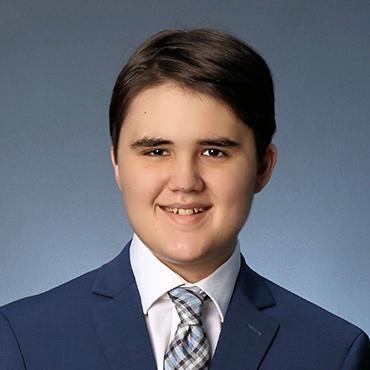 Matthew Johnson '25
If he's not in school, Matthew Johnson '25 is doing business.
"Working on new projects, maintaining current projects, and consuming business-related content," says the Miami, Florida, resident.
With a friend, Johnson co-founded a venture called Quarantine Cooks, a subscription-based service providing software to members. It started as an app that would alert users when much sought-after items such as above-ground pools, video game consoles, and gym weights became restocked on websites during the pandemic.
They soon monetized the venture at Johnson's urging, and charged subscribers a fee to use their technology. They quickly turned a hefty profit for their subscribers, which ultimately made their venture attractive to would-be buyers. The pair sold the company after three months.
Johnson's latest venture is reselling art work, which has earned him more than six figures to date.
---
Why did you choose Babson?
I chose Babson for its prominence in entrepreneurship, while also being such a great overall business school.
But, I also know that entrepreneurship is not just about starting a business. Babson is going to help further my leadership skills, and prepare me for a variety of career paths after college. I'm looking forward to getting hands-on experience in a variety of settings.
What was it like growing up in Miami?
I'm half-Cuban—my mom is from Cuba and my dad is from New York. In the early years of my childhood, I was not proud of being Hispanic. I didn't want to learn Spanish at all. But, my Cuban family is here in Miami, and Miami is such a vibrant city, that eventually things started to change for me.
Between my interactions with my friends, and really enjoying the city of Miami, this experience has shown me the value of culture, and being proud of where you come from.
What does the Blank Scholarship mean to you?
Only six people are chosen to be Blank Scholars each year, and with that, comes a great deal of responsibility. There is an expectation to be great. I want to fulfill that expectation, and lead by example.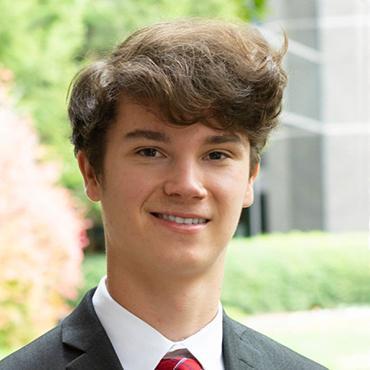 Kellen Kruglewicz '25
Kellen Kruglewicz '25 values relationships—and helps others.
"One of the things I've developed over the past couple of years is my passion for volunteering," says the resident of Atlanta, Georgia.
Kruglewicz is adept at finding meaningful ways to make a difference and grow his relationships with those around him.
For example, Kruglewicz logged countless hours during high school volunteering in his local community as a lacrosse coach for physically challenged kids. He also took initiative and joined an organization that brings mothers and sons together to bond through local philanthropic opportunities.
"As president of our local Young Men's Service League Sandy Springs Chapter, I saw my friends and I grow as people throughout high school, as well as strengthen our relationships with our moms," he said.
With an interest in global business management, Kruglewicz appreciates results. "We volunteered over 3,000 hours just last year alone, so it's a great impact that we can have. For example, we built a playground in our local community."
---
What does being a Blank Scholar mean to you?
Being an Atlanta native, I've always looked up to Mr. [Arthur] Blank, being from Atlanta. From studying his entrepreneurial successes, to seeing examples of his leadership within his sports organizations, he has always been one of my role models.
Being able to custom fit what the Blank Scholarships means, through trial and error, is something that is unique, and I think will be very valuable in creating a fantastic and diverse cohort and experience for future scholars.
What does leadership mean to you?
Identifying issues, discussing issues with others, and acknowledging their thoughts. Then, delegation—acting upon those ideas—is something that I think is the embodiment of leadership.
If you get the idea and solution in place, and then delegate that solution, you'll have an opportunity for innovation, and be able to act upon the solution as efficiently and effectively as possible.
What drew you to Babson?
I'm really excited for the interdisciplinary classes, on top of the already unique curriculum with (FME). I'm also very excited because I was looking through the professors' bios and noticed their real-world experience. Having classes—with those professors—that are so tangible to career experience and relating it to real world events is something that really drew me to Babson.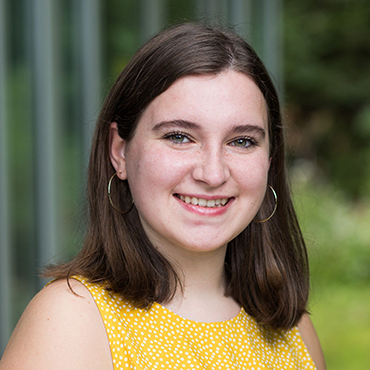 Kate Lapierre '24
Kate Lapierre '24 dreams of a more sustainable future.
She is passionate about sustainability, and recognizes the responsibilities that come with entrepreneurial leadership. "The world needs people who can think in new and creative ways to solve problems, and they can do that through entrepreneurship," she said.
In fact, she's already on a path to ignite change. In high school, she started Twin Skin, selling eco-friendly and all-natural lip products in biodegradable packaging. Twin Skin was recognized as one of the top 29 innovative businesses in Rhode Island.
---
What are you most proud of?
The proudest moment in my life was when Twin Skin was recognized as an "Inno on Fire" recipient by RI Inno in 2020. This award was given to the top 29 innovative businesses in my home state, Rhode Island, who represent the local innovation community's cream of the crop—those who are doing extraordinary work to drive change for the better.
It was an honor to be chosen among such well-established businesses and entrepreneurs who were twice my age, especially since it was only about a year after Twin Skin started selling its products. Being recognized made all the late nights my sister and I perfected our recipes or made hundreds of products worth it.
What drew you to Babson?
I chose Babson College because the more I looked into it, I knew it was the perfect school for me. I am able to get an amazing business education from the top entrepreneurship school while pursuing my other passions in liberal arts classes.
What does being a Blank School Scholar mean to you?
The Blank Leadership Scholarship means I am able to use business and entrepreneurship to have an impact on the community around me.
Why does the world need entrepreneurial leadership?
The world needs people who are willing to take risks while being flexible in the ever-changing business environment. In addition, I feel it is also equally important to use your business to positively affect your community.
Of Blank's six leadership qualities, which ones do you most identify with?
Lead By Example. When creating my business, Twin Skin, my goal was to encourage others to become more environmentally-conscious and switch to alternatives that were better for the environment.
Give Back to Others. I think it's important that no matter what you're doing, whether it's starting a business or something else—that you do it in a way that comes back to your community and society as a whole.
What do you like to do for fun outside the classroom?
Normally, you can find me just hanging out with friends or family or my two pets. And, during quarantine, I picked up painting and new crafts, which is something I did when I was younger.
Charles Price '27
Charles Price '27 sees entrepreneurship as an avenue to help others pursue their dreams.
It takes about five hours to drive from Montreal to Toronto. For Price, the ride between the two cities helped solidify his interest in entrepreneurship.
"One experience that impacted me was when I met a student who just moved to Canada on a ride from Montreal to Toronto. He was telling me about how difficult it is for him to find work," Price says. "The student takes this five-hour commute every week because it was the only work opportunity he could find"
Price sees entrepreneurship as an opportunity to help people like this fellow student. People who want to pursue fulfilling work, support themselves and families, and maybe spend less time commuting while doing it.
"There are so many businesses that need employees and so many people that want to work," Price says. "Unemployment is an issue that can be fixed and can benefit everyone. It takes people who are willing to address it. I want to be part of the solution."
The next five-hour-plus journey for Price will be arriving at the Babson campus, eager to start using entrepreneurship as a gateway to greater pursuits.
---
What drew you to Babson?
The main thing is the curriculum-focus on entrepreneurship and the way it's a hands-on teaching method. I know I want to be an entrepreneur.
The small school size is also appealing. When I visited, it felt like a family. I think Boston and the surrounding areas are a great place to study. There are a lot of other universities and career opportunities.
What are your career goals? How have your past experiences affected your future goals?
I'm certain I want to be an entrepreneur and run my own business. I started a window-washing company in 2020. I am now up to eight employees, mostly my friends from high school that want to work in the summer. The reason entrepreneurship is my passion is that I love the freedom to create a environment I enjoy, and with people I enjoy being around. I don't feel like I'm working.
How did you get into window washing?
I used to work for my municipality, but my position got cut in 2020 when COVID hit. I did some basic math: If I wash a few houses this summer for a couple of hundred dollars each, that would be similar to what I made working for the city. I decided to try it.
I started knocking on doors. It took off. I had to hire two employees right away. We did over a hundred houses that summer. This summer (2023), I have four people who work in cleaning and a part time sales team of about four. Now, we do about 25 to 30 houses a week. I work with my friends. That's the part I enjoy the most, being able to employ other people and give them a sense of doing something. My goal isn't to increase revenue or the bottom line but to employ a lot of people.
You created something new out of a setback. How do you view challenges?
I've learned to embrace challenges and see them as an opportunity. I think with everything challenging, there's something you can take out of it to grow and improve. Challenges are inevitable; they are something to lean into.
What do you hope to accomplish at Babson?
I want to win a national championship with Babson Rugby.
What is the proudest moment of your life so far?
I don't have one moment. Some highlights include receiving the Blank Scholarship. Another is a medal I got at Upper Canada College (UCC) that's given to the student that overall contributes the most to the school, in terms of academics, extracurriculars, and character. I was not expecting it at all. It was a culmination of everything I've put my efforts toward while there.
Who inspires you?
My grandparents, who moved from Czechoslovakia to Canada with basically nothing. They didn't speak English well, they had no connections, no family nearby. They started from nothing but worked hard. Working during the day and going to school at night to build a better life for themselves. They started a (real estate) business, and because of that, they've been able to provide for their children and grandchildren. I look up to them a lot because of their courage and work ethic.
What does being a Blank Scholar mean to you?
I'm very grateful for this opportunity. It will give me new experiences and perspective to help me grow as a person and entrepreneur. It's a unique opportunity. I can't wait to get started and be part of the program.
Of Blank's six leadership qualities, which one do you most identify with and why?
The two that stick with me the most are 'Lead by Example' and 'Giving Back to Others.' It's important to create an environment where I can positively impact others through my words and my actions. The gratification you get from helping others is indescribable. I feel like many people have helped and given to me, so I have an obligation to do that for others.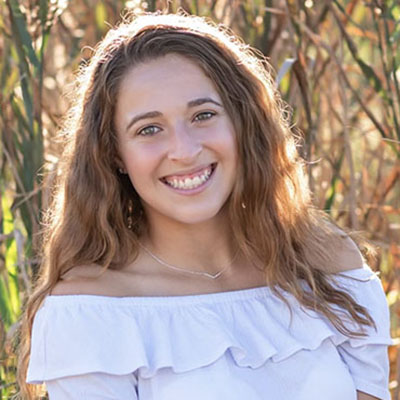 Kaitlyn Pristawa '26
Kaitlyn Pristawa '26 wants to continue to combine her passions: softball, entrepreneurship, and environmentalism.
Kaitlyn has known since the age of seven, when she tried to open a restaurant in her family's living room, that she wanted to own a business. While her restaurant didn't have a long shelf-life, Pristawa's entrepreneurial spirit only continues to grow. She currently works at Planet Fast Pitch, a softball training company (she is also a softball catcher herself), and recently helped lead a donation campaign to collect softball equipment for girls in Ghana.
It was a learning experience not only in building out an awareness campaign but also in how business and personal passions can come together for entrepreneurs.
"I had to get the word out there, so I learned a lot about marketing and advertising," said Pristawa. "There was a huge room of donations. It was so rewarding to look at and think about how this will be making people happy. That was a great experience because I was able to combine a lot of my passions and I hope to do a lot of that in the future."
Business and social responsibility remain at the forefront of her career goals, but she's not sure how they come together quite yet. She's not worried about it though—she's in the right place to figure it out.
"I know my passions are business, helping others, motivational speaking, softball, and working with children," said Pristawa. "I'm not sure exactly what I want to do but Babson, I am sure, will help me figure it out."
---
What interested you in Babson?
When I was in my sophomore year, I had not heard of Babson but then I got a piece of mail from Babson. It said '100 percent of students start a business in their first year.' Then my guidance counselor told me to look Babson up, and I instantly fell in love with everything about Babson. I would go on the website or the Instagram page during school and be like 'wow, this is a cool school.'
When I visited campus, it had the friendliest vibe of all the campuses I visited. I also really liked the values Babson has, including the entrepreneurial mindset through all of their classes. I do want to start my own business, so that stood out to me. I also like how Babson emphasizes business for social impact and a better world because with my business, I want to, hopefully, make a difference in the lives of others, specifically donating to developing countries that need it the most. I want to make an impact in the lives of others for the better.
I also really like how Babson is globally minded and there are so many opportunities to get involved with study abroad and service trips. There are so many international students at Babson, so you can meet people from all different backgrounds and experiences.
What activities were you involved in during high school?
So much—I am someone who will join anything. I really love to play softball (she is a catcher); I am going to be on the softball team next year at Babson. Softball has affected me so much. I have been playing since second grade, from rec to school teams to travel teams. The most impactful time I had was when I started going to Planet Fastpitch, a training facility in Uxbridge, Mass. The aura and motivation there are just amazing, and it helped me want to achieve my goals.
I'm also involved in DECA, where we do projects and business role play and compete at states. It's more than just competing. There's so much leadership development you can get from DECA. I walked into DECA as a first-year member pretty shy and didn't talk to anyone. But I went to so many conferences, and now my favorite thing to do was to go up to other people at these workshops and events from all over the world and introduce myself and meet such amazing people.
How have your past experiences affected your future goals?
In seventh grade, my direction changed. I watched this video in class about a few men who went to a community in Guatemala and had to live on less than a dollar a day. It was impactful to see how different the lives of people who live in poverty are from us.
I realized if I am so passionate about helping out people who need it the most, why don't I revolve my career around it? That is when I switched my goals from owning a business for myself to owning a business that will positively impact others.
Is there a specific global problem you want to tackle?
I just took AP Environmental, and there was a population unit that talked about the development of countries and how countries in development go through four stages and the steps that bring them through the stages. I would love to help, even in the smallest way possible.
Solving poverty would be number one, but it's not that easy. Something related to that is sustainability. If we can connect trying to solve poverty issues and trying to make business more sustainable, it can make it easier for those countries to have access to resources and fewer natural disasters and pollution. I'm not sure how to do this yet, but I am determined to find a way. That's why I'm going to Babson—there's no better place to learn than Babson.
How do you view challenges?
I view them as opportunities and something that will help me grow in the future. One of the most important lessons I've learned in my life is that you should always strive for improvement. I have a book where I write down quotes and thoughts I come up with after life experiences. One I wrote recently that I love is 'Everything in life is a learning process, especially our failures. We have the choice to let our failures reflect who we are or let how we act upon those failures improve us as individuals.' If there's a challenge, I am going to step up to that challenge.
I know being confident is the most important thing because if you're confident, you're more likely to succeed at that challenge. If you don't succeed, it's not really a failure if you reflect on it. If you learn from it, you're going to be able to tackle the next challenge a lot easier. Every night I write down some reflections from the day, including what I want to improve on and what did well that day as a confidence boost. It helps me keep improving every day, and for challenges in the future, I will be well-equipped because I know my past experiences will help me.
What does being a Blank Scholar mean to you?
It means a lot, I am so honored to be a Blank Scholar. I was so surprised. I'll be able to grow my leadership skills and be someone others can learn from. I will try my best to help others be their best. It will also help me grow my entrepreneurial skills, which is a main component of the scholarship.
What does entrepreneurial leadership mean to you?
To me, entrepreneurial leadership means using entrepreneurial skills in everyday life to take opportunities and chances that will best utilize your passions while also helping others.
Of Blank's six leadership qualities, which one do you most identify with and why?
The one I most identify with is Put People First. I have realized that the best leaders are the ones who gain the respect of others through respect for them. Something about treating others with such high regard is compelling and makes one into a leader who others want to follow and be like in the future.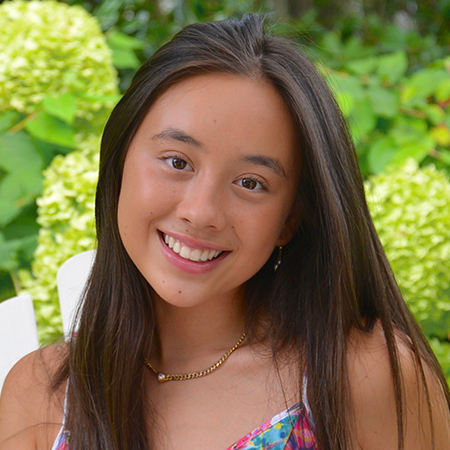 Nuchaba Scholte '27
Nuchaba Scholte '27 knows leadership is in her future.
To get to know Nuchaba "Nuch" Scholte, you need to learn a few numbers. She holds four passports (Thai, Dutch, British, and American). She was two years old when she moved from London to New Jersey. She once ran 13 Instagram accounts for her high school. And, she has backpacked to the 46 highest peaks in the Adirondacks.
All those numbers only add up to a fraction of her experiences so far. And, the most influential experience thus far for Scholte can't be quantified. During the pandemic, she was the director of BuddEConnect, a non-profit organization for children with special needs.
"We created a virtual summer camp during the pandemic and had campers logging on every day across the country," Scholte says. "It was so special to give kids the opportunity to chat, play games, and make friends during such a challenging time."
In between games and dancing with the campers, Scholte learned she loved leading a team, which included managing the supply chain, marketing, finance, and tech department all at the same time. Having her hands in a lot of pots—such as interviewing counselors, networking with investors and donors, brainstorming graphic designs and doing Google keyword research—gave Scholte a sense of what her career could look like.
"My experiences have encouraged me to think outside the box, challenge conventional norms and approach tasks from different angles, and I hope to broaden those new perspectives," she says.
Whether it's at Babson, in her career, or even during her downtime, she hopes to continue and expand this duet of service and leadership.
---
What drew you to Babson?
It honestly wasn't until after attending the admitted students' day and meeting such welcoming, passionate students that I seriously considered Babson. I was drawn to Babson's distinctive approach to education that emphasizes collaborative and hands-on learning. The opportunity to immerse myself in a community of entrepreneurial-minded peers, creating a robust environment to exchange ideas and solve real-world challenges together is really unique to Babson.
What activities were you involved with in high school?
I was the secretary for the student government, involved in the diversity and inclusion committee, and was the president of the GirlUp chapter, an initiative to advance gender justice worldwide. I was also the marketing lead for the fashion club. Throughout high school, I actually ran a total of 13 Instagram accounts!
What do you hope to accomplish at Babson?
At Babson, I aspire to connect with other innovative minds, collaborating on projects that tackle real-world issues we share a passion for. Through this, I aim to enhance my skills of teamwork, creativity, and the art of turning challenges into opportunities. I hope these experiences, coupled with inspiring professors and strong internships will propel my career forward.
If you could tackle one global problem, what would it be?
Growing up half-Asian in a predominantly white town has ignited a profound awareness of racial injustice within me. If given the opportunity to address one global problem, I would tackle the urgent need for progress with equality, understanding, and unity among diverse communities. Through open-minded and empathetic conversation and education, I envision a more just and inclusive society.
Who inspires you?
Each and every camper from BuddEConnect, the virtual summer camp, has inspired me in a different way. From Courtney, I've learned resilience: to pair determination with cheerful disposition. Courtney has Down syndrome and was diagnosed with leukemia, but regardless, she described everything as 'awesome': the nurses that administered her chemo, the labyrinth-like hospital hallways, and each round of Freeze dance. And, each week, she reminded me that she'd surely be going home soon.
With Courtney as my incentive, I've successfully fundraised tens of thousands of dollars, backpacked the 46 highest peaks in the Adirondacks, and persevered through late-night studying, even when a math problem nearly convinced me of defeat.
How will you bring part of home with you to Babson?*
My mom always made it a priority to eat family dinner together at the table each night, despite soccer practices, meetings, or work. At Babson, I hope to gather in the dining hall to share a meal with my friends every day no matter what.
What does being a Blank Scholar mean to you?
I feel so lucky to have been selected as a Blank Scholar. I'm just so grateful for all the generosity. It's super rewarding to see how proud my teachers and family were after all the support they have given me. So far, it's already been super special to have such valuable guidance from upperclassmen about internships, professors, and career paths, as well as making friends with the other scholars in my cohort!
Of Blank's six leadership qualities, which one do you most identify with and why?
"Include Everyone" is an important one for me. I see so much benefit in having diverse perspectives on a team. Being half-Thai and half-Dutch, I've been lucky to connect with people across the world, and I've always tried to make friends with all different kinds of people. I truly believe that when individuals from different backgrounds, cultures, and experiences come together, there is so much potential for fostering innovation, creativity, and education. I've made an effort when recruiting and developing a team to embrace diversity and will continue to do so.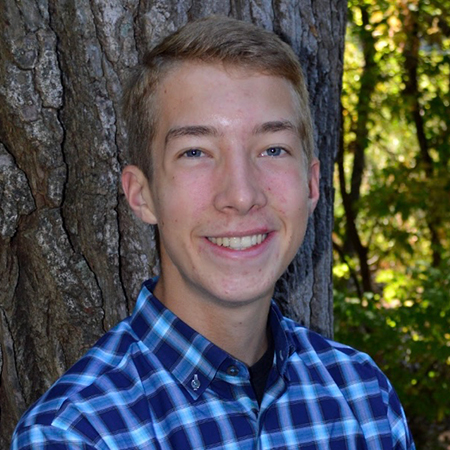 Everett Steven '27
For Eagle Scout Everett Steven '27, a passion for nature is found in all he does.
For Eagle Scout Everett Steven, a passion for nature is found in all he does. Whether it's watching documentaries about athletic nature pursuits, earning scout badges, family lake trips, or playing Ultimate Frisbee, being out the world is important to him.
It's no surprise that protecting said planet also is high on his list.
"Here in Minnesota, it's been upward of mid-90-degree days. I saw in the newspaper that if you go fishing, you can't release them because they will overheat and die. The water in Florida is reaching 100 degrees," Steven says. "It's a clock that's ticking down, happening to all of us. We need to work with global connections to come up with solutions to this pressing issue."
Steven understands the role creativity and ingenuity will play in addressing the climate crisis, and he already sees potential for solutions in things like wood-based biomimicry. His time at Babson will only expand these ideas, as he takes classes such as Foundations of Critical Inquiry: Nature and Environment and Oceanography.
---
What drew you to Babson?
I started my search with the lens of business. I wanted to stay in the North where the climate is like where I live (in Minnesota). What stood out about Babson is the entrepreneurial lens. I really enjoy the concept of ideas and how those can build off each other through innovation and collaboration. That aspect stood out from the traditional business model and other schools.
What interests you in entrepreneurship? What innovative endeavors have you been a part of?
Growing up, I had classic lemonade stands, even focusing on location and pricing. Then, in middle school, I wanted to do something more scalable. My dad is a software developer and entrepreneur himself. We were at a wedding one summer, and we saw these logs where they had cut some cross sections and burned them that way. That piqued my interest.
With his help, we worked through a few iterations of Swedish torches. We gathered wood, and my mom helped with the website. Led through my passion for this idea, we worked to create a business that I ran throughout middle school and the start of high school. Our final design used Douglas fir instead of regular circular logs. It's more consistent, and one hole in the bottom and one hole in the top can burn for about an hour.
Did you find the activities you're involved in (scouting, Ultimate Frisbee, band) require a similar skill set to entrepreneurship?
Yes, I agree. A lot of leadership and ingenuity. My career goals aren't concrete. That's one of the things I'm most excited about coming to Babson. I want to get some clarity on what the future can look like through internships and some other networking opportunities. I'm excited to meet the international student body and be at this hub where all these ideas culminate. I enjoy working with others. I like the idea of bringing the more creative side into business.
What do you hope to accomplish at Babson?
Branching out from my current self and taking this unique opportunity to build new connections and friendships from all over the world. It's a high-quality education on topics I haven't really learned in school. Super excited for that.
What is the proudest moment of your life so far?
Rebounding from the pandemic in the summer 2022 and figuring out my last year in high school. I took rigorous courses and was involved in all my activities. I also realized I had a few Eagle badges to complete. I needed to lean on others for support to help prioritize. People want to see you succeed, so it was learning how to reach out for help.
I also found internal motivation to keep going and push through, especially when working on self-directed activities. I had a lot of long mornings and nights. It also included managing the college application process.
I ended up with an academic year I am proud of. It goes to show that things are possible and excites me to keep setting more challenging goals. I am also proud of being the captain of my ultimate frisbee team and placing tenth in the state.
Who inspires you?
There are different levels of inspiration. I am interested in stories of people working hard to achieve their goals. I recently watched documentaries about the Iceman Triathlon and Free Solo about Alex Honnold. On a personal level, I'm quite inspired by my family. My brother is older than me, and I look to him for advice. He has gone through all these steps but a few years before me. My parents are hardworking and empathetic and invested in their communities.
How will you bring part of home with you to Babson?
I identify with where I'm from, so I am inherently bringing it through my interactions with other people. It'll be cool to see all the different demographics at Babson. I'm not sure how many people will be from the Midwest or Minnesota. It will be cool to find connections. I will be bringing a hammock as part of my passion for nature and encouraging others to spend time outdoors.
As they say, 'Minnesota nice.' I like to emphasize my relationship with others and work toward being understanding and empathetic. Those are my main values.
What does being a Blank Scholar mean to you?
It's a high honor to have this opportunity and flexibility. This scholarship allows me to go to Babson and pursue larger ideas and goals. It's an honor to be with like-minded peers who are equally passionate about creativity and business and how it all connects. I can't wait to learn from them.
Of Blank's six leadership qualities, which one do you most identify with and why?
I would say 'Put People First.' For me, there are a lot of universal challenges we are all going through despite our own individual lives. From a business perspective, it's people-based and important to build connections, whether through a team or on the client side, making sure you understand why you're doing what you do. I value empathy, honesty, and trust and working to help others. I feel good when others feel good.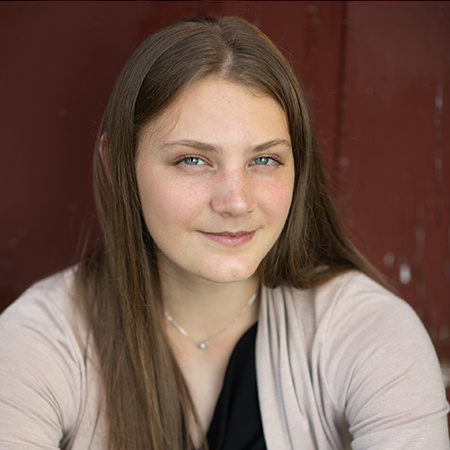 Madaket (Maddie) Stoltz '27
Maddie Stoltz '27 wants to make sports more equitable for everyone.
Of all the positions on the soccer field, it takes a specific type of person to be the goalie. Stoltz, who has played soccer as a goalkeeper since she was little, says you have to be fearless to take on the job.
"That's a good leadership position on the field, too. You see everything and nobody else has that vantage point," Stoltz says. "So, you're really like a second coach on the field. You take in what's happening quickly and you react and make decisions. You kind of have to be fearless."
Being able to take in what's happening and react thoughtfully (and quickly) are some of the hallmarks of entrepreneurial leadership. Those skills will set Stoltz up well as she embarks on her Babson journey, where she's eager to join the track and field team and start her Foundations of Management and Entrepreneurship (FME) venture.
As she pursues entrepreneurship and hands-on opportunities, Stoltz hopes to embark on making change in the sports community she's spent so much of her life in, expanding access to equipment, resources, and sports in general across genders.
---
What drew you to Babson?
Like many students interested in entrepreneurship, you do your first Google search and Babson comes up number one. That's initially how I found the school. After that, I did a tour and saw a mock-up of a FME class. After seeing that, I realized this is what I want to do. Not only am I getting knowledge and learning how to do something, but I'm actually doing it hands-on with other students. By the time I graduate, I will be ready for the real world.
What are your career goals?
My main goal is to do something sports driven. One of my goals is to run a woman's sports line and give back to women in the sports community. Often, there's such a gender disparity. I see it as a goalkeeper; you go to buy a uniform or gloves, and it's all men's products. Even the unisex stuff they have, it's mainly based on men. There's not a lot of options. I also want to use it as a platform to get more women involved in sports.
What do you hope to accomplish at Babson?
My biggest goal is to get experience, networking, and to learn from others while I'm here. With entrepreneurship and business in general, you need to have connections to succeed and do well. You have to seek out partnerships and ask for help. Networking is huge, and when I graduate, I don't want to be lost. I'll have people I can turn to and have a support system.
How do you view challenges?
If you use them the right way, you can use them to build yourself as a person and push yourself for the better. I switched from my public school to a private school with the sole intent of challenging myself to push myself to the next level. They are an opportunity to pursue your future self. Opportunities more than roadblocks. I also realized I wasn't losing my support system from my old school and at home. I could make my support system even stronger.
What is the proudest moment of your life so far?
One of them is getting MVP for goalkeeper. You see that your team has your back and that they view you as someone they can turn to and trust. That they know you have their back in return. You're not just going through the motions; you're making an impact and people can see that and believe in you.
Is there a soccer match you played in that stands out in your mind?
The most recent one, we were playing the championship team. They transferred to our league but the last league they were in, they won. They had a nationally acclaimed coach. We were expected to get destroyed by them. As a team, we decided we weren't going to let this happen. We scored early on in the game. Once we scored, the game plan was 'it ends here, you are not getting past us.'
We beat them, 1-0. As a goalkeeper, it was great to see the defensive line step up and protect the goal. We weren't expected to do well, let alone win. It was a home game, so even better.
What does being a Blank Scholar mean to you?
For me, it's just such an honor. I was absolutely floored. I want to make the most of it when I'm at school and get to know everyone in the program really well. I want to work with them and challenge myself and make the most of it while I'm there.
Of Blank's six leadership qualities, which one do you most identify with and why?
'Put People First'—entrepreneurship isn't just about making money, it's about making impact in other people's lives. You're a problem solver. You can either let something keep being a problem or step up and find a way to solve it and make things better. You want other people to succeed because of what you're doing.