Entrepreneurial Leadership in the Social Sector
Executive Certificate Program
An entrepreneurial leader co-creates and catalyzes communities to solve problems. They are leaders who shape social and economic opportunity simultaneously.
The Entrepreneurial Leadership in the Social Sector executive certificate program is offered through the Arthur M. Blank School for Entrepreneurial Leadership at Babson College, the top-ranked school of entrepreneurship.
Taught by Babson faculty and practitioners, this program is for public, private, corporate, and community foundations to support their grantees and social entrepreneurs with a new framework for creating impact and value in times of uncertainty and ambiguity.
Using entrepreneurship as a generative way to be in the world, this program will help leaders develop the critical thinking and personal resources to advance their organizations and solve any kind of problem in ways that benefit their key stakeholders.
As key components of experiential and values-based learning, this program incorporates:
Babson's Entrepreneurial Thought & Action® methodology
the principles and process of social design
the lived experiences of our participants
An entrepreneurial mindset and a bias towards action can enable leaders to see and act in new and expanded ways. Social sector leaders will gain the tools, knowledge, and practices they need to lead growth and create the way forward in times of uncertainty.
This executive certificate program has proven to work best with social sector leaders with the power to make and influence decisions.
It's equally important for at least two senior leaders of the organization—ideally the executive director and a Board member—to go through the program together. This ensures that the leaders can effectively drive change, expand opportunities, and implement new solutions.
This highly interactive program allows leaders to practice entrepreneurial concepts in real-time with actionable outcomes. Every organization will frame a key challenge or outcome they want to work on during the course of the program.
All leaders are required to participate in the 4.5-day signature program. This is the opportunity for leaders to step away from the day-to-day responsibilities that often require a reactive mindset, and instead have the time and space to think differently.
During a typical program, participants will spend the morning learning key concepts in a series of short presentations, interspersed with small group breakouts for experiential learning activities and opportunities to collaborate. Afternoons will provide participants with opportunities to receive additional mentorship and work on assignments to push their ideas and initiatives forward.
To say that it was transformational would not be an overstatement. It was an incredibly productive week that I think will have long-term, reverberating impacts on ADL. [We] have already begun conversations with our teams on ways to take the ideas generated in Montana and move forward in bold ways.
Allison Padilla-Goodman, Anti-Defamation League
Arthur M. Blank Family Foundation grantee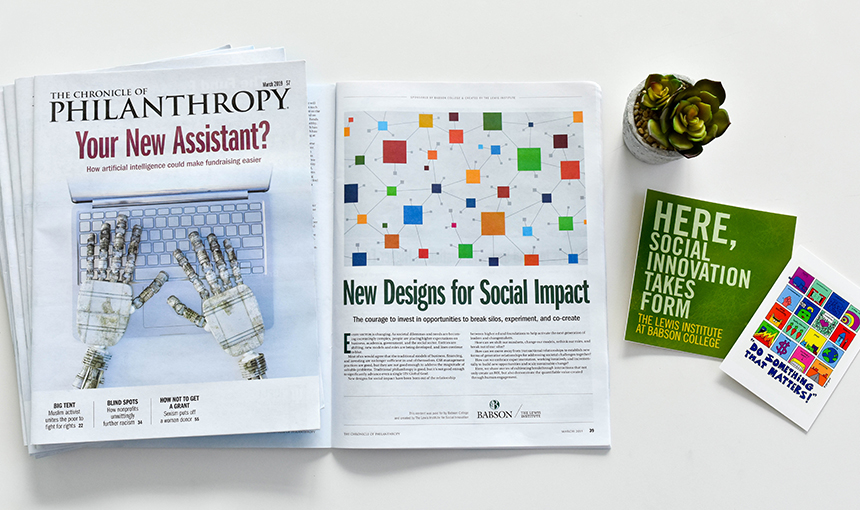 6 Principles for Solving Complex Problems
In this Chronicle of Philanthropy article, Cheryl Kiser shares how to create economic and social value in uncertain times.
Read Article
Learn More
To learn more about how we can co-create this opportunity for your grantees and social entrepreneurs, contact Cheryl Kiser, Executive Director of the Institute for Social Innovation, who developed and leads this program.