Global Entrepreneurship Week
During the 2022 Global Entrepreneurial Leadership Week (November 10-18), Babson celebrated the power of entrepreneurship and entrepreneurial leadership.
Powered by Babson College's Arthur M. Blank School for Entrepreneurial Leadership, this series of events and conversations engaged over 325 members of the global Babson community and beyond in an exploration of entrepreneurial leadership.
Our celebration took place simultaneously with Global Entrepreneurship Week (GEW), an international event encompassing 40,000 events in 200 countries around the world.
See stories and photos from the 2022 Global Entrepreneurial Leadership Week »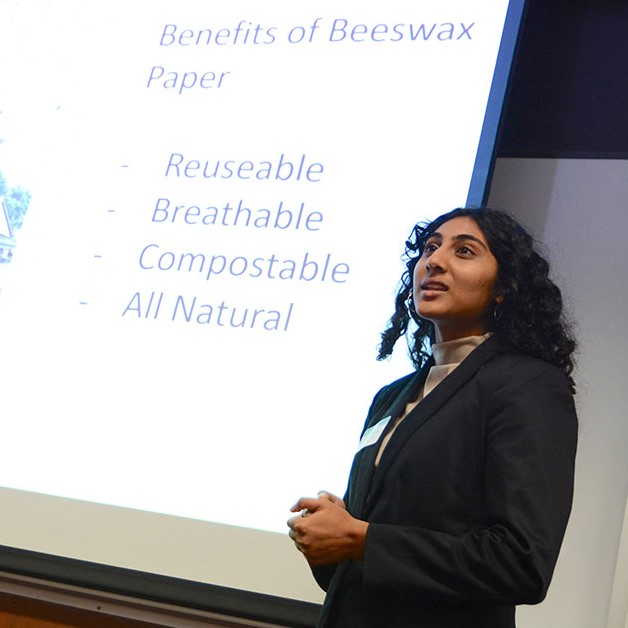 Rocket Pitch
The 23rd Annual Rocket Pitch launched Global Entrepreneurial Leadership Week with pitches from Babson students and alumni.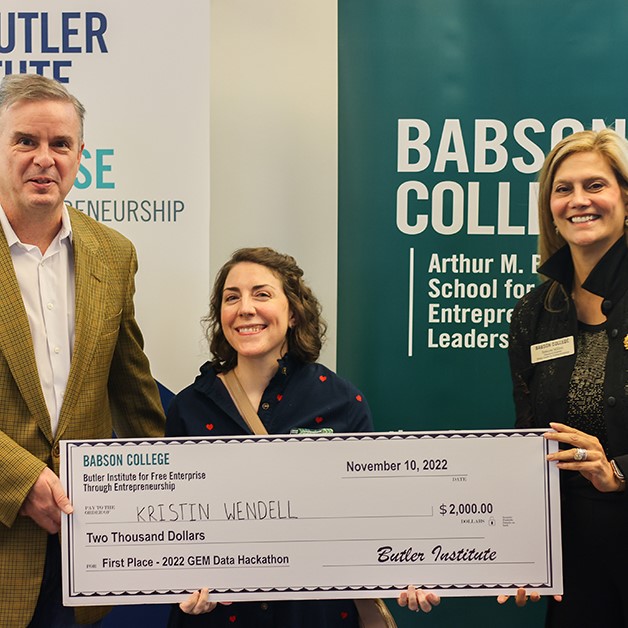 Butler Institute Data Hackathon
Babson students competed in The Butler Institute for Free Enterprise Through Entrepreneurship's GEM Data Hackathon and the winner was announced.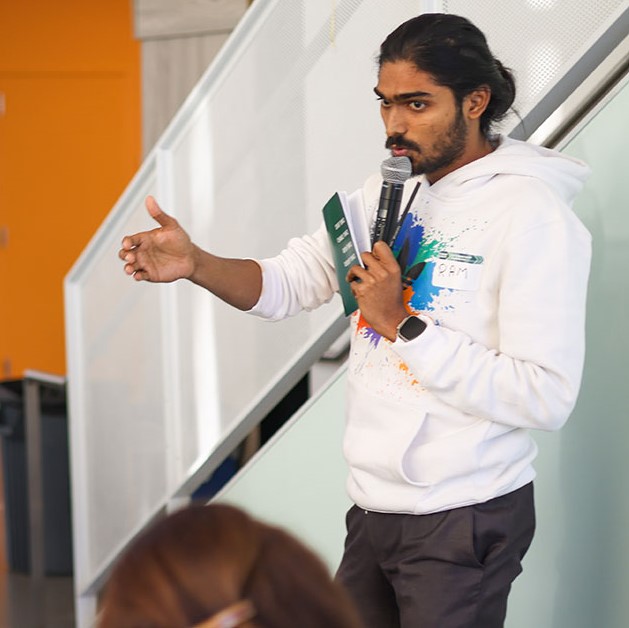 Ideas in Motion
A group of brainstormers gathered to help an organization, one facing a challenge and looking for next steps, become unstuck and move forward.
Rocket Pitch
Time: 4 - 7 p.m. ET
Babson College | Olin Hall
Join the Arthur M. Blank Center for Entrepreneurship for its Rocket Pitch event and explore new ideas in action:
Hear the Butler Institute for Free Enterprise Through Entrepreneurship announce the winner of its data hackathon at 4:00 p.m.

Take part in live networking hosted by the Herring Family Entrepreneurial Leadership Village at 4:15 p.m. and enjoy refreshments.

See Babson students and alumni pitch their entrepreneurial ideas and ventures in Babson's signature pitch event at 5:00 p.m.
Success, Fulfillment, and Social Impact with Kuda Biza
Time: 5 - 6 p.m. ET
Babson College | Capozzi Room, Olin Hall
Kuda Biza, entrepreneur, philanthropist, and author, knows what it takes to launch and scale companies with success and impact. He started his very first business at 9 years old and today runs multiple multi-million dollar businesses, while seeking to solve two of the world's biggest problems: education and hunger.
Presented by the Arthur M. Blank Center for Entrepreneurship, Kuda will share his experiences, lessons learned, and his perspective on balancing success and fulfillment as an entrepreneur.
Leadership Conversation with Jeff Fox and Christine Barry
Time: 12 - 1 p.m. ET
Babson College | Blank Center for Entrepreneurship
Join the Arthur M. Blank Center for Entrepreneurship for a roundtable conversation with Jeff Fox and Christine Barry, the CEO and COO that led digital growth company Endurance International through a transformation and achieved a $3 billion exit. This is a unique opportunity to hear firsthand about their turnaround playbook, ask questions, and explore how leaders can navigate the risks and rewards of funding capital, align leadership, and deliver value to customers, employees, and shareholders.
Brief, required pre-reading will be shared in advance. Lunch will be provided.
Future of Fashion: Color and Sustainability
Time: 5 - 6 p.m. ET
Online | Zoom
This discussion will explore how quickly the fashion industry can build sustainable practices. The challenge ahead: Can fashion create environmentally friendly colors and bypass formerly toxic practices in the supply chain?
The panelists include:
Professor Peggy Blum, Circular Fashion Lecturer - School of Design + Creative Technologies at The University of Texas at Austin and Author, Circular Fashion: Making the Fashion Industry Sustainable

Professor Laura Sansone, Professor of Textiles at Parsons The New School For Design, School for Design Strategies (SDS), textile designer, and the creator of New York Textile Lab

Amy DuFault, Director of Sustainability, Botanical Colors LLC and Director, Fibershed Southeastern New England

Professor Caroline Daniels, moderator and Director of Fashion Entrepreneurial Initiative at Babson College
Health Innovation and Entrepreneurship Breakfast and Networking
Time: 8 - 10 a.m. ET
Babson College | Reynolds 241
How might we create better shared understanding across the health sector for accelerating innovation? Join the Kerry Murphy Healey Center for Health Innovation and Entrepreneurship to explore health integration and breaking the silos for health innovation.
This event will feature keynote speaker Sukanya Lahiri Soderland, BCBSMA Chief Strategy Officer and Sr. VP, Enterprise Data & Analytics and Business Performance, a panel, and breakfast with networking on the topics of healthcare delivery, drug development, digital health, and devices.
Disruption Dinner
Time: 5:30 - 8 p.m. ET
Babson College | Knight Auditorium
The Babson College Disruption Dinner is a premiere annual event hosted by F&E CWEL in collaboration with campus partners that brings the Babson community together for an evening of inspiration and conversation around women's empowerment, and entrepreneurial leadership. Each year the event highlights the experiences of accomplished women leaders who are acting boldly to break barriers, blaze trails, and launch movements that change minds, industries, and communities around the world.
As we prepare our students to lead and thrive as global citizens, giving them access and exposure to female role models at the helms of their organizations and the forefront of innovation within their fields is essential to F&E CWEL's mission. In addition to the educational value for students, this event serves as an opportunity for networking and cultivation for the extended Babson community. The theme will focus on women who are shattering glass ceilings in the tech industry.
Scaling Social Impact Through Franchising
Time: 12 - 1:15 p.m. ET
Online | Zoom
Join a virtual conversation on the unique power that franchising has to scale positive impact in our communities and around the world. The event will start with a discussion about what calls each panelist to do what they do. We will hear how they're using franchise models to scale solutions that address accessibility and equity in nutritious food, mental health, and the circular economy. Then the conversation will be open for the audience to directly ask panelists their questions and share ideas.
The panelists include:
Elaine Chow, Founder of ChopValue Boston

Bryce Fluellen, Executive Director of Social Equity Franchises at Everytable

Donovan "Donny" Shavers, Board Vice President at The Confess Project of America
The event is a collaboration between the Tariq Farid Franchise Institute and the Institute for Social Innovation at Babson College.
Ideas in Motion with Family Reach
Time: 1:30 - 2:30 p.m. ET
Babson College | Park Manor West
In this fast-paced speed-gifting process, we'll help move something along from idea to action or challenge to opportunity. Ashley Calabrese, the Vice President of Health & Life Sciences at Family Reach, will give a little background about the nonprofit and pitch its challenge to the audience.
Working in small groups, you will use who you are, what you know, who you know, and the resources you have at hand to provide your "gifts" (insights, ideas, connections) to Ashley.
This event is co-hosted by the Institute for Social Innovation and the KMH Center for Health Innovation and Entrepreneurship.