Executive Director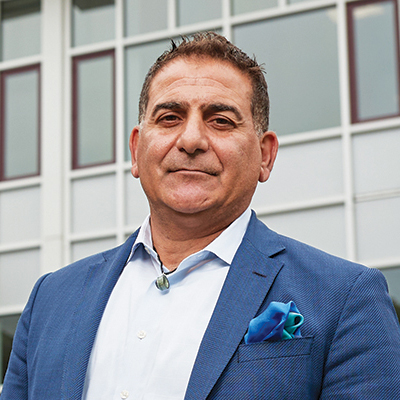 Ab Igram MBA'96
Ab Igram is an experienced provider of growth capital to companies as a corporate venture capitalist and leveraged finance leader also with start-up venture experience as a Co-Founder of two companies.
He's been passionate about the world of entrepreneurship, economics and finance since his days as an Economics major at Northwestern University and an MBA student in Entrepreneurship/Finance at Babson College. While at Babson, Ab got his first taste of franchising. And served as Stephen Spinelli, Jr.'s graduate assistant where he was instrumental in the launch of one of the first MBA courses in Franchising. He and Professor Spinelli collaborated on research into the merits of creating a franchised focused investment fund and vehicle.
Working as a graduate assistant under Stephen Spinelli Jr. MBA'92, PhD, he learned how the current Babson president co-founded Jiffy Lube International and later became the service center chain's largest franchisee, merging entrepreneurship and franchising as the company grew to more than 100 locations.
Igram was hooked. Inspired by Spinelli, he has since made a career out of it, and all these years later, he returned to Babson College as the new Executive Director of the Tariq Farid Franchise Institute at Babson College's Arthur M. Blank School for Entrepreneurial Leadership. Igram leads efforts to create cross-disciplinary programming that draws on Babson's business and entrepreneurial expertise, combined with the experience and knowledge of franchising experts, to advance students' understanding of franchising and the opportunities it can create
His most recent role prior to Babson was as Managing Director, Head of Franchise, Food & Beverage for Webster Bank's Sponsor and Specialty Finance where he developed a specialty lending platform focused on Franchise, Food & Beverage and Health/Wellness and led a leveraged finance team providing senior debt capital solutions to Private Equity Sponsors. Prior to joining the Webster team, Ab was VP of GE Capital Franchise Finance.
Mr. Igram brings over 25 years of experience in a variety of finance, advisory and entrepreneurial roles. Mr. Igram has also worked with GE Equity in Stamford, CT and was involved in identifying, negotiating, and structuring over $350 million in venture capital investments and served on the Board of Directors of several venture-backed growth companies. Mr. Igram has consulted for a variety of early and late stage companies in multiple industry sectors. He also held an operational role as Executive Vice President, Operations of Pet Angel World Services, LLC of Wilbraham, MA where he was a member of the founding team that launched a regional brand in the pet death care space. Mr. Igram brings to the table an understanding of what it takes to launch and lead entrepreneurial ventures and also access growth capital having been on all sides of the table.
Mr. Igram holds a B.A. in Economics from Northwestern University and an MBA in finance and entrepreneurship from Babson College. Ab resides in Fairfield, CT with his wife who is an Artist and Entrepreneur, and three children. He is active in the community and has coached numerous youth athletic teams and as a volunteer board member for several not-for-profits. Mr. Igram recently was a member of the board of directors of Operation Hope a Fairfield, CT non-profit organization focused on hunger and homelessness and the McGivney Community Center serving children in Bridgeport, CT. He also served on the Board of Directors of Fairfield National Little League and previously served as Chairman of the Board of the Make-A-Wish Foundation of CT.
Mr. Igram recently joined Conscious Capital Growth as an Advisory Partner. With a focus on and experience in franchising, Conscious Capital Growth assists emerging and growth brands seeking to scale via access to capital and operational expertise.
Mr. Igram currently teaches at the graduate level in the Entrepreneurship Department at Babson College and has served as a guest lecturer at the MBA level for several institutions including Babson College, Fairfield University, and the University of Bridgeport. Mr. Igram also serves on the Advisory Board of the Ernest C. Trefz School of Business at the University of Bridgeport.
Recent articles published include,"5 Ingredients for Success from Five Franchising Leaders", Franchise Times, 2018; "Four Keys To A Solid Relationship Between Multi-Unit Franchisee and The Bank", Franchising.com
Mr. Igram also provides consulting to firms in the franchise, hospitality, food and restaurant sectors and is a frequent interviewer for numerous publications and media outlets.