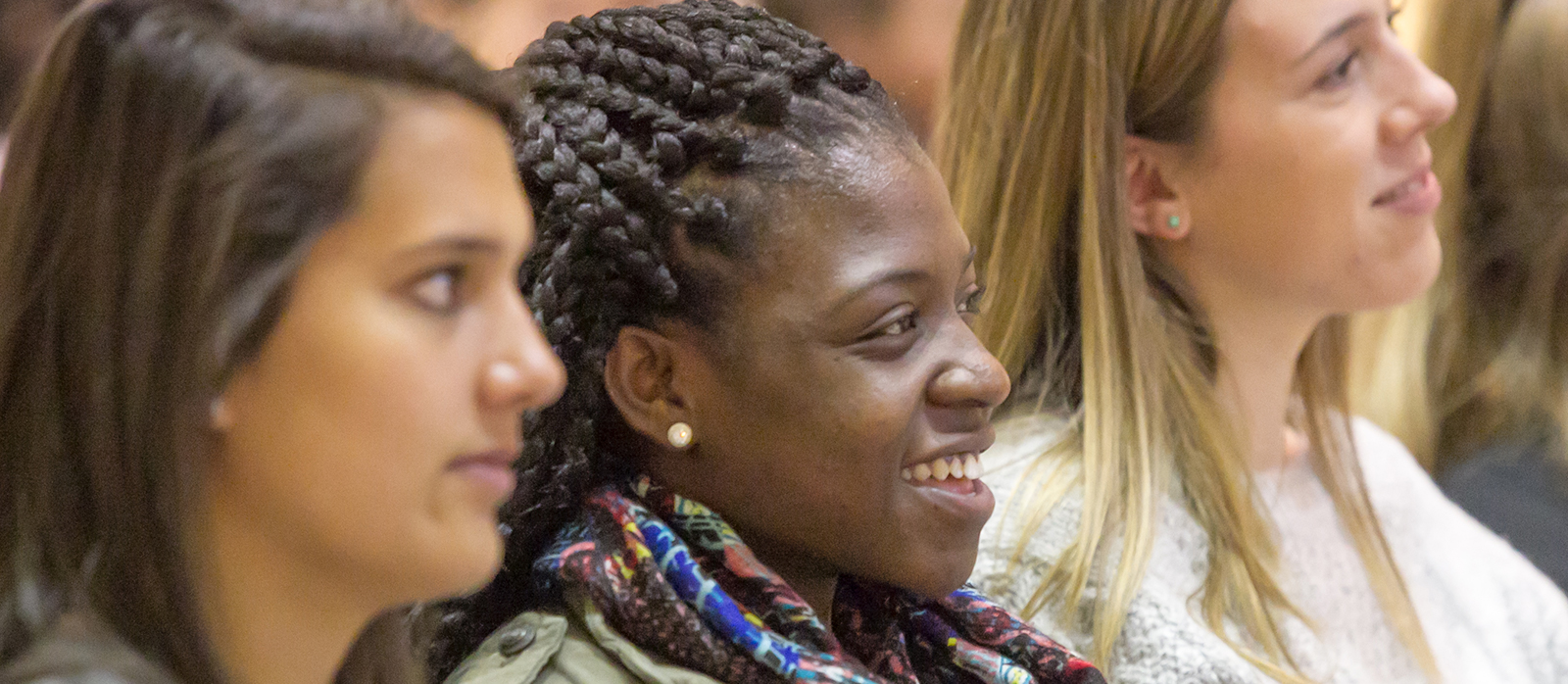 Undergraduate Programs
Promoting a Gender-Enlightened Campus Culture
F&E CWEL promotes a "gender-enlightened" campus culture that supports a new generation of leaders who have a greater understanding of the importance of being able to work with and lead diverse teams. We do this by raising students′ awareness about the role of gender as it relates to their current lives and their futures as entrepreneurial leaders while giving them greater access to a diverse group of role models, mentors, and coaches.
With the support of our valued partners across the Babson community, F&E CWEL is able to offer a robust menu of programs, events, and resources that are open and available to all students, regardless of their gender identity.
Coming to Babson, I knew one thing for sure—I'm a woman leader with an entrepreneurial spirit. As I continue to explore what lays ahead, the team at F&E CWEL and the community I met because of it, are there to support me each step of the way. They empower me to take risks, leverage my unique strengths, and remind me that I can achieve anything.
Susanna D'Souza '21
Women's Leadership Scholar
Undergraduate Programs
F&E CWEL Mentor Program: Mentoring for the Entrepreneurial Leader
The F&E CWEL Undergraduate Mentor Program pairs juniors and seniors of all gender identities with professionals who have 3–15 years of work experience for a 12-week, one-to-one mentoring experience. Get paired with a mentor during a networking session, receive coaching and resources on how to maintain a strong mentor/mentee relationship, and work directly with mentors to get support on advancing your personal and professional goals.
F&E CWEL Mentor Program: F&E CWEL Student Near-Peer Mentor Program
The F&E CWEL Near-Peer Mentor Program connects sophomores and first-year students in order to give first-years a mentor that can help guide them through the start of the F&E CWEL Pathways experience and help them begin developing meaningful relationships on campus. This program was created to introduce the essential skills of communication, relationship development, and mentoring for students early on in their Babson careers.
F&E CWEL Student Executive Board
F&E CWEL Student Executive Board gives students the opportunity to build their leadership skills while playing a critical role in the ongoing development of F&E CWEL student programming. Executive board members assist in student engagement and event planning, and serve as ambassadors of the F&E CWEL mission among the greater student body. They provide perspective, new ideas, and community connections that allow us to better meet the complex and ever-changing needs of the students we serve.
Scholar Programs
F&E CWEL and Women's Leadership Scholars have been awarded a four-year, quarter-tuition, merit scholarship to Babson College in recognition of their academic achievement and demonstrated leadership. F&E CWEL provides a home base for scholars to build community and participate in events and experiences, designed to catalyze their careers and develop their ability to make their mark as inclusive entrepreneurial leaders.
Women Innovating Now (WIN) Lab
The WIN Lab is a fully virtual, 12-week, accelerator program for women-identifying entrepreneurs who have already launched their businesses and are ready for growth. The core program uses Babson's Entrepreneurial Thought & Action (ET&A) methodology to push founders to test, iterate, and take action toward growth opportunities. It offers a dual focus on developing the entrepreneur and the enterprise through milestone-driven content, peer forums, one-on-one coaching, and public-platforming opportunities. WINners learn in the Lab, take action in their companies, and then review and iterate on that action with faculty, peers, coaches, and mastermind experts to determine how to move forward.
Babson Black Women's Entrepreneurial Leadership Program
Black Women's Entrepreneurial Leadership (BWEL) Program, is a virtual action tank designed by and for Black Women entrepreneurial leaders to provide an experience and the resources to propel their businesses and professional growth forward.
Mentor High School Students
Near-peer mentors for our high school programs are current Babson undergraduates who are committed to making a difference in the lives of the next generation of inclusive entrepreneurial leaders. They understand the importance of learning from their peers in a safe environment and are looking for opportunities to be a role-model, a leader, and a facilitator. Interested in learning more about this job? Email the Center for Women's Entrepreneurial Leadership.
Campus Events
Disruption Dinner
The Disruption Dinner is a premier annual event hosted by F&E CWEL and campus partners at Babson College which brings the Babson community together for an evening of inspiration and conversation around gender and leadership. Each year the event showcases the experiences of accomplished women leaders in a common industry who are acting boldly to break barriers, blaze trails, and launch movements that change industries, organizations, and communities around the world.
F&E CWEL Circles
F&E CWEL Circles brings members of the Babson community together in a casual setting for candid conversations on gender and career-related topics. Personal in nature, these interactive group discussions, led by professional and faculty experts, will help attendees gain new perspectives, solicit advice, and position themselves for career success by understanding, managing, and leading with gender aptitude. Participants benefit from exposure to a diverse network of influencers and the opportunity to expand their circles of peer support.
F&E CWEL Annual Retreat
The Frank & Eileen™ Center for Women's Entrepreneurial Leadership brings Babson students off-campus and on-site at a host organization, for a day of leadership competency and community building with a focus on building self-efficacy and self-awareness. The event aims to integrate the newest members of the F&E CWEL community, strengthen the F&E CWEL student network, provide access to entrepreneurial role models, build strategies that support mental health and well-being, and set the stage for a successful year.
Student Organizations
F&E CWEL provides financial sponsorship and serves as staff adviser to the following student-led organizations:
Project W
Project W is an undergraduate student-led organization dedicated to inspiring and fostering interdisciplinary collaboration amongst innovators and entrepreneurs across the Babson, Olin, and Wellesley (BOW) Colleges.