Go behind the scenes of the businesses on Babson Street. Discover more about the founders and owners, read about what makes them tick, and how Babson helped pave the way.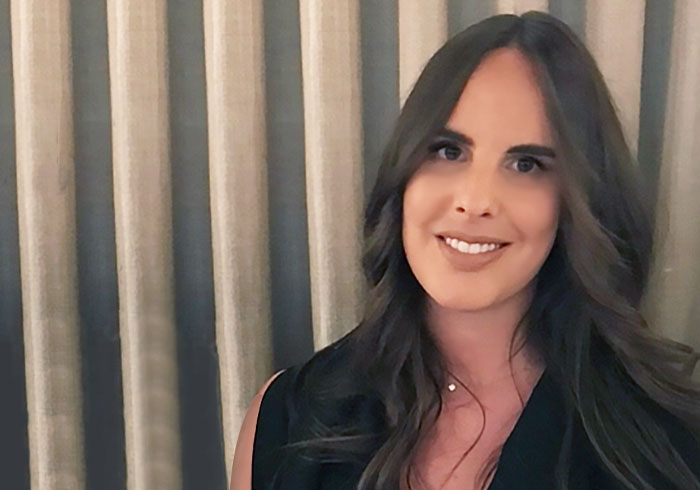 Allison Grekin '13 of Moviing
March 2020
Moviing is an online subscription-based fitness program offering on-demand yoga, barre, dance cardio classes and more. Based out of the U.K., Grekin is helping people everywhere active while confined to their homes and tells us how her experiences at Babson inspired her to help people.
How have you found creative ways to reach people now stuck at home during this global health crisis?
A: Ever since the COVID-19 outbreak we've been running offers so that everyone is able to benefit. We want to make sure people stay active and healthy. We've also partnered up with Gabrielle Caunesil, influencer and founder of clothing brand La Semaine Paris, to bring our audiences free Instagram Live barre and meditation classes 4 times each week.
What advice do you have for business owners during these unprecedented times?
A: It is a tough time for all businesses—especially smaller ones. My one piece of advice is to be creative. Think about ways to make your business stand out. Plan your business strategy for the future and think outside the box.
We're surrounded by a lot of negative news right now. What's something positive that happened to you this week?
A: Being able to be so close to our community on social media, and agreeing on this partnership with Caunesil to reach more than 1.5 million people.
How do you calm down after a stressful day?
A: After a long stressful day or after sitting for a long time at a desk I love doing Aurora Bowkett's Stretchy Release Flow class on Moviing.
What book are you currently reading?
A: Crossing the Chasm by Geoffrey Moore.
What class or professor at Babson influenced you the most at Babson?
A: This is a tough question because I've genuinely been inspired by so many professors at Babson. However, if I had to narrow it down to one it would be Professor John Fisher and his Brand Management class. He would always emphasize how critical it is for brands to create an emotional connection with their customers. Emotional connections vary from one customer to another depending on their cultural backgrounds. "Think Global, Act Local" is a concept I've been very carefully implementing at Moviing.
Do you have any message to show your fellow alumni that we are all #OneBabson?
A: I grew up in Paris and decided to leave for the U.S. for my undergraduate degree. Leaving Paris meant leaving my friends and family behind. Although I was anxious, the entire Babson Community embraced me. I was able to connect on a deep intellectual level with my teachers and met so many exciting people. I remember thinking to myself, "This isn't just a school, this is a family." So in that sense, I guess Babson really taught me the true meaning of "community". I left school with a whole new perspective on the effect that humans can have on humans, which is why I started my own business.

February 2020
FÀNDÉ is an online women's clothing line based in Liberia. It blends traditional prints with modern styles to create unique looks. It also partners with local artisans and businesses to foster entrepreneurship in growing economies. And with its initiative, The Give Back, FÀNDÉ puts the profits from "giveback items" towards purchasing school supplies for children in Monrovia, Liberia.
What is the most rewarding aspect of running FÀNDÉ?
S: Launching FÀNDÉ has allowed me to showcase and exercise all parts of my personality. I love that I can be creative and strategic bringing value and solving problems. Owning a clothing line allows me to put my creative ideas to use when designing looks, website graphics, and Instagram themes.
How do you to relax?
S: While working in Liberia, I often go to the beach when I need to relax or decompress. In the warm weather, I often feel the sun helps relieve my stress and instantly picks up my mood. I often bring my laptop and work on the beach. When visiting my family for Christmas in New Jersey, I would often complain about the gloomy sky. I also am an extrovert, so a night out with friends after a long day erases any worry.
What is your favorite Babson memory?
S: CWEL was a big part of my Babson experience and the source of many of my friendships. During my freshman year we had a bonding event in Reynolds where we painted and talked. At the end of the exercise, I had five abstract canvases that I hung up in my dorm room in North. The people I sat with making those paintings are still my friends. Those paintings filled my room with joy year after year. I brought them with me to Liberia, and they fill my apartment with the same warmth.
What bad habit do you struggle to give up?
S: I'm a night owl. When I started FÀNDÉ, I would stay up until 4 am thinking about clothing ideas, writing notes on website changes, and creating a marketing strategy. Although this routine helped me get the business started. It is not healthy to stay up that late, looking at a laptop and getting 5 hours of sleep! I wish I could say I don't do that anymore but it happens at least once a week!
What's the best thing to happen to you this week?
S: Completing my FÀNDÉ beach photoshoot. The day was very stressful, but in the end, it all worked out and turned itself around. I got some great photos for content on my Instagram @thefandefeel.

Ebru Ipekci of Butterfly Chocolate
January 2020
Butterfly Chocolate is a world-class boutique chocolate brand featuring handmade chocolate collections and pastries that are sold online and at trendy cafés in Istanbul, Turkey.

What has been the biggest challenge in running your own business?
Ebru: The business you create becomes your baby, you want to take care of every aspect of it by yourself. It takes time to understand that you have to know how to delegate.
What has been most rewarding about it?
E: To create a brand from scratch and to see people enjoying it.
Tell us something you learned at Babson that has helped you most?
E: To know the difference between the balance sheet and cash flow.
What's one piece of advice you would give Babson alumni?
E: When you're an entrepreneur there will be times when you say I want to exit. Keep on going if you believe in it.