Go behind the scenes of the businesses on Babson Street. Discover more about the founders and owners, read about what makes them tick, and how Babson helped pave the way.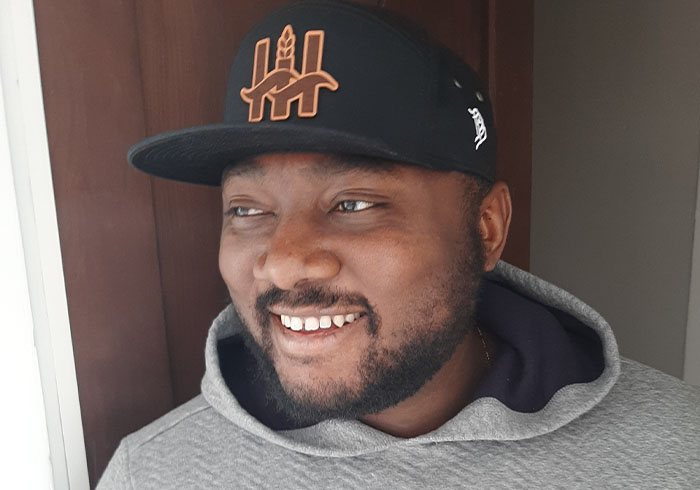 Kamaal Jarrett MBA '12 of Hillside Harvest
June 2020
Born in Cypress Hall, Jamaica but raised in Massachusetts, Kamaal Jarrett MBA '12 founded Hillside Harvest, using delicious gourmet sauces to combine the two cultures that raised him, and combine his passions for food and entrepreneurship. Read everything from how he hopes for real progress during this moment in history, to why his Original Hot Pepper sauce is worth the burn.
What is your favorite part about working in the food industry?
K: There are a lot of reasons. Chief among those would have to be the connections that I have been able to make across local communities. I've met great folks, from customers to competitors, who have been integral to growth of Hillside Harvest and to my development as a business owner. I also love that my current product line allows me to be a purveyor of happiness and adventure. Hot sauce may be one of the few products where you're guaranteed to get a smile and possibly a story even when someone is turning down your offer for a tasting.
Which sauce is your favorite and what food do you most like to pair with it?
K: Of the sauces that I've launched thus far, my favorite is the Original Hot Pepper. I use it as a marinade for grilled chicken and fish, I douse it over pizza, and it's incredible as a topping for oysters. It's a little spicier than the other two sauces but the burn is well worth it for the flavor!
If you didn't run Hillside Harvest, what do you think you'd be doing right now?
K: The easy answer is that I would have continued along the path of Product Management that I was on prior to starting Hillside Harvest. I really enjoyed the ownership of the development process and I got to work with really smart and inspiring folks. Though, I like to think that I would have started some other venture had it not been Hillside. I've always had a passion for food and an itch for entrepreneurship.
The world has changed dramatically over the past few months. What are you most hopeful for?
K: I'm hopeful for actual progress. It's virtually impossible to improve on issues that aren't acknowledged. We're in a historic moment in time when citizens and corporations are having difficult but overdue conversations about systematic inequality, making it hard to ignore. I'm hopeful that we're finally uniting as a country to confront a broken system and working towards a future where opportunity (or lack-there-of) is no longer correlated to skin pigmentation.
Do you feel it's important for people to support black-owned businesses?
K: I believe it's important to support black enterprise. However, we tend to put a lot of onus on the Consumer to carry this support. I view them as only part of the equation. I believe that there needs to be more focus put on ensuring that black entrepreneurs have equal access to vehicles of development and growth for their businesses - namely; experienced advisors and access to capital.
What is the most challenging part of what you do? The most rewarding?
K: The most challenging part of my job is juggling the constant cycle of strategy, execution, and pivot. There is no better example than the past few months as to why business owners need to be flexible. Those challenges are compounded a bit when you're a company of one.
The most rewarding part of my job is still the sale. Regardless of the channel, it never gets old. I could be having the absolute worst week ever but getting a few pings of online orders or an email from a prospective wholesale client fills you with so much energy and excitement that it can turn everything around. Aside from the obvious monetary benefit, sales are a great source of encouragement and they provide you with the confidence needed to keep pursuing your goals.
Do you have a show that you're currently binge watching?
K: It's probably safe to say that we all have had more free time than we would have liked. I've been filling some of it by watching an embarrassing amount of "People Just Do Nothing" on Netflix. Ironic title given the circumstances, but ridiculously funny show.
What message or advice do you have for the Class of 2020?
K: It's been a tough year, but use this time as an opportunity for self-reflection. Now, more than ever, the world will be relying on its future leaders to develop opportunities for growth and positive change. Be brazen in your quest for innovative solutions especially in the face of those who tell you things are impossible.
Balaji Viswanathan MBA'14 of Invento Robotics
May 2020
Viswanathan of Invento Robotics says that "great businesses are born in disastrous conditions." He managed a critical pivot during the pandemic. His robot, Mitra, initially developed for banks and office receptions for interaction with visitors, is now being used to offer contactless screening of people as they enter buildings.
In what ways do customers use your robots?
B: Our robot was used in customer engagement in banks and office receptions. These converse with visitors and can do a range of complex applications such as insurance selling through a voice based interaction.
How did that change with COVID-19?
B: We now have two robots — one for screening and the other for disinfection. The screening robot, Mitra, uses face recognition, computer vision and speech recognition to do a contactless entry into a building. It identifies people, takes pictures, checks for masks, temperature and asks a few details like name and phone numbers which are then validated with an OTP to do contact tracing later. Mitra is a full fledged screening + visitor management solutions for hospitals, hotels and offices.
The other robot Astra is a disinfection robot. It uses self driving algorithms to go around hospital hallways, hotel rooms, etc., and switches on the UV radiation when no human is present. This radiation is powerful enough to disinfect a hallway in about 7 minutes. This is to limit surface contamination of Coronavirus and limiting other types of infections we might catch inside hospitals and hotels. We also launched one non-robotic version for disinfection of packages, masks and gloves in homes and offices.
What are the benefits to having robots working in a hospital during the COVID-19 pandemic?
B: The screening robot decreases the exposure of healthcare workers to COVID patients, increases their productivity and the quality of data collected to help in better disease management. The disinfection robot decreases the spread of infections.
What part about running or growing your business do you enjoy most?
B: Building new product ideas and taking it from concept stage all the way to production. We now have built a full chain in product development and can rapidly iterate and bring new product designs locally.
What kind of reaction would you get when you would tell people you planned to create intelligent robots?
It ranges for incredulous (wow, that is awesome) to dismissive (robots won't work in these situations) to anger (will robots take away jobs?).
What advice do you have for the Class of 2020?
B: Great business ideas are born in disastrous conditions. Rather than passively worrying about disaster [I have had multiple doctor visits worrying about the economic conditions and the threats to business] we have to actively fight to build solutions. Status quo and prosperity is seldom good for entrepreneurship as people would be less likely to change. Thus, a disastrous time is a good time for an entrepreneur where people can be a solution improving both his/her life and those of the world around them.
What is your favorite Babson memory?
B: The $5 challenge that Professor Heidi Neck gave. We had to build a new business idea in about 4 hours with $5. We had so much fun. Our team was among the toppers where we sold brewed chai with the $5 investment and converted it into $62 at the end of the 4 hours.
What is the silliest robot-related conspiracy theory you have heard?
B: That robots are super smart to achieve singularity in the near future. We are very far from building a robot that can compete with a human in general applications — as opposed to specialised tasks like factory assembly and disinfection.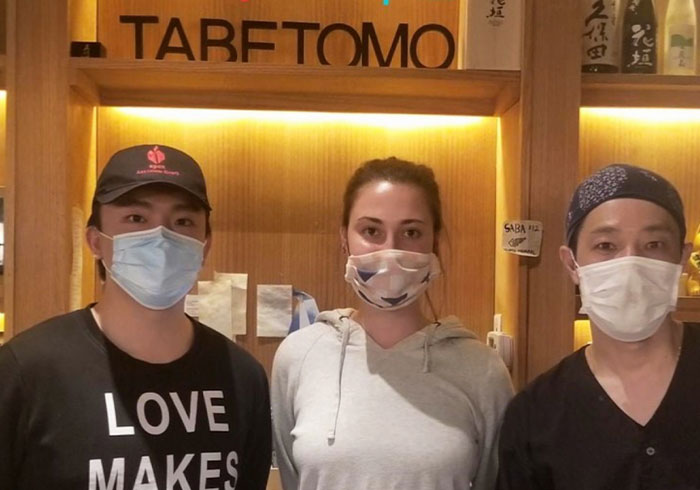 Chia Pan '14, Founder of TabeTomo
April 2020
Pan founded TabeTomo, a premier Japanese dipping noodle restaurant located in East Village, New York. He talks about how COVID-19 forced him to reinvent his business model, why helping his employees through this time is so important, and how he's serving up some gratitude for health care workers on the front lines of the pandemic.
What message would you like to give to the Babson Community right now?
We can't predict the future, but we can maintain a positive attitude when facing adversities. Babson has taught me to think outside of the box, take calculated risks, and stay positive. My Babson network has provided tremendous support by offering advice, resources, donations, and words of encouragement, all of which enabled me to overcome fear and self-doubt during times of uncertainty.
How did you adapt to COVID-19 restrictions?
Before the coronavirus, TabeTomo operated only as a full-service restaurant. It was not set up for take-out or delivery as we were solely focusing on providing the best dine-in experiences. However, the Coronavirus changed our original business model. As we searched for new ways to sustain our revenues and retain our employees, we pivoted and repurposed the restaurant by setting up deliveries with Caviar and other food delivery services providers. We also created a new catering menu and started looking for B2B opportunities. Managing this rapid change to business structure was challenging as it required cooperation and alignment of interests from my staff, suppliers, and delivery partners.
Are you taking any extra steps to support your employees?
TabeTomo's growth can be primarily attributed to the investments we made in our employees. Since the inception of TabeTomo in 2018, we have focused on installing a collaborative and collegiate culture. We treat our employees fairly and respectfully, which has translated into great efficiency and loyalty. As a result of the coronavirus, we were forced to reduce our team by almost 90%. Informing the employees that they could no longer work was one of the most difficult conversions in my entrepreneurial journey. Instead of getting paralyzed by the situation, we sought new ways to keep our doors open. To support our employees, we are giving 100% of net profit to them to help them get through this difficult time.
You're participating in Feed Your Hospital by raising money to deliver meals to healthcare workers on the frontline of COVID-19. Were you surprised by the support and donations you've received?
My friends, classmates, family members, teachers, and colleagues saw the fundraiser and extended their hands to support TabeTomo and its initiatives. It was heartwarming to see the community coming together for a shared mission. To date, we have delivered over 500 meals to healthcare workers at local hospitals. We are on track to reach our goal of delivering 1,000 meals by early May. In addition, we rehired seven employees and we plan to bring back more people.
What has been most rewarding about participating in Feed Your Hospital?
Partnering with Feed Your Hospital has not only allowed us to retain our key employees, but also create meaningful social values. It was rewarding to see the team working tirelessly to prepare meals for healthcare workers. While we cannot cure the illness, we hope that our food can send our warmest gratitude to those who work in the frontline of COVID-19. Also, it has been a wonderful experience collaborating with other Babson alumni Lena Wu ('16) and Tina Xiao ('17) on this initiative.
How do you decompress during these stressful times?
I recently took my first yoga/meditation class through Zoom. It was a great way to internalize problems, alleviate stress, and find inner peace.
What are you most looking forward to once social distancing is no longer in effect?
I miss seeing and hanging out with my family, friends, and colleagues. I can't wait to catch-up with them in-person and let them know how important they are in my life.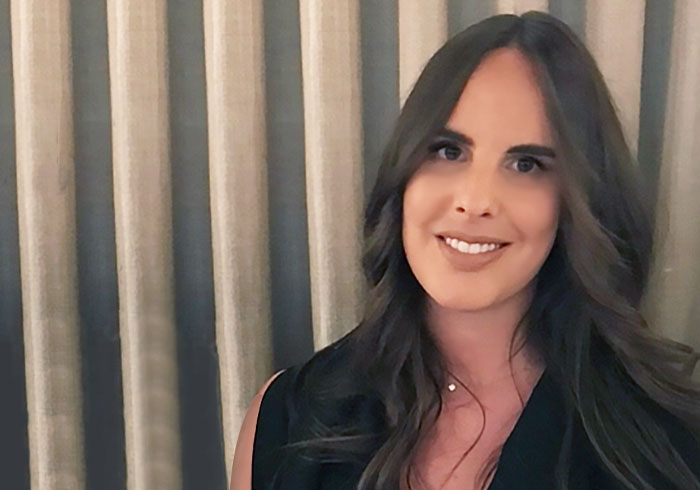 Allison Grekin '13 of Moviing
March 2020
Moviing is an online subscription-based fitness program offering on-demand yoga, barre, dance cardio classes and more. Based out of the U.K., Grekin is helping people everywhere active while confined to their homes and tells us how her experiences at Babson inspired her to help people.
How have you found creative ways to reach people now stuck at home during this global health crisis?
A: Ever since the COVID-19 outbreak we've been running offers so that everyone is able to benefit. We want to make sure people stay active and healthy. We've also partnered up with Gabrielle Caunesil, influencer and founder of clothing brand La Semaine Paris, to bring our audiences free Instagram Live barre and meditation classes 4 times each week.
What advice do you have for business owners during these unprecedented times?
A: It is a tough time for all businesses—especially smaller ones. My one piece of advice is to be creative. Think about ways to make your business stand out. Plan your business strategy for the future and think outside the box.
We're surrounded by a lot of negative news right now. What's something positive that happened to you this week?
A: Being able to be so close to our community on social media, and agreeing on this partnership with Caunesil to reach more than 1.5 million people.
How do you calm down after a stressful day?
A: After a long stressful day or after sitting for a long time at a desk I love doing Aurora Bowkett's Stretchy Release Flow class on Moviing.
What book are you currently reading?
A: Crossing the Chasm by Geoffrey Moore.
What class or professor at Babson influenced you the most?
A: This is a tough question because I've genuinely been inspired by so many professors at Babson. However, if I had to narrow it down to one it would be Professor John Fisher and his Brand Management class. He would always emphasize how critical it is for brands to create an emotional connection with their customers. Emotional connections vary from one customer to another depending on their cultural backgrounds. "Think Global, Act Local" is a concept I've been very carefully implementing at Moviing.
Do you have any message to show your fellow alumni that we are all #OneBabson?
A: I grew up in Paris and decided to leave for the U.S. for my undergraduate degree. Leaving Paris meant leaving my friends and family behind. Although I was anxious, the entire Babson Community embraced me. I was able to connect on a deep intellectual level with my teachers and met so many exciting people. I remember thinking to myself, "This isn't just a school, this is a family." So in that sense, I guess Babson really taught me the true meaning of "community". I left school with a whole new perspective on the effect that humans can have on humans, which is why I started my own business.

Sianna Elise '18 of FÀNDÉ
February 2020
FÀNDÉ is an online women's clothing line based in Liberia. It blends traditional prints with modern styles to create unique looks. It also partners with local artisans and businesses to foster entrepreneurship in growing economies. And with its initiative, The Give Back, FÀNDÉ puts the profits from "giveback items" towards purchasing school supplies for children in Monrovia, Liberia.
What is the most rewarding aspect of running FÀNDÉ?
S: Launching FÀNDÉ has allowed me to showcase and exercise all parts of my personality. I love that I can be creative and strategic bringing value and solving problems. Owning a clothing line allows me to put my creative ideas to use when designing looks, website graphics, and Instagram themes.
How do you to relax?
S: While working in Liberia, I often go to the beach when I need to relax or decompress. In the warm weather, I often feel the sun helps relieve my stress and instantly picks up my mood. I often bring my laptop and work on the beach. When visiting my family for Christmas in New Jersey, I would often complain about the gloomy sky. I also am an extrovert, so a night out with friends after a long day erases any worry.
What is your favorite Babson memory?
S: CWEL was a big part of my Babson experience and the source of many of my friendships. During my freshman year we had a bonding event in Reynolds where we painted and talked. At the end of the exercise, I had five abstract canvases that I hung up in my dorm room in North. The people I sat with making those paintings are still my friends. Those paintings filled my room with joy year after year. I brought them with me to Liberia, and they fill my apartment with the same warmth.
What bad habit do you struggle to give up?
S: I'm a night owl. When I started FÀNDÉ, I would stay up until 4 am thinking about clothing ideas, writing notes on website changes, and creating a marketing strategy. Although this routine helped me get the business started. It is not healthy to stay up that late, looking at a laptop and getting 5 hours of sleep! I wish I could say I don't do that anymore but it happens at least once a week!
What's the best thing to happen to you this week?
S: Completing my FÀNDÉ beach photoshoot. The day was very stressful, but in the end, it all worked out and turned itself around. I got some great photos for content on my Instagram @thefandefeel.

Ebru Ipekci of Butterfly Chocolate
January 2020
Butterfly Chocolate is a world-class boutique chocolate brand featuring handmade chocolate collections and pastries that are sold online and at trendy cafés in Istanbul, Turkey.

What has been the biggest challenge in running your own business?
Ebru: The business you create becomes your baby, you want to take care of every aspect of it by yourself. It takes time to understand that you have to know how to delegate.
What has been most rewarding about it?
E: To create a brand from scratch and to see people enjoying it.
Tell us something you learned at Babson that has helped you most?
E: To know the difference between the balance sheet and cash flow.
What's one piece of advice you would give Babson alumni?
E: When you're an entrepreneur there will be times when you say I want to exit. Keep on going if you believe in it.