Coming Soon: Kerry Murphy Healey Park
Construction Spring 2018–Summer 2019
As part of the project the Babson World Globe will be refurbished. To facilitate the Globe's restoration and relocation to Kerry Murphy Healey Park it will be moved to a temporary location in Trim Parking Lot starting in the spring of 2018. Located along Babson College Drive across from the Soreson Center for the Arts and Reynolds Campus Center, Kerry Murphy Healey Park will bring together two iconic campus landmarks, the Babson World Globe and the fountain of flags, with construction finishing in summer of 2019.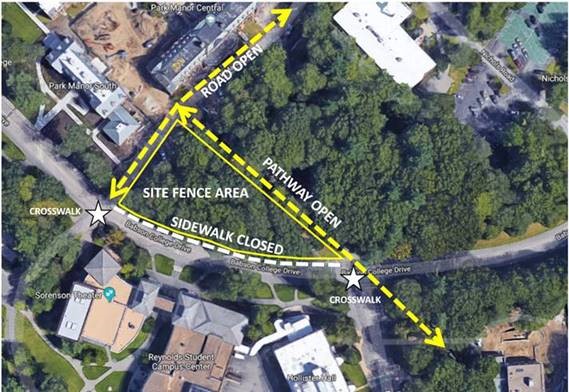 Community Communications
September 2018
Starting Wednesday, September 12th there will be increased construction activity at the Kerry Murphy Healey Park site along College Drive, including site clearing and tree protection. There will be some increased noise and traffic at the site. Current pedestrian access around the park site will continue with the existing pedestrian walkway between the Park Manors and Trim Dining Hall remaining open through most of the construction duration. The sidewalk along College Drive adjacent to the park site and all pathways cutting through the park site will remain closed during construction. Signage is in place throughout the area to direct pedestrians to safe walking paths and crosswalks.
March 2018
On Wednesday, March 7, Babson will begin preliminary work in preparation for the Babson Globe's move to a temporary location in Trim Parking Lot, and eventually to the new Kerry Murphy Healey Park.
Limited tree and shrub removal and clearing of the area around the current Globe site will begin on March 7th. Work will continue through mid-March, including installation of construction fencing around the Globe.
On Friday, March 9, tree pruning along Map Hill Drive will require intermittent lane closures between Trim Parking Lot and Coleman Hall.
A portion of Trim Parking Lot will be closed to provide a temporary work site for the Globe. If you are parked in the impacted area, which will be marked with traffic cones and/or caution tape, please move your car to another space by Monday, March 12.
The Globe will be moved between March 19 and 23, most likely on Wednesday, March 21, depending on weather and other factors. During the week of March 19, Map Hill Drive will be intermittently closed between Trim Parking Lot and Coleman Hall.
Access to Coleman Parking Lot will be limited from March 16 to 25. If you need to access your vehicle during that time, we ask that you please move it to the Trim lot.
Map Hill Drive will be closed directly in front of the Weissman Foundry site from March 16 – 23 to facilitate utility work in support of the Foundry project. Access to Trim lot will be maintained at all times.