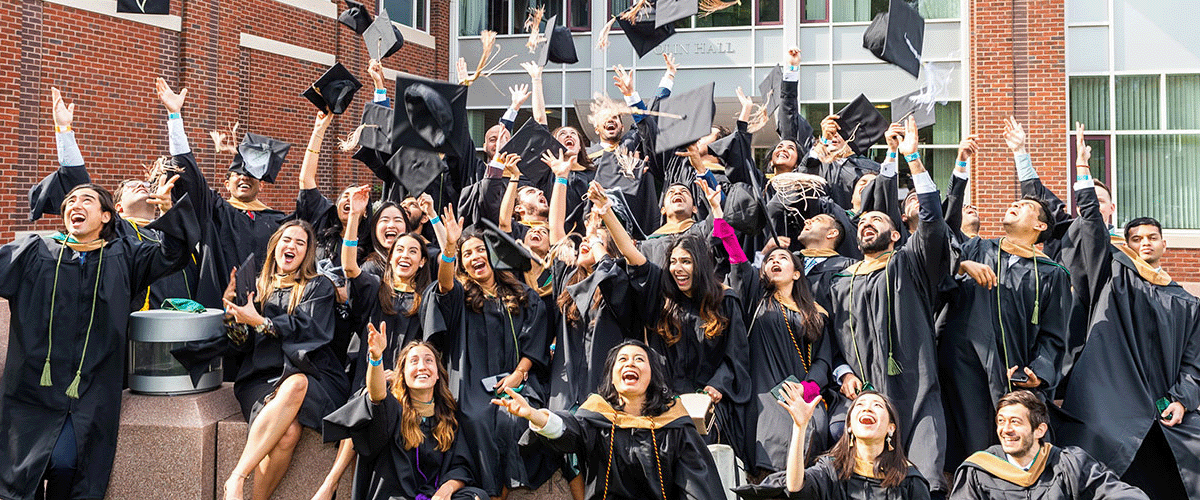 Graduate Commencement 2024
Saturday May 11, 2:45–5:30 p.m.
We look forward to celebrating Babson's F.W. Olin Graduate School of Business graduates on May 11. Please continue to visit this page for information and updates as planning evolves.
Graduate Ceremony Details
12:45 p.m. Registration/Check-In at the Len Green Recreational Athletic Complex
2 p.m. Class Photo in LGRAC Courts
2:45 p.m. Procession
3–5:30 p.m. Graduate Ceremony: Upper Athletic Fields
5:30 p.m. Graduate Reception: Park Manor South/West Tent
Tickets are not required for this ceremony. Guests also may view the exercises via live broadcast in the Carling-Sorenson Theater. For family and friends who cannot attend, the ceremony can be viewed online.
In order to participate in Commencement, all degree candidates must log into the Babson Student Hub, where there will be a designated portlet for the Commencement Clearance Process.
Candidates will view and complete necessary requirements.
Degree candidates will be emailed prior to the site opening at their Babson email address.
Commencement of the Graduate School will be held on Saturday, May 11, 2023, at 2:45 p.m.
The academic procession for Commencement will leave from the Len Green Recreation Athletic Complex (LGRAC). The exercises will be held in the tent on the Upper Athletic Fields and will last approximately 2½ hours. Family and guests attending the graduate ceremony should be seated by 2:30 p.m.
Organizing a procession of more than 600 master's degree recipients takes at least one hour. Therefore, we ask that all degree candidates assemble by 1:30 p.m. The class photo will be taken at 2 p.m., just prior to assembling for the procession. Please wear your robes for this photo.
Please be aware that Babson's bachelor degree ceremony will be held earlier in the day. The undergraduate ceremony will conclude by 12:30 p.m., and the Commencement tent on the Upper Athletic Fields will be reset for the graduate ceremony.
NOTE: Guests will not be allowed to enter the Commencement tent until 1:45 p.m. to prepare the tent for the master's degree ceremony.
Caps, gowns, and tassels are furnished by the College at no charge to graduates and may be kept as souvenirs of this memorable occasion.
Regalia will be available at the campus store the week of May 6–10, Monday through Friday.
| Date | Time | Location |
| --- | --- | --- |
| Monday, May 6 | 9 a.m.– 5 p.m. | Bookstore |
| Tuesday, May 7 | 9 a.m.– 5 p.m. | Bookstore |
| Wednesday, May 8 | 9 a.m.– 6 p.m. | Bookstore |
| Thursday, May 9 | 9 a.m.– 6 p.m. | Bookstore |
| Friday, May 10 | 9 a.m. - 5 p.m. | Bookstore |
| Saturday, May 11 | 7:45 a.m. - 9 a.m. | Undergrad at LGRAC |
| Saturday, May 11 | 12:45 p.m. - 2:30 p.m. | Grad at LGRAC |
If you have concerns regarding your cap and gown, please email the Campus & Community Events office.
Commencement Speakers and Honorary Degree Recipients to be announced in spring