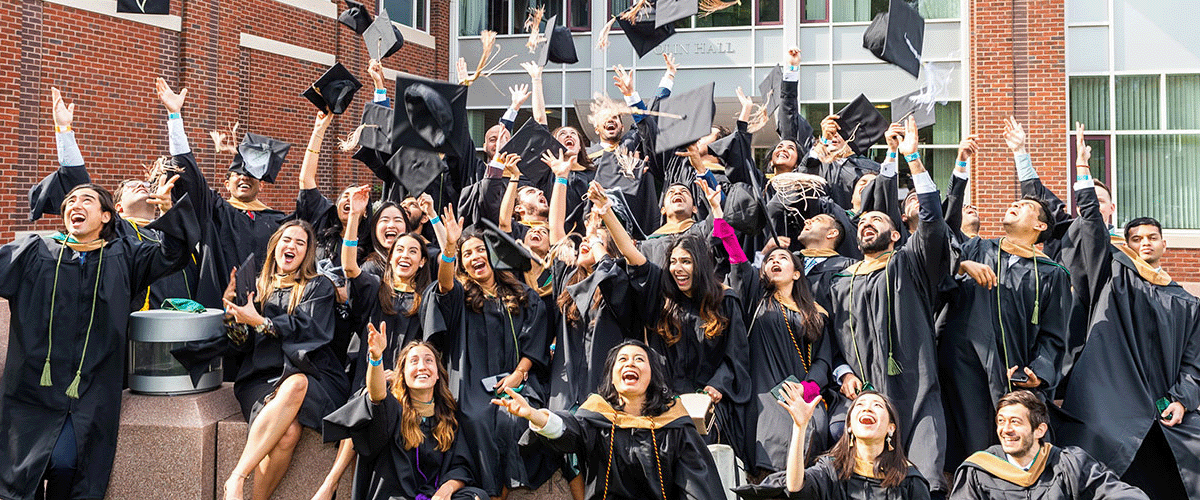 Graduate Commencement 2023
Saturday May 13, 3–5:30 p.m.
We look forward to celebrating Babson's F.W. Olin Graduate School of Business graduates on May 13. Please continue to visit this page for information and updates as planning evolves.
1 p.m. Registration/Check-In
1:40 p.m. Class Photo
3–5:30 p.m. Graduate Ceremony: Upper Athletic Fields
5:30 p.m. Graduate Reception: Park Manor South/West Tent
Commencement of the Graduate School will be held on Saturday, May 13, 2023, at 3 p.m.
The academic procession for Commencement will leave from the Babson Recreation Athletic Complex (BRAC) and begin promptly at 2:40 p.m. The exercises will be held in the tent on the Upper Athletic Fields and will last approximately 2½ hours. Family and guests attending the graduate ceremony should be seated by 2:30 p.m.
Organizing a procession of more than 600 master's degree recipients takes at least one hour. Therefore, we ask that all degree candidates assemble by 1:40 p.m. The class photo will be taken at 1:30 p.m., just prior to assembling for the procession. Please wear your robes for this photo.
Please be aware that Babson's bachelor degree ceremony will be held earlier in the day on May 13. The undergraduate ceremony will conclude by 12:30 p.m., and the Commencement tent on the Upper Athletic Fields will be reset for the graduate ceremony.
NOTE: Guests will not be allowed to enter the Commencement tent until 1:45 p.m. to prepare the tent for the master's degree ceremony.
Tickets are not required for this ceremony. Guests also may view the exercises via live broadcast in the Carling-Sorenson Theater. For family and friends who cannot attend, the ceremony can be viewed online.
Caps, gowns, and tassels are furnished by the College at no charge to graduates and may be kept as souvenirs of this memorable occasion.
Regalia will be available at the campus store the week of May 8, Monday through Friday. Please check the campus store website for hours of operation.
If you have concerns regarding your cap and gown, please email the Campus & Community Events office.
2023 Commencement Speakers and Honorary Degree Recipients
Reshma Kewalramani, M.D.
Chief Executive Officer and President, Vertex Pharmaceuticals
Reshma Kewalramani, M.D., FASN, is the Chief Executive Officer and President at Vertex Pharmaceuticals, a Fortune 500, global biotechnology company. She trained in internal medicine and nephrology before entering the biopharmaceutical industry, where she has dedicated her career to discovering and developing new medicines.
During her tenure, Vertex has expanded its success in treating cystic fibrosis (CF), with CF medicines that hold the potential to treat patients as young as one-month old and as many as 90 percent of all patients diagnosed with CF. Building on that work, Vertex's R&D pipeline now has treatments in eight disease areas in the clinic, across multiple modalities including small molecule, mRNA, cell and gene therapies. The goal is to deliver best-in-class medicines to transform if not cure these diseases. Under her leadership as CEO, Vertex has consistently been recognized as a best place to work, including by Science magazine, The Boston Globe, Newsweek and Fortune.
Dr. Kewalramani completed her internship and residency in internal medicine at the Massachusetts General Hospital and her fellowship in nephrology at the Massachusetts General Hospital and Brigham and Women's Hospital combined program. She received her medical degree, with honors, from the seven-year medicine program at the Boston University School of Medicine. She is an alumnae of the Harvard Business School, having completed the General Management Program. Dr. Kewalramani has received a number of distinguished honors and awards including the Harvard Medical School Excellence in Teaching Award, the International Institute of New England Golden Door Award, the New England Council New Englander of the Year, and the Asian American Business Development Center Pinnacle Award.
Dr. Kewalramani will be presented with an Honorary Doctor of Humane Letters during the ceremony on May 13, 2023.
Richard W. Sorenson, MBA'68, MP'97'00
Former President, Carling Technologies, Inc.
Richard W. Sorenson, MBA'68, MP'97'00 served as president of Carling Technologies, Inc. from 1975 to 2021. Mr. Sorenson joined Carling in 1969 and became president in 1975. Carling Technologies, Inc. develops and manufactures electrical components. The company was founded by Mr. Sorenson's grandfather, Arthur Carling, as Carling Tool & Machine in Hartford, CT, in 1920. In December 2021, Carling Technologies was acquired by Littelfuse, Inc. Before joining Carling Electric, Mr. Sorenson had worked at General Electric from 1968 to 1969.
Mr. Sorenson grew up in Connecticut and graduated from the Kingswood-Oxford School, a private school in West Hartford, in 1962. He earned a BA in American literature from Brown University in 1966.
Mr. Sorenson has a long history of engagement at Babson. He served as a member of the Babson Corporation from 1996 to 1998, and as Trustee from 1996 to 2001. He became an inaugural member of the Circle of Distinction in 2019. His name has become synonymous with the arts at Babson, with the Sorenson Center for the Visual Arts and the Sorenson Theater both having been named in his honor. He and his wife Sandy also established and continue to support the Rick and Sandy Sorenson Endowed Scholarship for the Arts.
Two of Mr. Sorenson's children, Jennifer Sorenson Buddenhagen, MBA'97, and Richard Sorenson, Jr., MBA'00, are also alumni.
Mr. Sorenson will be presented with an Honorary Doctor of Humane Letters during the ceremony on May 13, 2023.