Senior-Led Seminars
Babson offers seminars each spring semester taught entirely by students in their senior year.
The seniors are able to teach topics that aren't currently offered in the standard undergraduate curriculum—the seminars are free, non-credit, and meet the first five weeks of the spring semester. Upon successful completion of a seminar, students enrolled receive a passing grade, and the course appears on their transcript. Students can register for the seminars via Workday Student.
Email Rob Major, Director, Undergraduate Administration, for more information.
Spring 2023 Semester
Tentative Dates: January 24–February 28, 2023

Title: Skill-Driven Portfolio Building
Course No.: SEN 1340-01
Instructor: Maria Herwagen
Day/Time: Tuesdays 6:30–9 p.m.
Searching for jobs is difficult enough as it is, let alone trying to stand out among a sea of other applicants. Set yourself apart from wordy cover letters and organized resumes by including a portfolio! Whether you're looking for jobs or internships in Marketing, Tech, Data, Arts, or another field, a portfolio will help you showcase your skills to potential employers. In this course, we will cover the basics of portfolio ideation and building, including reader experience, curation, visual structure, and more. Students will devise their own digital portfolios using existing materials as well as come up with ideas for additional content. The class is designed to help students walk out with a usable portfolio. Note: this class will NOT cover financial stock portfolios.
---
Title: Beyond The Salesperson: The Future of Automotive Retailing
Course No.: SEN 1341-01
Instructor: Matthew Safalow
Day/Time: Tuesdays 6:30–9 p.m.
It's 2023, and car dealerships still haven't figured out how to provide the ideal car buying experience. Customers become easily defeated by endless negotiation with salespeople, finance managers, and others. In fact, after members of Congress, car salespeople are ranked as the least trusted professionals in the US. In this course, students will explore the strategies of automotive retailers. We'll learn about electric vehicles, automotive finance, marketing, and sales, and we will hear from guest presenters from automakers and large dealership groups. Ultimately, students will redefine and imagine the future of car buying.
---
Title: Bop to the Top: Practicum in Artist Management
Course No.: SEN 1342-01
Instructor: Divya Achanta
Day/Time: Wednesdays 6:30–9 p.m.
Baby, to be number one you got to raise the bar. Grind out [your] best, anything it takes to climb the ladder of success. Despite being active consumers of music, many of us do not get the opportunity to be a part of the industry. In this course, students will learn an overview of music-specific concepts tailored to their interests. With an emphasis on artist management, this seminar covers branding, touring, merchandising, and musical career development for singers like Tyler the Creator and Taylor Swift. Students will end with a capstone presentation making career-sustaining recommendations for an independent artist of their choice.
---
Title: When in Rome: Arts, Literature, and History of Ancient Rome
Course No.: SEN 1343-01
Instructor: Richard Gwinn
Day/Time: Wednesdays 6:30–9 p.m.
The arts, literature, and history of the Roman Empire are still vibrant in American political institutions, culture, and media. This course seeks to give the history of Roman society, from 753 BCE to 476 CE, a thorough examination. Each section of the course (Roman Kingdom, Roman Republic, and Roman Empire) will analyze primary sources of art and literature produced in the given era. We will read poetry, study battles, and learn about architecture, among other things. Immerse yourself in Roman history without worrying about homework or essays!
Catch a Wave: A Student's Surfing Seminar
Benjamin Cantera '22 brought his expertise in surfing to Babson's popular senior-led seminars. "Sharing my passion for surfing is super fulfilling," Cantera says.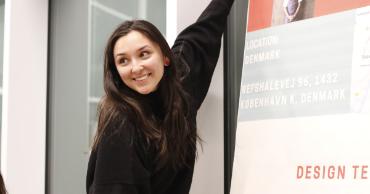 When Students Become Teachers
By teaching a Senior-Led Seminar, Lydia Stetson '19 was able to share her knowledge of the restaurant industry. "I wanted to create a class that I would have wanted to take," says Stetson.
Previous Senior-Led Seminars
Title: Plant Your Stake: Leadership for the 21st Century and Beyond
Instructor: Ryan Wilson
We often measure the success of a business in terms of value to shareholders, but in this course, we'll look at business in terms of stakeholders. Who is a stakeholder, and what role do they play in the outcomes of business and government policy? How can leaders consider various communities of stakeholders in order to make conscious decisions? Students in "Plant Your Stake" will consider the human nature of business operations, including being exposed to the conversation around food systems, environmental impact, and human rights. An emphasis will be placed on systems thinking. Students will walk away with practical tools to use in their future experiences engaging in capitalism.
---
Title: A Crash Course in Surfing
Instructor: Benji Cantera
There are few feelings that compare to the excitement after you catch your first wave, but acquiring the courage to take action can be daunting. In this interactive course, students will learn the basic information needed to not only talk about the surfing industry as a whole, but also embark on their own surfing journey in the future. Students will learn the history and current landscape of the surfing industry, the process of building a surfboard, what makes a good surf break, and the basics on how to surf. Presentations, guest lecturers, and in class hands-on activities will help students gain the confidence needed to take the next step in their lives!
---
Title: Color Anarchy!
Instructor: Angie Kalsi
Color is all around us and influences our everyday lives. From the clothes we wear to the way we decorate our living environments, the colors we choose to surround ourselves with greatly influence our mood, our decision-making, and even the opinions of those around us. In this course, students will re-learn what they thought they knew about color. They will be encouraged to challenge their own expectations of what color and design can be. In this course, we will be creating!
---
Title: Feeding Yourself in College and Beyond
Instructor: Shalom Mensah
Food is nourishment that we all need, but it can also tell many stories and unite groups of people. This class will supplement your knowledge of cooking, and give you the confidence to get in the kitchen to make yourself an amazing dish that you will be proud of and happy to eat. In addition to being a cooking class, this class is aimed at discussing the ways that each cook can take small steps to incorporate a sustainable approach to their cooking: making stock, composting, and grocery shopping efficiently. Each week, we will eat what we cook. Whether you have never been in the kitchen to make yourself a meal, or you cook every once in a while, this is a class for you.
Title: The Greatest American Scandals
Instructor: Elizabeth D'Agostino
Monica Lewinsky, Richard Nixon, and O.J. Simpson all have one thing in common: they were the subjects of journalistic scrutiny. In this course, we will focus on groundbreaking U.S. scandals of the past century to examine the role of journalism and its complex relationship with democracy. Students will explore politics, history, business, crime, and ethics, and questions about truth through interactive lectures, guest speakers, and media analysis. We will discuss how journalism informs facets of American culture, including gender roles, race relations, political battles, and institutions of power. After learning about historical events like Watergate, Clinton's impeachment, and the O.J. Simpson trial, students will be able to contextualize current events and ultimately answer the key question of this course: Why does journalism matter? Course materials include podcasts, films, and TV shows such as "Slow Burn," "Catch and Kill," and "O.J.: Made in America."
---
Title: Beyond Babson! Navigating Responsible Adulthood
Instructors: Amalya Khashimova and Kemper Watson
Nothing feels better than being efficient and in control. Acquiring the skills to feel that way, however, can take time, and students are all busy (beavers!). In this interactive course, students will learn strategies to save time and money, and to ensure they look and feel their absolute best as they transition into adult life. Students will learn the basics of dress, cooking, mixology, budgeting, and establishing routines to keep their selves and their spaces crisp. Fellow student experts and real-deal adults will help students gain the confidence to make it on their own!
---
Title: Applying the Creative Cloud
Instructor: Benjamin Stegeman
Any method of augmenting ideas to allow them to become more digestible can set entrepreneurs and other communicators apart from the masses. In this course, students will learn the basics of four Adobe Creative Cloud products—PhotoShop, Illustrator, Premiere Pro, and After Effects—along with how to apply them to different business settings. Students will learn the fundamentals: product mock-up design using flat art, product commercials, product photo editing, basic animations, and general visual presentation techniques. Although this course covers the fundamentals, all skill levels are welcome. Class sessions will consist of learning and practicing the functions of the software, and students will get hands-on experience by working on a small project.
---
Title: Memes, Virality, and Popular Culture
Instructor: Kaitlyn Sleyster
Students in this course will explore the internet and its relationship to contemporary pop culture, emphasizing the role of humor. How has the internet influenced our understanding of what is "funny?" What makes something "go viral?" In what ways does the internet replace in-person connection? To answer these and related questions, students will analyze memes, TikToks, Netflix originals, and more. As a conclusion to "Memes, Virality, and Popular Culture," students will reflect on the internet's impact on their own lives in a creative format.
Title: Making Better Slides
Instructor: Yulin Chen
Business students spend a tremendous amount of time and effort designing slides, because they know they matter. But many students want to make better slides. This course focuses on the design principles, technologies, and strategies to make visually appealing and effective slides, in particular for business presentations. In addition to learning about business-related design principles and tactics, students will learn highly practical—but not difficult—hacks using Photoshop, Python, Excel, and PowerPoint. Students in this seminar will learn to make stunning slides using the most time-efficient approaches.
---
Title: Behind the Playlist: Music Business 101
Instructor: Nikhil Anand
Behind the Playlist: Music Business 101 will give students a comprehensive look into the business of music. Through interactive lectures, case studies, and guest speakers, students will be introduced to the various components of the music business. Course topics include music contracts, recording v. publishing, streaming, touring, data in music, and the pros and cons of independence.
---
Title: Like a Rolling Stone: Understanding Rock & Roll
Instructor: Natalie Novak
This seminar will examine some of the most influential rock songs of the 1960s, 70s, and 80s. At the course's core, students will listen to and discuss songs such as Whole Lotta Love, Pinball Wizard, and Help. Students will also learn how the songs were created and connect them to a broader cultural context. For each song, the seminar will explore "why this song, for this audience, at this time?" Broad topics will include Beatlemania, Psychedelic Rock, New-Wave and Glam, and students should come prepared to hear new songs and enjoy themselves!
---
Title: The Taiwan Strait: History, Politics, and a Troubled Relationship
Instructor: Viola Du
The Taiwan Strait, with its significant geographical location and well-publicized political tensions, is an important part of the U.S.'s Asian Pacific strategy. This seminar explores the history of mainland China and Taiwan, including U.S. intervention, from WWII to present. Students will discuss the triangular relationship among the Chinese Communist Party (CCP), the Nationalist Party (KMT), and the U.S. Topics will include the Chinese Civil War, the U.S. notion of the "loss of China," conflicts between mainland Chinese immigrants and indigenous Taiwanese, and the changing of Taiwanese identity, to name a few. This seminar stands at the intersection of history, political science, and international relations. It aims to provide an introduction, so students can form their own analyses about Taiwan, objectively and critically.