Senior Week
A yearly tradition celebrating our graduating seniors!
Undergraduate seniors who are graduating from Babson College are eligible to participate in the week of festivities. Senior Week Committee members mapped out the activities for the week.
Senior Week 2023 Event Details
Monday, May 8
Dean Ward's BBQ
Foxwoods Overnight *SOLD OUT

Check-In: 2:30 p.m. at Trim Parking Lot (buses depart at 3:00 p.m.)
Buses depart Foxwoods at 10 a.m. on Tuesday, May 9
Tuesday, May 9
Last Senior Brunch

11 a.m.-1 p.m. at Trim Dining Hall

Jack's Abby Brewery Tour *SOLD OUT

Check-In: 4:30 p.m. at Trim Parking Lot (buses depart at 5 p.m.)
Buses depart Jack's Abby at 10 p.m.
Wednesday, May 10
Lunch Boat Cruise *SOLD OUT

21+ event, no exceptions
Check-In: 9:30 a.m. at Trim Parking Lot (buses depart at 10 a.m.)
Buses depart Boston at 2:10 p.m.

The Last Bingo

8 p.m. at Knight Auditorium
Thursday, May 11
President's Reception for Undergraduate Seniors (Register by Friday, May 5)

3:30-5:30 p.m. at President Spinelli's house (*all participants should take a Trolley, no parking allowed)
Trolleys will depart from Knight Lot beginning at 3:20 p.m. and will loop throughout the event
Seniors participating in the Senior Ball should plan to come to the reception dressed for the Ball
Light appetizers and beverages will be served, Babson faculty and staff will be present for final goodbyes

Senior Ball *SOLD OUT

Check-In: 5:45 p.m. at Trim Parking Lot (buses depart at 6:15 p.m.)
Buses depart venue at 11 p.m.
Friday, May 12
Last Night on the Quad

8-10 p.m. at Park Manor Quad
Cash only bar
*For all off-campus events, transportation to the event is required. If you do not return to the bus after the event, you are responsible for paying for your ride back to Babson. There is zero tolerance for drinking and driving.
Senior Week ID Policies
In order to be served alcohol, you must show valid identification. Please note that the following are the liquor license holder's policies. Here's what you'll need for identification for the various events in order to be served:
Babson College Dining (Dean Ward's BBQ, Last Senior Brunch, President's Reception, Last Night on the Quad): U.S. issued licenses, Federal ID, or passports. Pictures of IDs or non-US drivers licenses will not be accepted.

Jack's Abby Brewery Tour: 1. A Massachusetts or other State-Issued Driver's License; 2. A Massachusetts Liquor Identification Card; 3. A Massachusetts Identification Card; 4. A Passport Issued by the United States or a government that is officially recognized by the United States; 5. A Passport Card for a Passport issued by the United States; and 6. A Military Identification Card.

Lunch Cruise: U.S. Driver's License U.S. Liquor ID U.S. Military ID U.S. Passports Massachusetts ID Card Foreign Passport or Passport Card *** An Out of State license is the only acceptable with another form of photo identification. International Students: Please note that TSA Global ID, Foreign Drivers Licenses, and Foreign ID Cards DO NOT constitute proper identification and will be refused. Photocopies of official ID documents and/or expired documents will be refused.

Senior Ball: All outside alcohol (including but not limited to nips, flasks, etc.) are NOT permitted. If a venue staff member finds empty outside alcohol containers, the College will be fined. If a venue staff member catches a student with outside alcohol, they will immediately be asked to leave the premises. All students 21+ will have IDs checked at the door.
Senior Week Policies and Procedures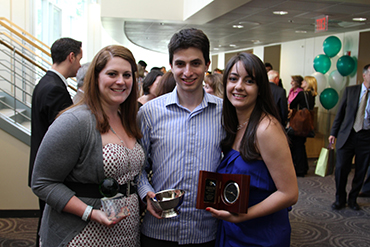 Graduating seniors are eligible to register for Senior Week.
Students who miss the published registration deadline may request to be placed on a waitlist. Waitlisted students will be notified if and when spaces are available but are not guaranteed access to Senior Week events.
Individuals who are not on our final roster per event and have government-issued identification will not be admitted to events.
Buying, selling, duplicating, or transferring Senior Week registration is strictly prohibited.
Fees for Senior Week are nonrefundable after registration. Students will not be refunded any money if they cancel past the deadline or if their participation is restricted by Babson College due to community standards violations. In the event that an activity is canceled or changed due to weather or unforeseen circumstances, every effort will be made to provide refunds if and only if refunds are provided to Babson by third-party vendors.
All bags and/or carry-on items brought to Senior Week events are subject to search.
Consuming alcohol prior to events or "pre-gaming" is highly discouraged. Students who are visibly intoxicated will not be admitted into events by Senior Week staff. Individuals found responsible for damages throughout the course of the week will be removed from events and charged a cleaning/repair fee.
Registered Senior Week participants are allowed to purchase a ticket for one guest to attend the Senior Ball. A guest of a Senior Week participant at the Senior Ball is the responsibility of that senior, who will be held accountable for the actions of their guest. Guests must have at least one form of government-issued identification.
Any student attending Senior Week must show respect to the Senior Week staff (including but not limited to college staff, Senior Week committee members, faculty, volunteers, and venue staff). Any harassment of, or altercation with the staff is grounds for immediate removal from the event and further disciplinary action. You are responsible for all of the information, policies, and procedures about Senior Week on this website, so please read through this site and registration forms referenced forms carefully.
Frequently Asked Questions
The registration page will be live starting Friday, April 7 at 4 p.m. ET and registration (including waitlist registration) will close at 4:30 p.m. ET on Friday, April 14.
A confirmed registration in combination with government-issued identification (passport, driver's license or state identification card) will grant students access to all Senior Week events. Please note that all cash bars and personal purchases throughout the week at various events are not covered by the Senior Week registration fee.
Once you have registered for Senior Week, please read through all information, policies, and procedures on the Senior Week webpage. All participants must sign and return the Senior Week liability form prior to the first Senior Week event. If you are bringing a guest to the Senior Ball, you must submit their name and a guest waiver form prior to the Senior Ball. The Senior Class Committee and staff will work with all students to make sure follow-up forms are completed and submitted prior to the events. It is your responsibility to read any emails and website updates prior to the Senior Week events.
If there are extenuating circumstances that make you unable to pay for Senior Week by the registration deadline, it is your responsibility to email Jorge Gonzalez PRIOR to the registration deadline to discuss the opportunity to make alternate arrangements.
To consume alcohol at any Senior Week event, you will need a valid government issued ID (passport or driver's license).
If you are not 21 years of age, email Jorge Gonzalez prior to the registration deadline to better understand what events you would be able to participate in.
Non-Babson students are eligible to attend the Senior Ball if a guest ticket is purchased for them by a Babson student host. The Babson student host is directly responsible for the actions and behavior of their guest.