Diversity Leadership Awards
Babson's mission is to educate entrepreneurial leaders who create great economic and social value–everywhere. We like to say that Entrepreneurship of All Kinds® requires Diversity of All Kinds. We are committed to creating a campus that values, supports, and celebrates different backgrounds and life experiences.
The Diversity Leadership Award is a four-year, full-tuition scholarship awarded to students with the greatest potential for leadership in creating a diverse community. Candidates fo​r the scholarship are evaluated based on the information in their admission and financial aid applications; no additional application is required. Students who are considered have demonstrated leadership in bridging differences and in building inclusive communities across individual and intersecting identities–such as race, ethnicity, religion, social class, nationality, (dis)ability, sexual preference and gender expression.
Recipients will participate in the following:
Lead Partners
First-year students will be matched with upperclass students who will help them achieve outlined goals and navigate the many opportunities on campus.
Monthly Meet-Ups
Award recipients will gather periodically for community building, information sharing, and fellowship.
Community Building
Social events and outings will be scheduled for each semester. In addition, professional and personal development opportunities will be shared with students throughout the year.
One-on-One Advising
Award recipients will have check-ins with advisors to communicate progress and identify resources for success.
Diversity Leadership Senior Send-Off
Through their stories of cultural exploration and professional and academic pursuits, the community will celebrate the depth and breadth of Diversity of All Kinds at Babson represented by the graduating seniors.
​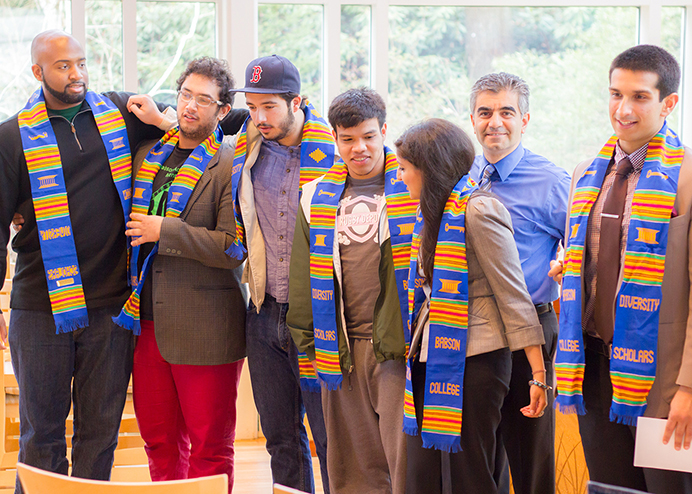 Diversity leaders answer: What does diversity leadership mean to you?
Being recognized as someone with integrity, an open mind, and compassionate heart toward others. You are a representation of a leader who encompasses the potential to work and interact with others of different backgrounds to ultimately achieve an inclusive environment.
Being aware of all aspects that make me, me, and sharing that with the Babson community.
It means representing my culture and myself while being an active member of Babson life. Breaking down barriers and setting the stage for a multicultural and diverse atmosphere around me.
Championing our differences, and seeing them as learning opportunities, not as a threat or separation.