Babson Athletics Branding
The Babson College athletics identity builds school spirit, alignment, and customer loyalty. Correct application of the Beaver logos and all supporting variations strengthens the Babson Athletics brand and reinforces One Babson.
The Babson Beavers logos are to be used to promote Babson Athletics and associated programs. In select cases, requiring review and approval, the Beavers logos can be used to promote general school spirit. Athletics and Beaver logos are licensed and trademarked and can only be used with explicit permission by emailing Athletics or College Marketing.

History of the Beaver Mascot
Roger Babson, an alumnus of MIT, followed his alma mater's lead and chose the beaver, nature's industrious builder, to be the mascot of his new college. Although it's unclear exactly when the logo featuring the beaver first arrived, one of the earliest iterations dates from 1981. It was updated in 1997 to make the beaver seem more competitive and fierce, and minor graphic changes were made in 2004 to respond to the community's request for a friendlier image. The latest iteration of the logo in 2016, in keeping pace with Babson's peers, is more modern and clean. The mascot is personified in real life by Biz E. Beaver who can be seen around campus and at events.
Logo Elements and Variations
The Primary Babson Beavers logos are comprised of one or two elements: Babson identifier text alone or the Babson identifier text combined with the Beaver profile icon. The Secondary logos include options that feature an athletics 'B' icon, circular lockups of elements and sport-specific options for use by varsity teams. Logos must only be used with permission and exactly as provided. The Beaver profile icon must always be used in conjunction with the Babson identifier text and not displayed alone. Babson Beavers logos must be displayed with the registered trademark symbol.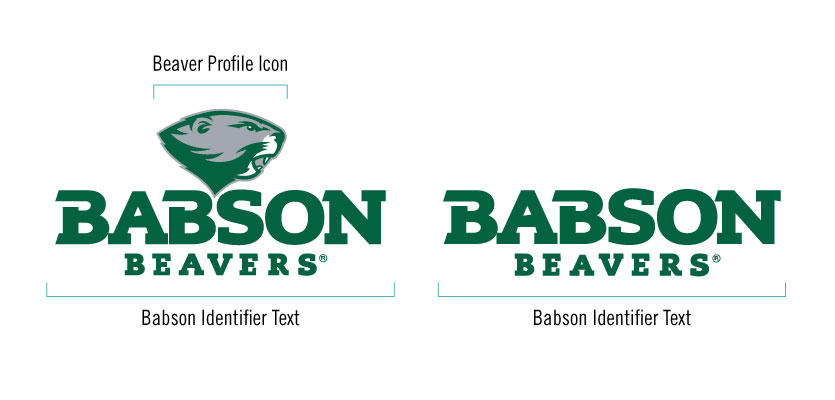 Safe Space, Size, and Use Restrictions
A safe or clear space around the logo ensures that it has maximum visibility and impact wherever used. As illustrated, the safe space on each side of the logo should be equal to or greater than the height of the initial capital letter 'B' in the logo. The determined height of the initial capital letter should always be relative to the size of the logo being used. Keep the safe space clear of type, visuals, patterns, and other competing elements.
Consider visual clarity when selecting size for logo display. Production methods can offer different levels of quality and precision. The Beaver Profile icon must be displayed a minimum of .4 inches wide. The full logo must be a minimum of 1 inch wide. The minimum full logo size for embroidery is 3.5 inches wide. Use the Babson Beavers Wordmark if challenged for space or readability.
Please note: the Babson Athletics B icon must be used in partnership with a logo that features Babson or Babson Beavers or with Babson College appearing in type. For specific guidance please contact College Marketing.


Athletics Colors
The athletics palette is crisp, collegiate, and contemporary. The use of color is integral to the Babson Athletics brand. This Palette is an extension of the Babson College Brand Palette and can be used in conjunction with those colors.
Babson Green
Pantone 3425 C
100c/10m/69y/44k
#006644
0r/102g/67b
2040-30, Very Green
Athletics Gray
Pantone 429
21c/11m/9y/23k
#a3aaae
163r/170g/174b
Athletics Black
Pantone Process Black
0c/0m/0y/100k
#000000
0r/0g/0b


Always ensure significant contrast between the logo and its background. The logo should always be placed on a color that is lighter in value than the logo colors. Do not place the logo on patterned or heavily textured backgrounds. Note, Full Color logos contain PMS 3425/Green, PMS 429/Gray and White.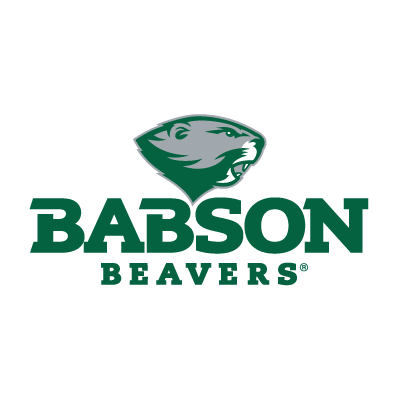 Babson Beaver logo lockups are available in three color combinations:
» Full-Color Beaver / Green Type
» Green Beaver / Green Type
» White Beaver / White Type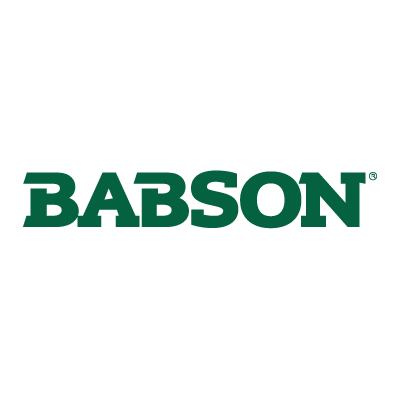 Babson Athletics Wordmarks and B icon are available in four solid colors:
» Green
» Gray
» Black
» White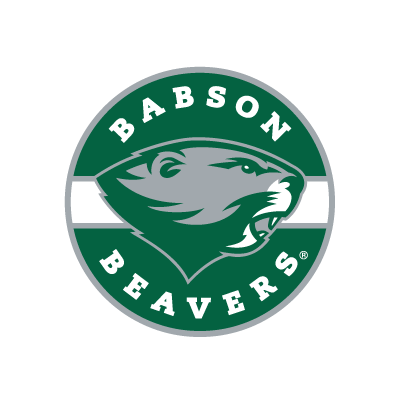 The Babson Athletics Circle marks are available in five color combinations:
» Full Color
» Green and White
» Gray and White
» Black and White
» White only
Did you know Babson College Athletics logos are registered trademarks?
The Babson Beavers Athletics marks are trademarked by Babson College. Babson requires that all individuals, organizations, departments, and companies, both internal and external, obtain prior approval before creating any products or providing services that will display the College's marks, regardless of the method of distribution.
In order to produce a product with any of the College's marks, a vendor must enter into a licensing agreement with Babson. All products produced featuring Babson Athletics marks should be produced by licensed vendors.
Babson College Varsity Sports have sport-specific variations of the Primary and Wordmark logos. These logos are for use by varsity teams only. Teams can access these logos by contacting Scott Dietz.
Babson College club and intramural sports are permitted to use a variety of Babson College and Babson Beavers identities for promotion. Club and intramural sports may not create their own logos. See possible design options: Babson College Club and Intramural Team Brand Guide (pdf)
Babson Club sports must use licensed college vendors when ordering. Licensed vendors can be sourced by emailing our licensing partner, CLC Licensing. Note our varsity uniform vendor is BSN sports and they are a great resource for ordering items for club sports as well. All licensed vendors will have access to Babson Athletics logo files.
Team uniforms and apparel are an integral part of the Babson Athletics Brand. Consistent presentation of our athletic programs will reinforce the strength of the Beavers brand.
Team Uniforms must be Nike brand (if offered) and primarily green (3425) or white. Pewter Grey (PMS 429) may be used as an accent color. Black is not permitted on uniforms. Teams may select from the primary marks to feature as main logo on their uniforms. The 'Babson' wordmark is preferred for the front of the uniform with team numbers below. The Beaver Profile mark is permitted in another area when paired with the wordmark on the front.
Warmups
Sideline and warmup apparel must be Nike brand (if offered) and green, white, or gray. Pewter (light) gray is preferred but anthracite (dark gray) may be approved when green, white, or light gray are not available. Exceptions to this may be approved by the Associate Athletic Director, Business for item function but will not be approved for preference.
Travel Gear
Black may be added to the color scheme for travel or practice apparel provided this apparel is not worn on the game surface (including during warm-up). Any exceptions to the branding guidelines must be approved by the Associate Athletic Director, Communications.
Uniform, warmup, and travel gear suppliers must be licensed and follow all licensing protocols.
Babson College follows AP Style. Below, you'll see a Babson-specific version of the AP sports guidelines:
All-America, All-American
Use All-American when referring specifically to an individual: All-American Breanna Stewart, or She is an All-American. Use All-America when referring to the Team: All-America team, or All-America selection.
all-star, All-Star, All-Star Game
Use uppercase All-Star only when referring to players who have been officially named All-Stars in a sport that refers to its best players each season as All-Stars.
athletic director
Use the singular athletic unless otherwise in a formal title.
backboard, backcourt, backfield, backhand, backspin, backstop, backstretch, backstroke
collective nouns
Team names such as the Jazz, the Magic, the Avalanche and the Thunder take plural verbs: The Magic are on a winning streak.
fractions
In general, follow the fractions entry in the Stylebook's main section, writing fractions with two numerals separated by a forward slash: 1/2, 2/3 or 3/4. Do not use single fractional characters, which do not appear properly for some computer systems. For mixed numbers, separate the whole integer from the fraction with a space: J.J. Watt had 2 1/2 sacks, Matt Cain pitched 7 2/3 innings. In baseball, avoid using fractions to describe outings of less than an inning. Simply write: Craig Kimbrel got the last two outs for the save.
midcourt, midfield
NCAA®
Use trademark. As in 2017 NCAA® Division III Men's Basketball National Champions. Also be specific about men's or women's teams.
nonconference No hyphen.
numerals
In general, follow the numerals entry in main section, spelling out one through nine in most uses and using figures for 10 or above. Use figures whenever preceding a unit of measure or points, as well as for team records or game numbers.
Some sample uses of numbers: first place; second quarter; 10th inning; a 3-pointer with 0.2 seconds left; 3-of-8 shooting; he made 3 of 4; the 6-foot-5 player; the 6-5 tight end; the 5-yard line; Game 6; The final score was 21-14. The team won its fourth game in 10, the wide receiver had seven catches for 188 yards. Stafford was 8 for 18 for 200 yards and two touchdowns.
offseason No hyphen.
overtime, double overtime, triple overtime
playoff (n.) play off (v.)
postgame, pregame
postseason, preseason No hyphen.
racket
Not racquet, for the light bat used in tennis and badminton.
racquetball
record
Avoid the redundant new record.
right hand (n.) right-hander (n.) right-handed (adj.)
runner-up, runners-up
scores
Use figures exclusively, placing a hyphen between the totals of the winning and losing teams: The Reds defeated the Red Sox 4-3, the Giants scored a 12-6 football victory over the Cardinals, the golfer had a 5 on the first hole but finished with a 2-under-par score. Use a comma in this format: Boston 6, Baltimore
series
Best-of-seven series, best of seven. Hyphenate when used as a modifier with the number spelled out: best-of-seven. On its own, no hyphens in the term: The Red Sox and Phillies meet in a best of seven.
titles
Capitalize or use lowercase according to guidelines in titles in the AP Stylebook's main section. Job descriptions, field positions, and informal titles are lowercase: coach John Calipari; forward Alex Morgan; general manager John Elway. Some other informal titles commonly used in sports include general manager, trainer, team doctor, manager, captain.
warmup (n.) warm up (v.)