About the Glavin Office of International Education
Vision Statement
We want to be the catalyst for the development of entrepreneurial leaders with a global mindset. We envision Babson graduates as responsible and respectful citizens of the world whose mindfulness of the complexities of identity and culture enable them to successfully create value everywhere.
Mission Statement
We empower students to think and act intentionally in intercultural contexts, to explore their identities, and to develop the skills necessary to navigate the environment in which they live, learn, and work.
Location
The Glavin Office of International Education is located on the second floor of Hollister Hall in Suite 220, right next to Undergraduate Academic Services.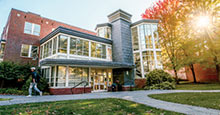 Office Hours
We are open Monday through Friday, 8:30 AM – 4:30 PM ET. Email the Glavin Office front desk to schedule an appointment or call +1 781-239-4565.
Current students have a variety of options to meet with staff within the Glavin Office. Visit the below web pages for the most up to date information:
Other Inquiries
For all other inquiries, please email the Glavin Office » or call the Glavin Office front desk at +1 781-239-4565.
In the event of an emergency regarding the welfare of a Babson student, please contact Babson Public Safety at +1 781-239-5555.