Meet the Dean
Amir Reza
Dean, Babson Academy & Global Education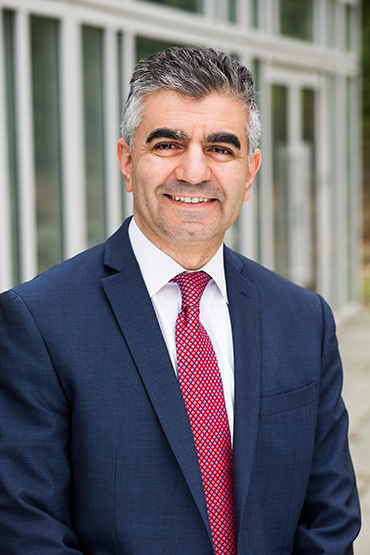 Education
B.A., International Affairs, University of Maine
M.Ed., Student Development & Higher Education Administration, University of Maine
Ph.D., Higher Education Administration-Concentration in International Higher Education, Boston College
Academic Interests/​Expertise
International education, global competency, higher education administration, global entrepreneurship education
Contact
Amir Reza is the dean of the Babson Academy for the Advancement of Global Entrepreneurial Learning (Babson Academy), a dedicated unit within Babson College that inspires change in the way universities, specifically their faculty and students, teach and learn entrepreneurship. In this role, he is responsible for leading and collaborative advancement of Babson Academy's strategy. He is also dean of Global Education, responsible for advancing overall internationalization efforts for Babson College through curricular and cocurricular programs.
Reza formerly was vice provost for International & Multicultural Education at Babson College. His leadership efforts in internationalization of Babson College were recognized through the prestigious Senator Paul Simon Comprehensive Internationalization Award, and Forbes ranking Babson as the best school for international students in the U.S. He has held numerous positions in academic affairs, student affairs, and international education during the past 21 years at Babson.
Reza has served on regional leadership boards for NAFSA: Association of International Educators, and has presented at numerous national and international conferences on international education. He chaired the Editorial Committee of the Association of International Education Administrators. He also has served on the international advisory board of Tongji University, Shanghai, China, and CIEE Entrepreneurship Lab in Berlin, Germany. In addition, he has provided consulting on pedagogy and curriculum development in international higher education at a number of institutions.
Reza's areas of expertise include international education, global competency, higher education administration, and global entrepreneurship education. His research focus is on learning outcomes of higher education internationalization, intercultural development, and educating entrepreneurial leaders with a global mindset.
Awards & Honors
2021 – University of Maine Dr. Sue Estler Distinguished Alumnus Award
2013 – Martin Luther King, Jr. Leadership Award, Babson College
2012 – Grant recipient, Tri-College collaboration Grant, Babson-Olin-Wellesley
1998–1999 – Grant recipient, Global Foundation for Research and Scholarship
1997 – NAFSA Grant recipient for travel to Regional Conference
1996 – Recipient of the President Winthrop C. Libby/Reverend Pavlos T. Taiganedes Award for contributions to international relations on campus and in University of Maine community
Courses
Global Entrepreneurial Experience – China
First Year Seminar
Identity, Leadership & Development Experience
Recent Publications and Presentations
Reza, A., John Sunnygard (2021). Moderator, Forum on Education Abroad Critical Dialogue: The Best Way to Predict the Future is to Create It: Reimagining Education Abroad.
Reza, A. (2021). Keynote Speaker, American University of Cairo Venture Lab Launchpad Program Graduation.
Reza, A. (2020). Founder's Talk Speaker, Entrepreneurial Global Citizens. Flame University, India.
Fisher, C., St. Hilaire, M. & Reza, A. (2020). Navigating Career Transitions and Career Development. NAFSA Webinar.
Contributor to the Forum on Education Abroad's 2020 online publication: Conducting Education Abroad during COVID-19.
Reza, A., Gu, Q., & Romito, L. (2020). Assessment of Intercultural Development in Faculty-Led Education Abroad Programs. NAFSA Research Symposium: A critical discussion of theories, methodologies, and practices in international education.
Friedman, S. & Reza, A. (2019). Careers in International Education: A Guide for New Professionals. NAFSA: Association of International Educators, Washington, D.C.
Reza, A. (2019). Educating Entrepreneurial Global Citizens. Featured plenary speaker at the American Association of Colleges & Universities annual Global Learning Conference.
Reza, A. (2019). Entrepreneurial Mindset. Session presentation at the American Association of Colleges & Universities annual Global Learning Conference.
Reza, A. (2019). Global Learning Lab facilitator and host. A multidisciplinary workshop at the NAFSA Annual Conference.
Reza, A. & Romito, L. (2018). Diversity Matters: Impacts of a Diverse Study Abroad Cohort on Intercultural Development. Diversity Abroad: The Global Impact Exchange, Spring 2018, pp. 21-25.
Panelist at the NAFSA 2018 Annual Conference. Recognizing Overall Excellence in Campus Internationalization: 2018 Senator Paul Simon Comprehensive Internationalization Award Winners
de Wit, H., Ferguson, D. & Reza, A. (2018). The New Geo-Political Climate and its Impact on Internationalization in Higher Education: Latest Insights. Webinar panel organized by World Education Service.
Dunnett, S. C. & Reza, A. (2018). International Education in a Difficult and Uncertain U.S. Political Environment. Featured article in World Education News & Reviews, 31 (10).
Reza, A. (2017). Entrepreneurial Thought & Action: Educating Entrepreneurial Leaders to create social & economic value. Speaker at the Global Innovation and Entrepreneurship Education Conference, Shaoshan, Hunan, China.