Evidence of Funding
Before the Glavin Office can issue you a Form I-20 (for F-1 status) or a Form DS-2019 (for J-1 status) students must demonstrate sufficient funds to cover the cost of attendance for at least one year of their studies​ at Babson.
Understanding Your Total Program Expenses
Total expenses for your specific program will be displayed to you once you answer a few questions within the Form I-20 request. Exchange students will see their program amounts within their application. Amounts will be similar to the estimated expenses posted by Student Financial Services (SFS). All students must demonstrate the same minimum amount of funding based on their program regardless of individual situations.
Funding Overview by Student Type
Funding equal to one year of the total expenses (including living expenses) for your specific program must be demonstrated. Programs less than one year will need the full amount. Note: we must be reasonably assured that funding will continue for the duration of your studies at Babson.
Funding equal to the total expenses for their entire program at Babson must be demonstrated.
Funding equal to one academic year of the total expenses (including living expenses) for your specific program must be demonstrated unless only returning for one semester.
If you will be accompanied in the U.S. by a spouse or child(ren) in F-2/J-2 dependent immigration status, you must demonstrate additional funding to cover their expenses in the U.S. For incoming students, this amount will be presented within the Form I-20 request based on your program and situation (i.e. married, married with children). Learn additional information about bringing your spouse and/or children.
Funding equal to the total expenses for their entire program of stay at Babson must be demonstrated.
Funding equal to $2400/month of Post-Completion Academic Training (student only); $1600 additional/month for spouse; $400 additional/month per child.
Liquid Funds/Assets
Liquid assets can be easily exchanged for cash. Savings and Checking accounts are the most common liquid assets. Due to the variety of financial documentation and account types around the world, it will be most helpful when language about the ability for the funds to be withdrawn is included in any bank letter. View a sample bank letter under Resources & Helpful Templates.
Your Evidence of Funding Must Meet Specific Documentation Requirements
To avoid processing delays, be sure that your documents submitted meet the minimum amount indicated in the Form I-20/Form DS-2019 Request, along with acceptable documentation requirements. Additionally, we highly recommend students use our Financial Coversheet to summarize funding documentation when submitting documents from multiple sources.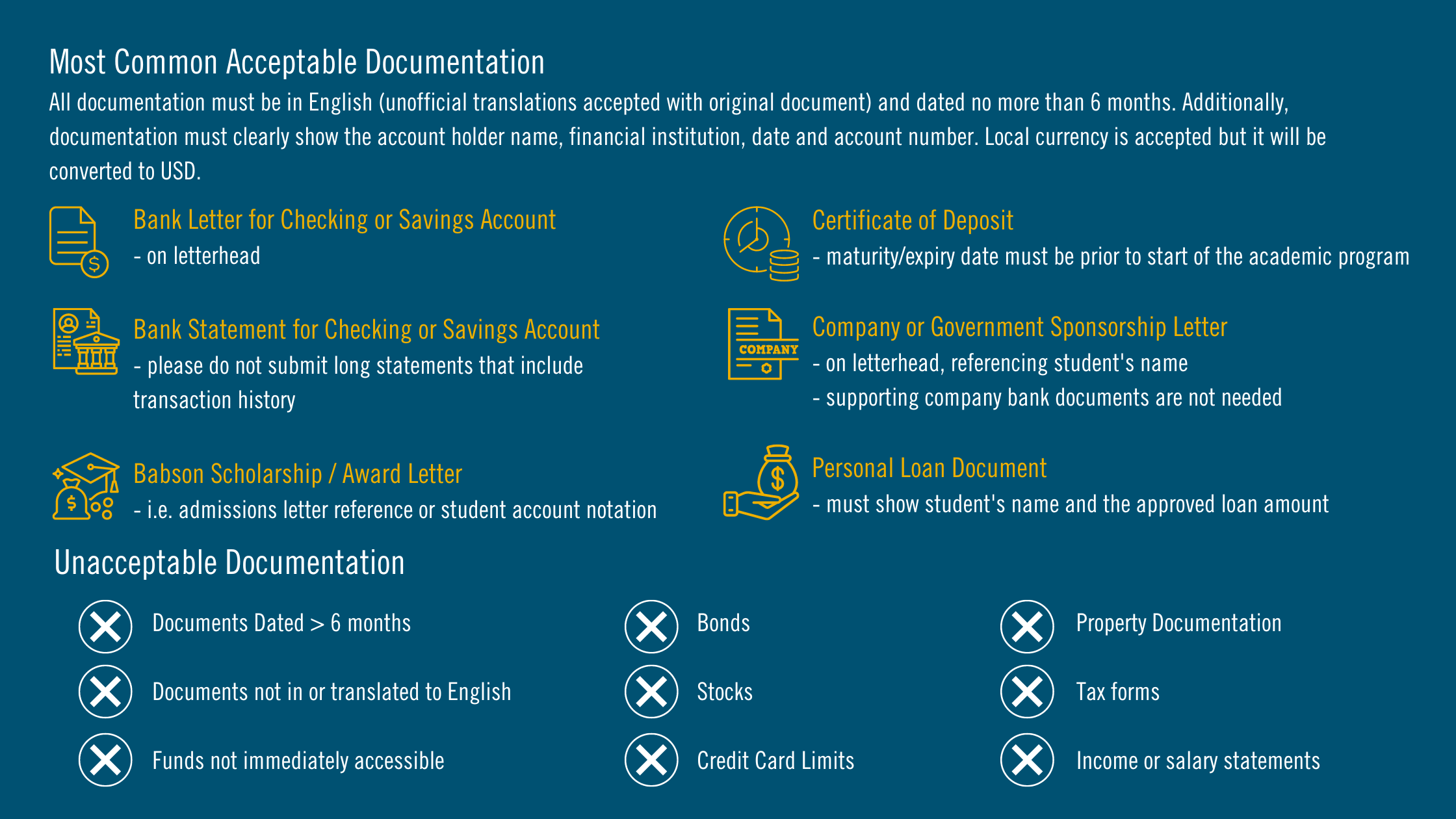 Bank Letter: you can provide this sample bank letter to your financial institution but it does not have to be in this exact format. It just needs to have all the same information - dated, on letterhead and indicate the name of the financial institution, account holder, amount or minimum amount available, and if possible that the funds are available for immediate withdrawal.
Financial Coversheet: we recommend using this coversheet to summarize your documents when submitting from more than one financial institution or account as it will speed up document processing.
Not required for the Form I-20 request, but recommended for the visa appointment as additional supporting documentation:
Sponsor Statement: If an account is not in your name, the bank account holder should complete a sponsor statement to verify that these funds are available for the student's study in the U.S. This includes the parents of a student. The sponsor statement must list a specific amount in USD that the individual sponsor will be providing in funding, which may or may not equal the minimum amount of funding needed for the program.

Sponsors should sign the sponsor statement by hand or use official electronic signatures.
Applying for an F/J visa?
You must be able to verbally explain how you will be supported financially while you study in the U.S. Be prepared to present all of the same financial documents to the U.S. consulate/embassy to which you are applying. Consult your local consulate or embassy's website for any additional requirements regarding funding documentation they may have.
Questions?
If you have general questions about funding documentation, please email isss@babson.edu but note that we will only review funding documents when submitted through the Form I-20/Form DS-2019 request.